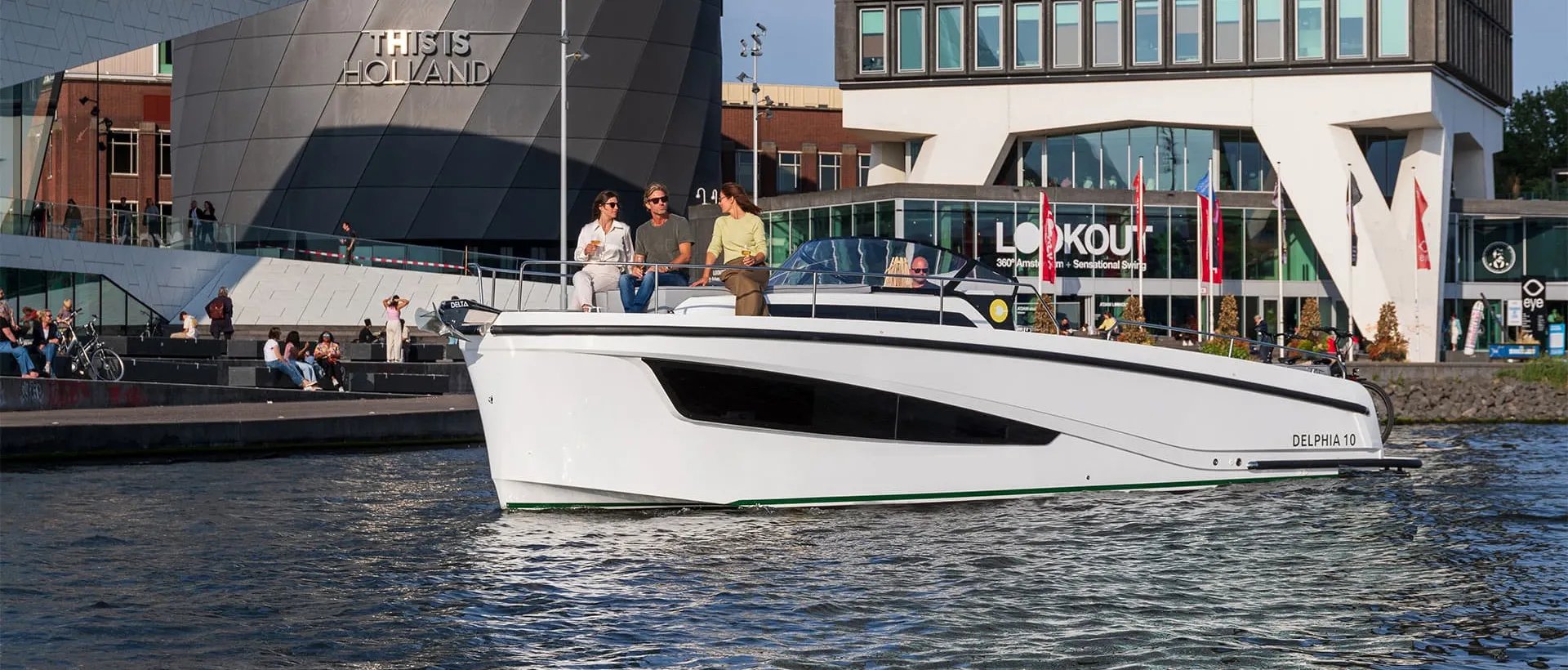 Delphia 10
Lounge
Available in electric and diesel versions.
Set sail for a relaxing experience aboard the Delphia 10 Lounge. Create unforgettable memories as you cruise in elegant style.
Designed by the Vripack, the Delphia 10 Lounge has been developed for peaceful cruising with excellent safety and stability. Thanks to its electric propulsion, you can glide silently through the waters as you sail, in perfect harmony with your surroundings.
Available in electric and diesel versions.
Designer : Vripack Yacht Design
Time Together

The face-to-face layout is perfect for interactions between guests on board. Whether you're setting sail for a romantic getaway as a couple, a family adventure, or a special get-together with friends, there is seating for everyone.
100% electric propulsion

Zero emissions, zero odors, zero noise, not to mention minimal maintenance… The Torqeedo engine is an obvious choice for those looking to reduce their environmental impact.
One level living

Getting around on board has never been easier thanks to the accessibility of the deck, which allows for safe and comfortable passage, wherever you are.
Comfortable and bright Inside, the abundance of natural light accentuates the modern interior design. The queen-sized bed is perfect for relaxing. The separate shower cubicle creates privacy for everyone.
Delphia 10 Lounge
Exterior
On board, there is complete freedom of movement. The spacious cockpit of the Delphia 10 Lounge and its 12 seats provide the perfect setting for groups of friends and families who want to admire the views while enjoying precious moments together.
A kitchen fitted with two fridges, protected cockpit, large sunlounger on the bow, exceptionally comfortable cabin: the Delphia 10 Lounge has everything that makes its name a perfect fit. With everything you need for your excursions out on the water, it'll take you wherever you need with total peace of mind, whether you're a fan of urban getaways or prefer finding peaceful, secluded spots.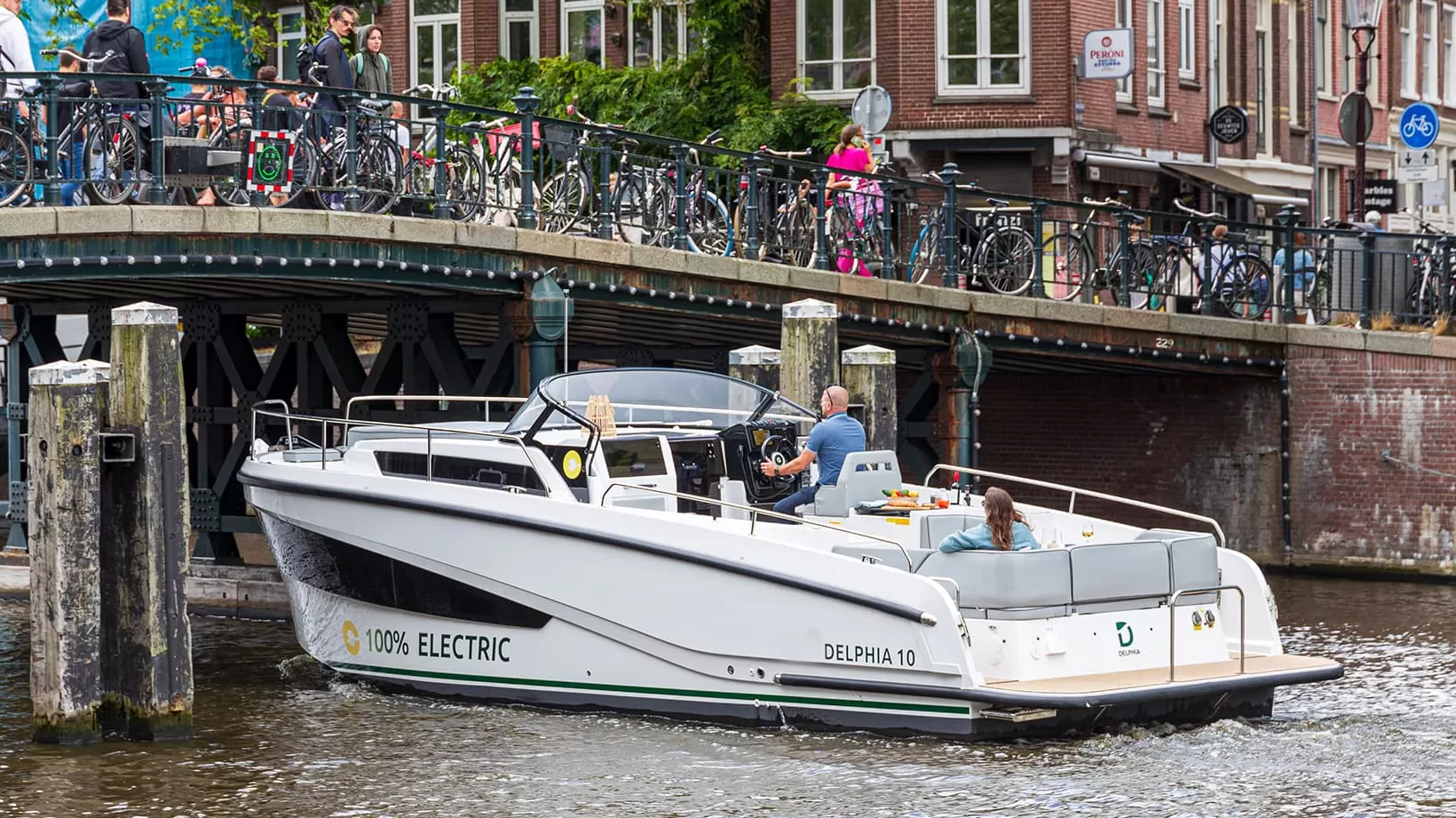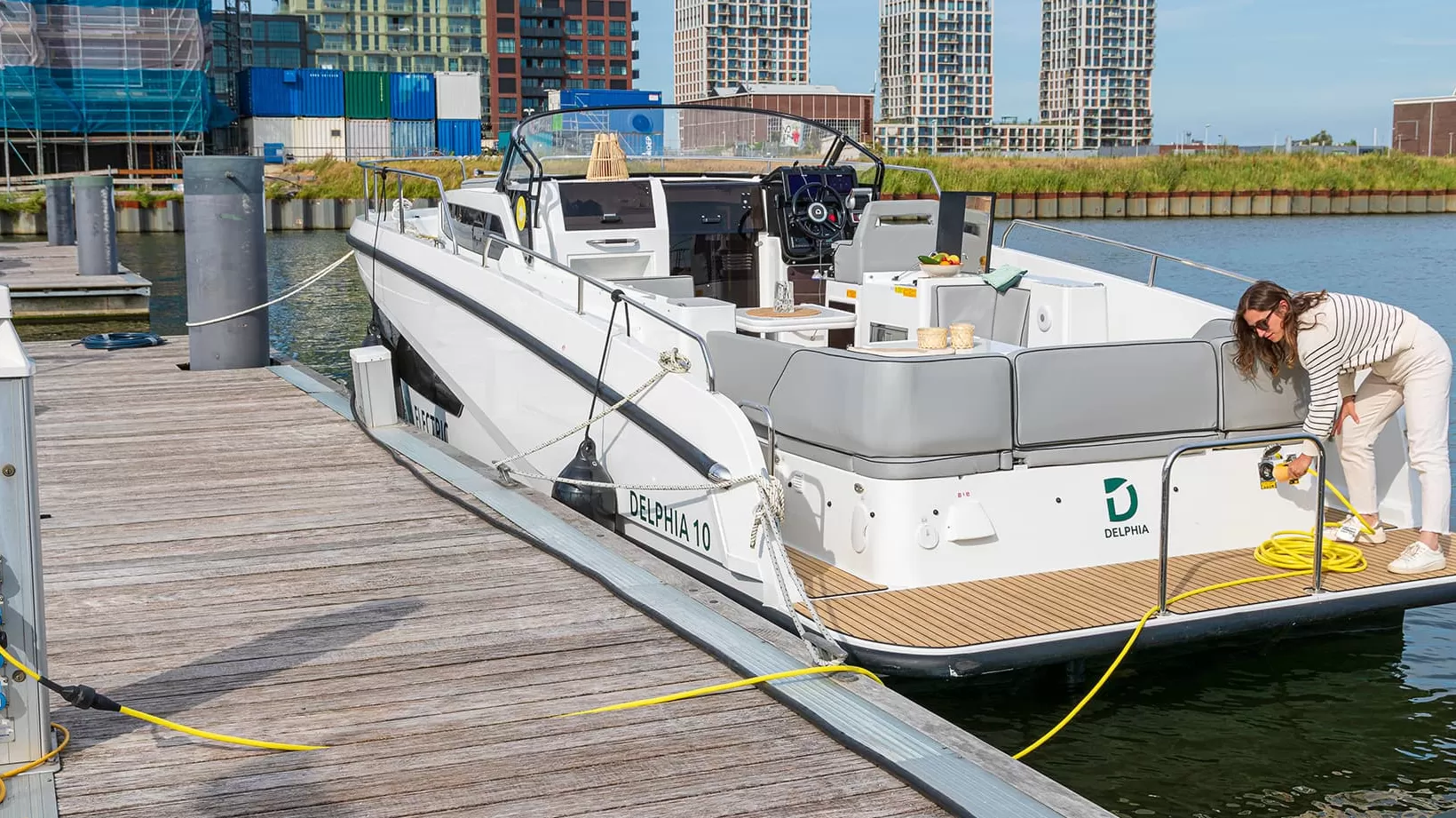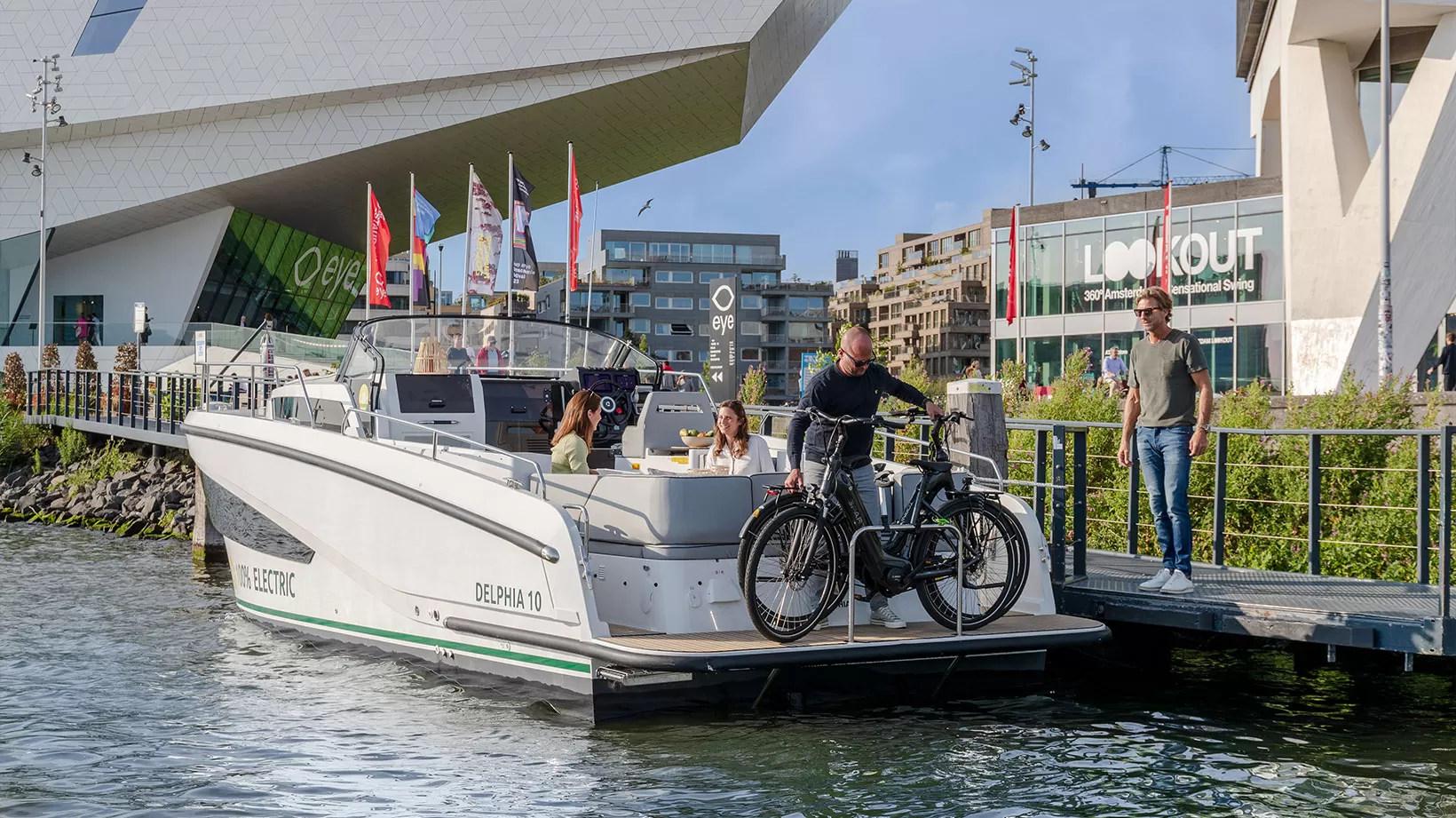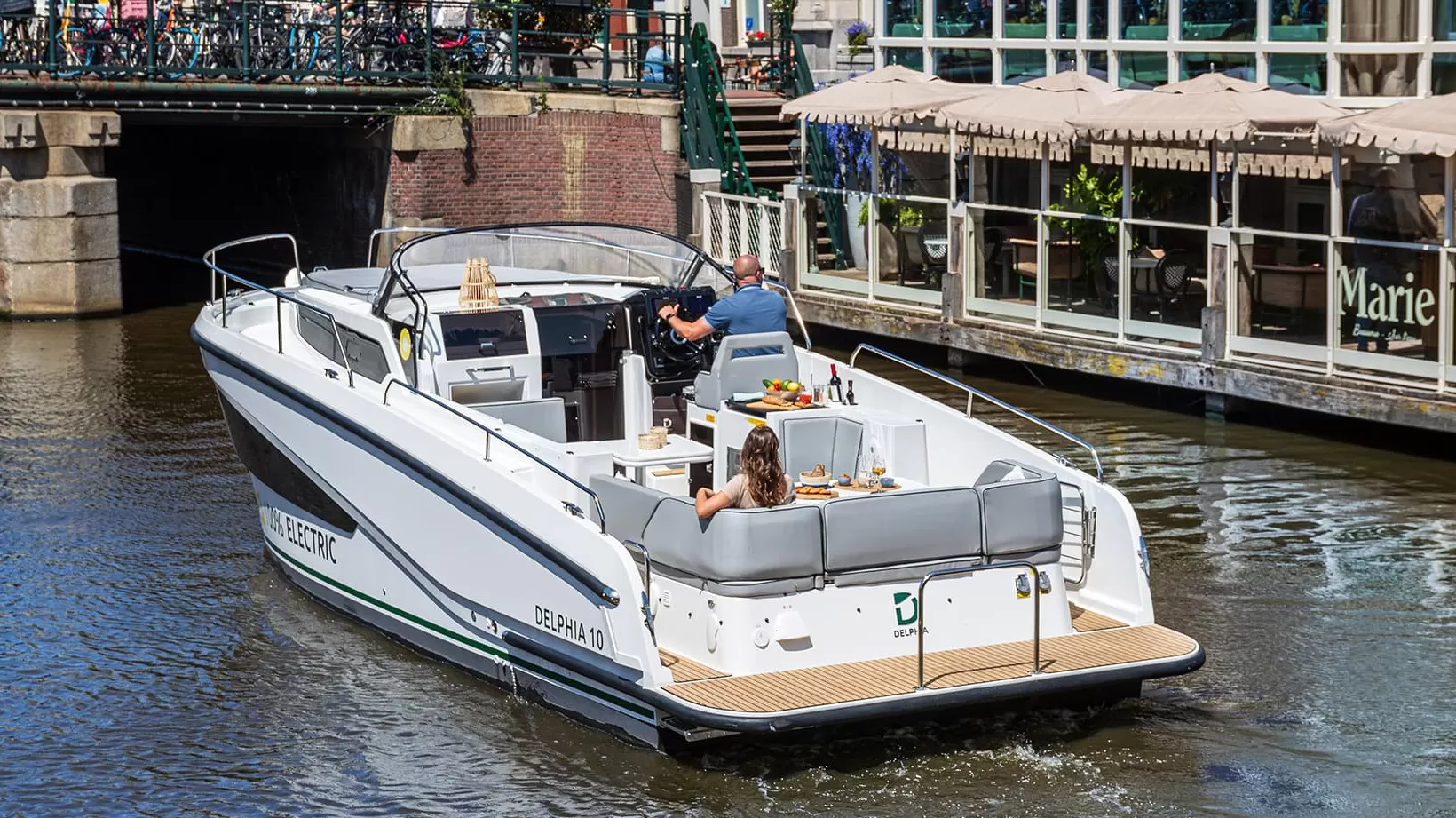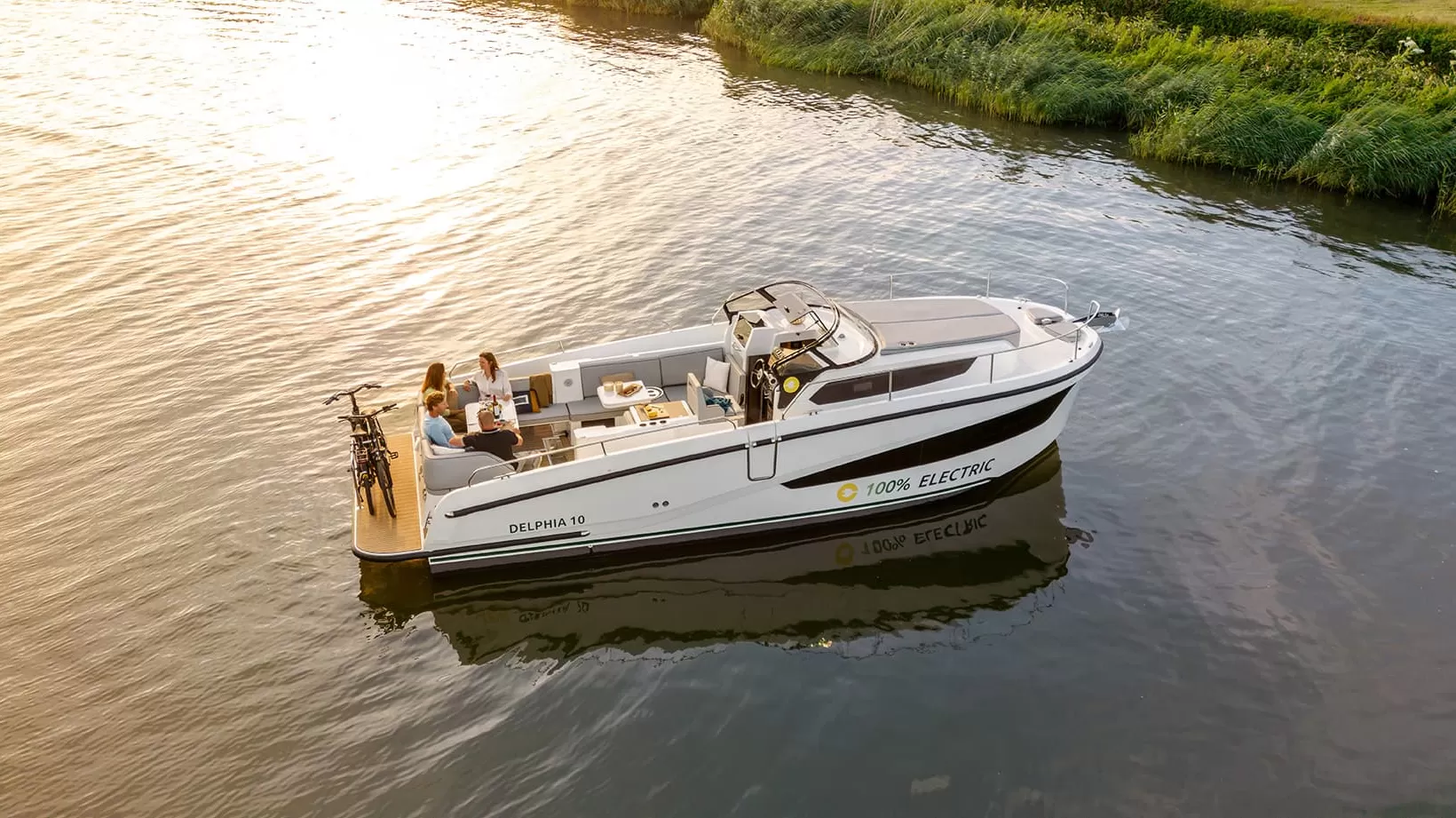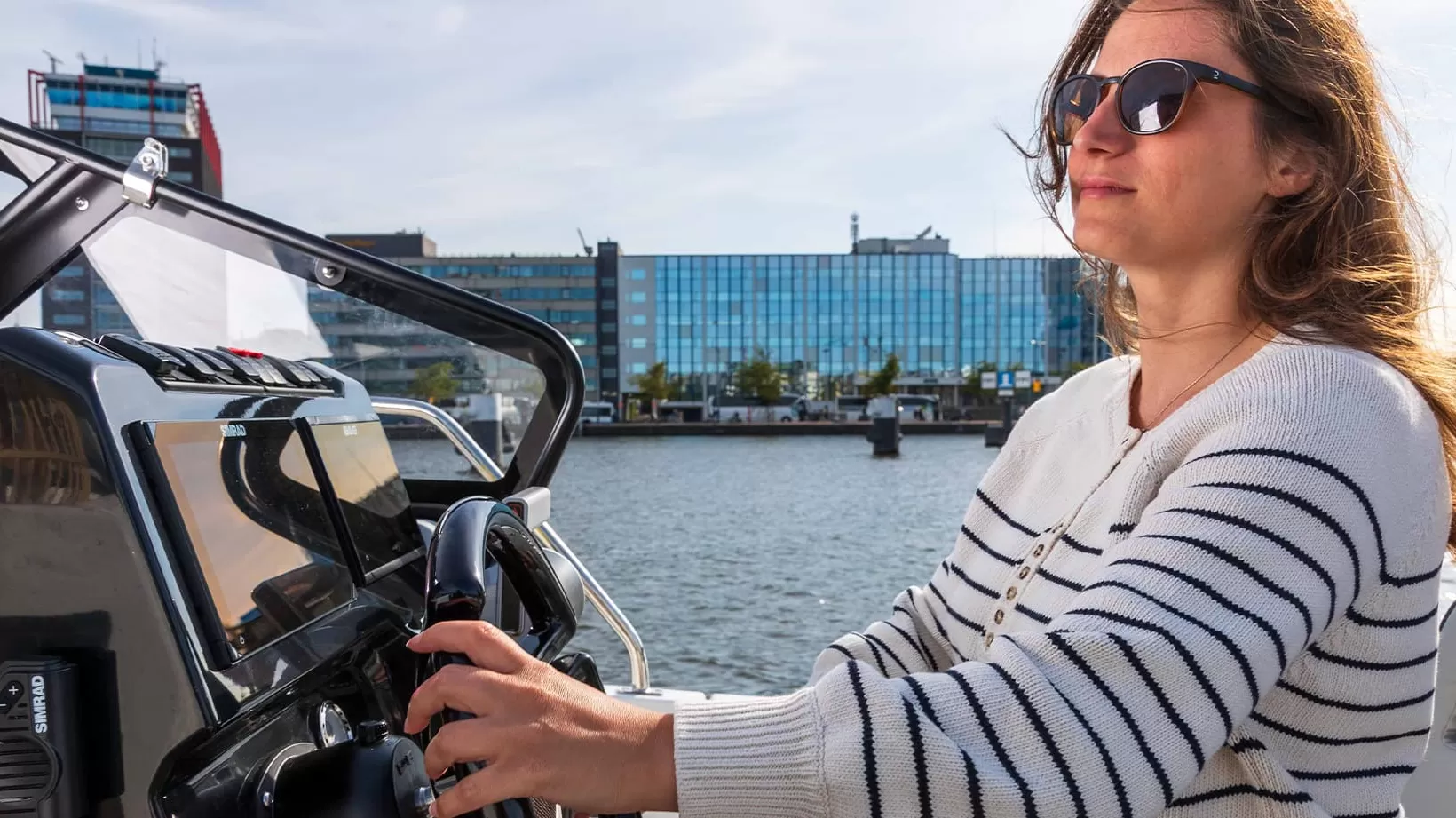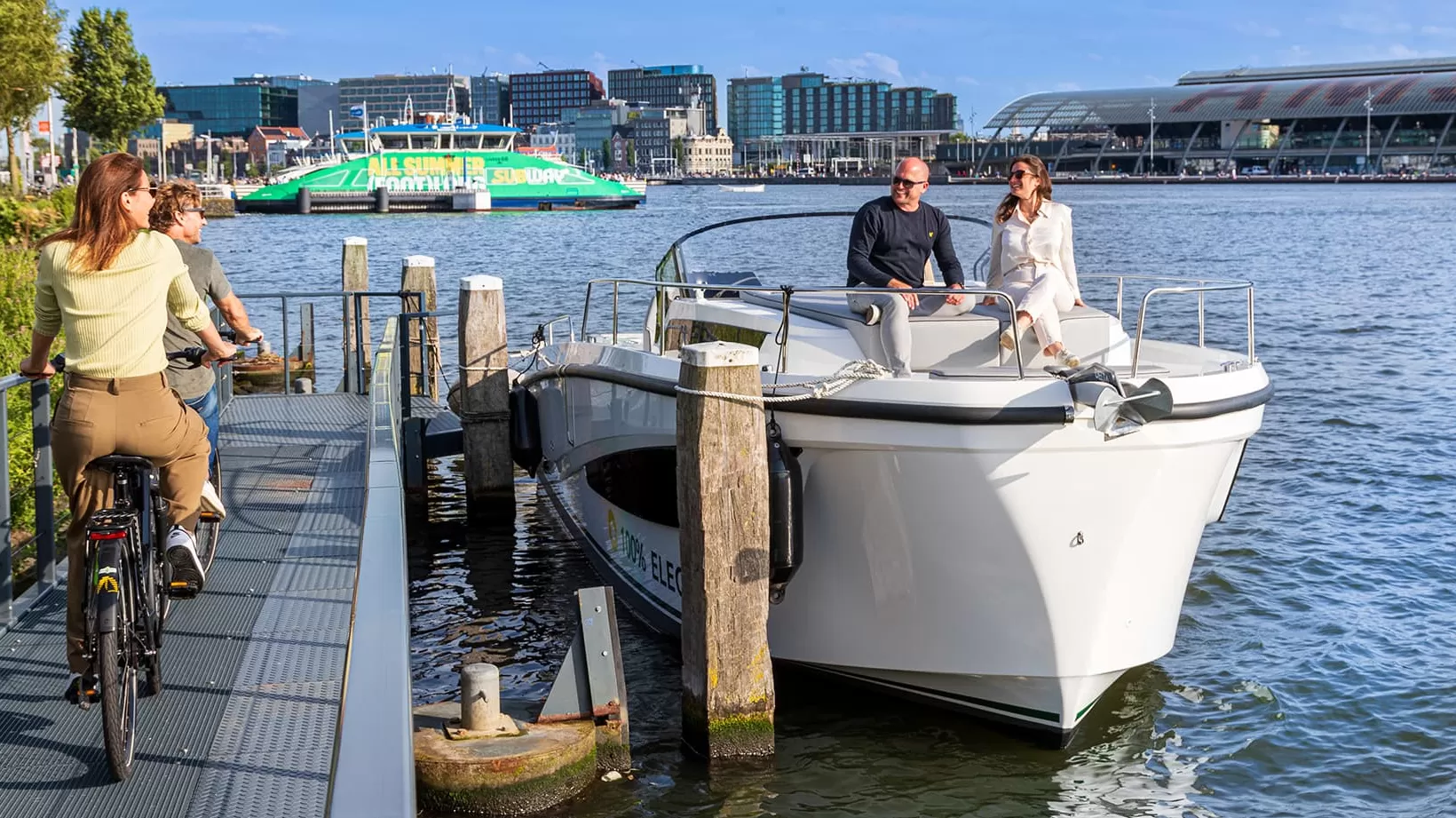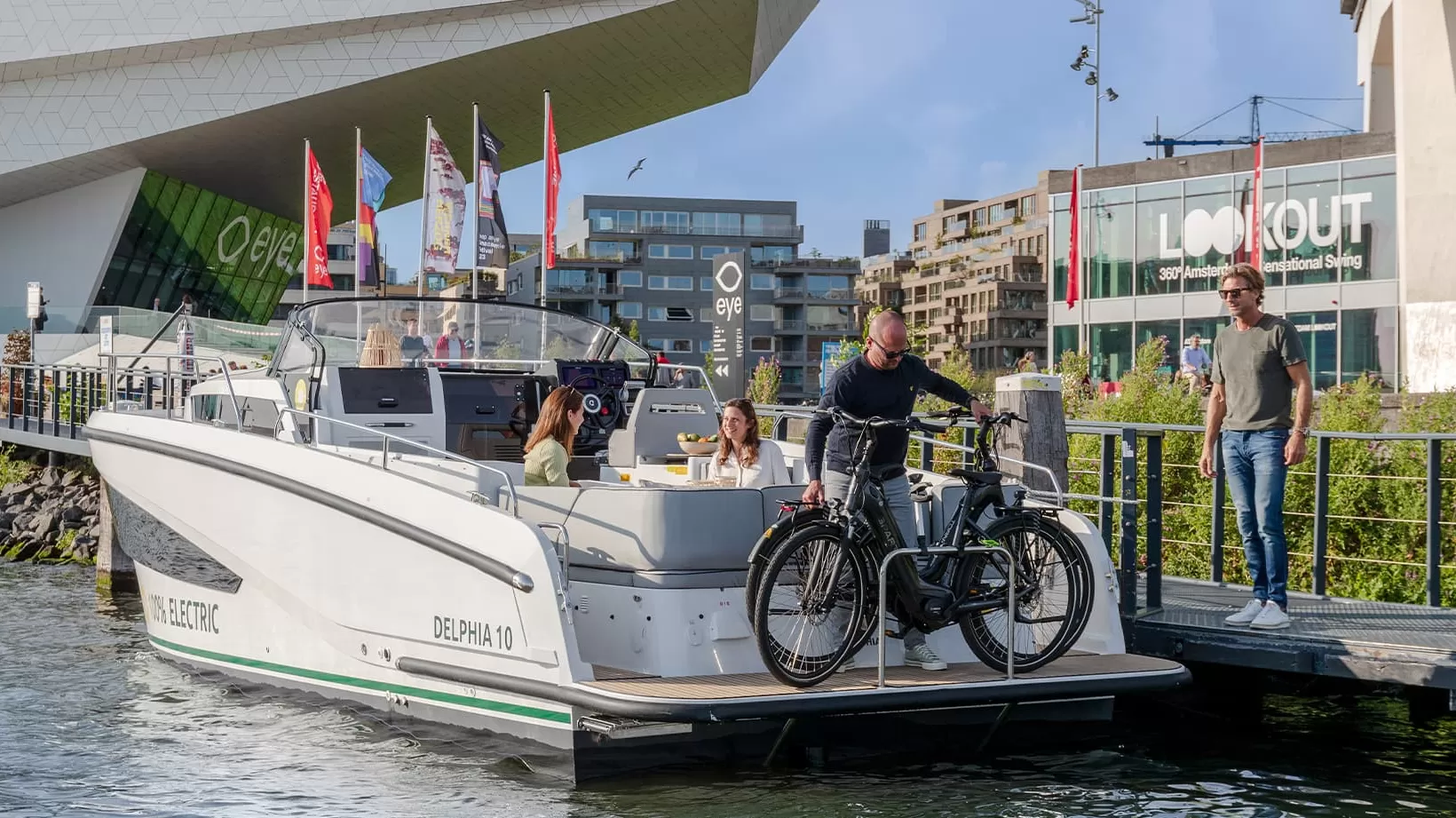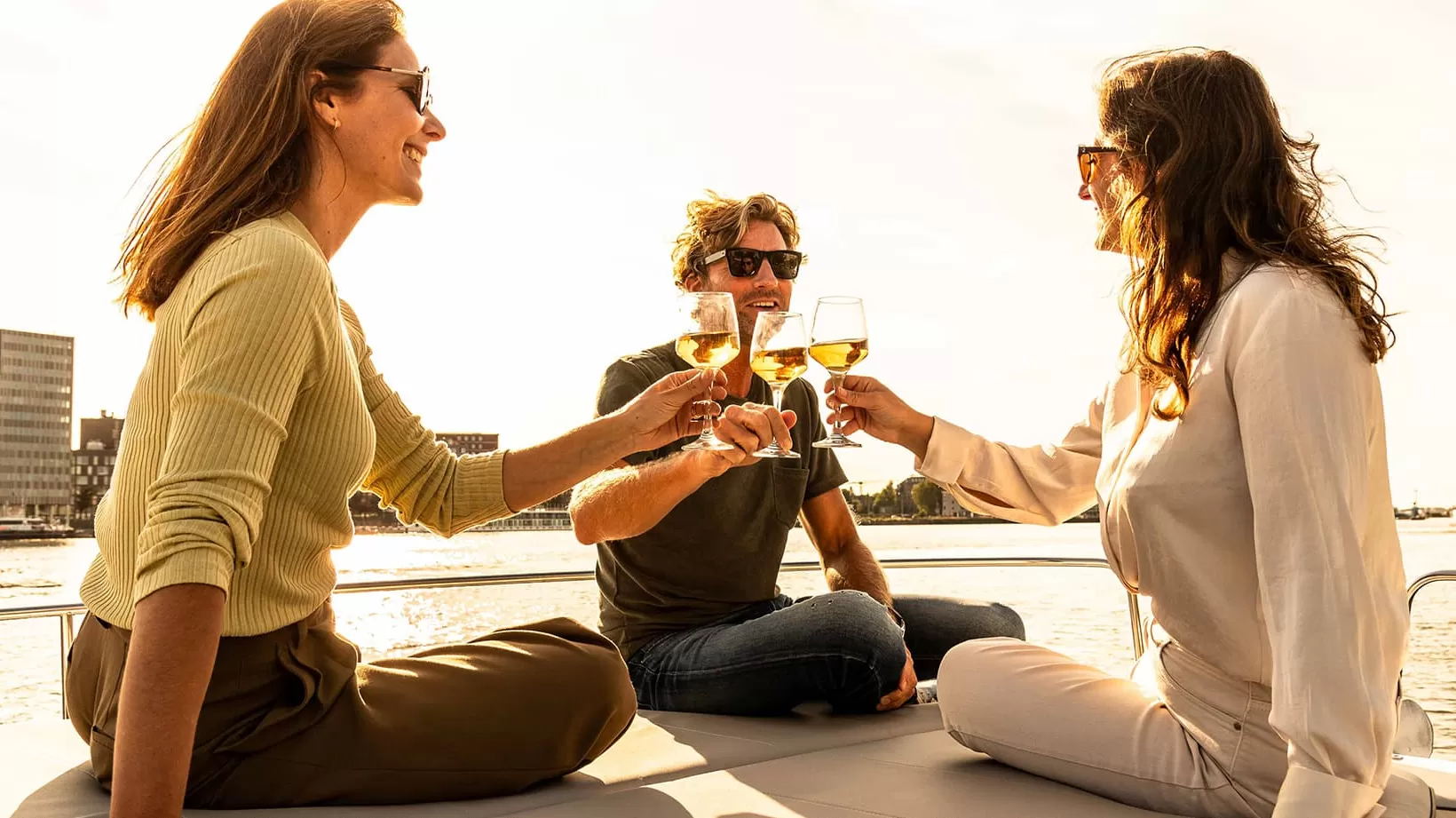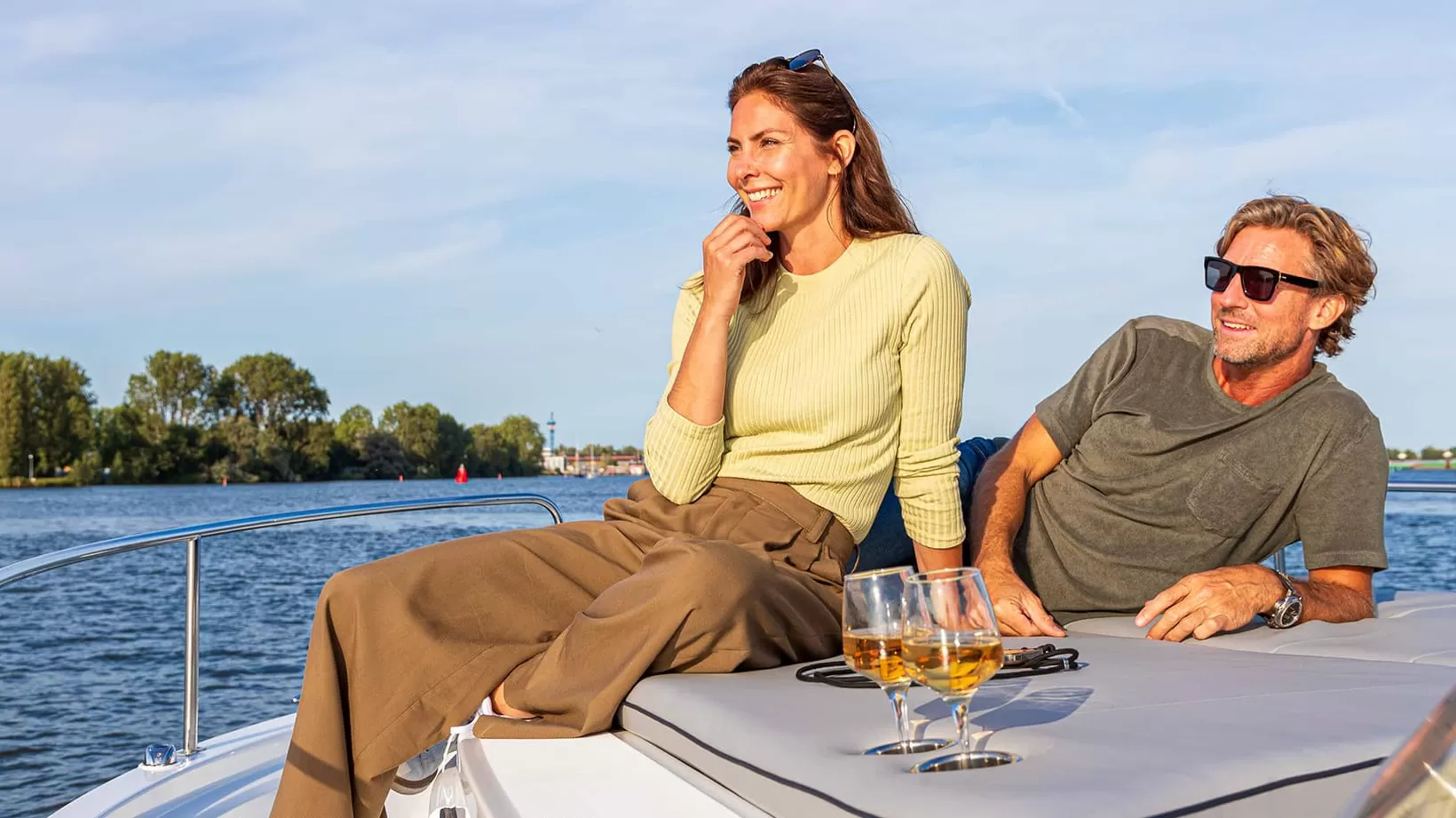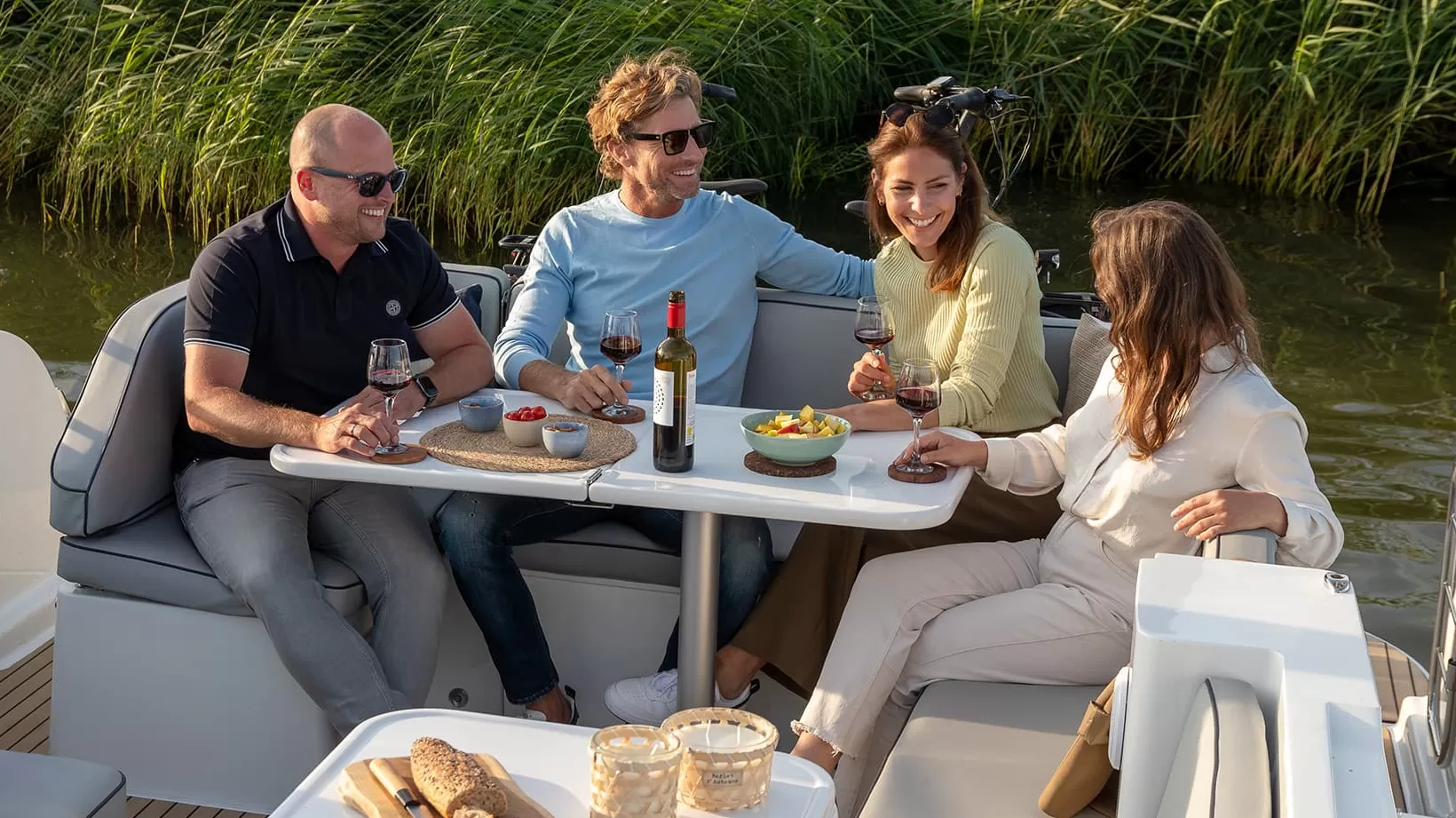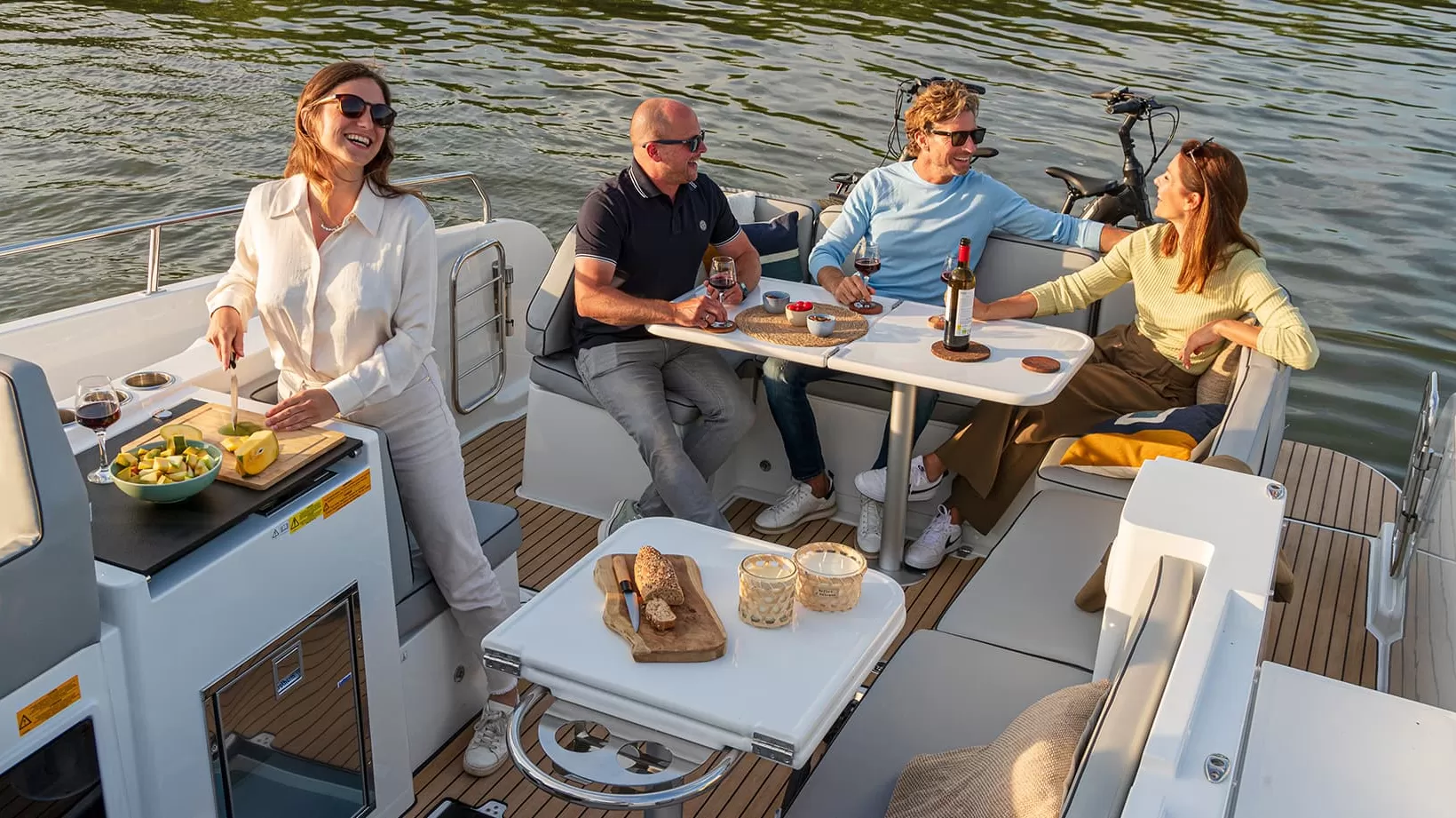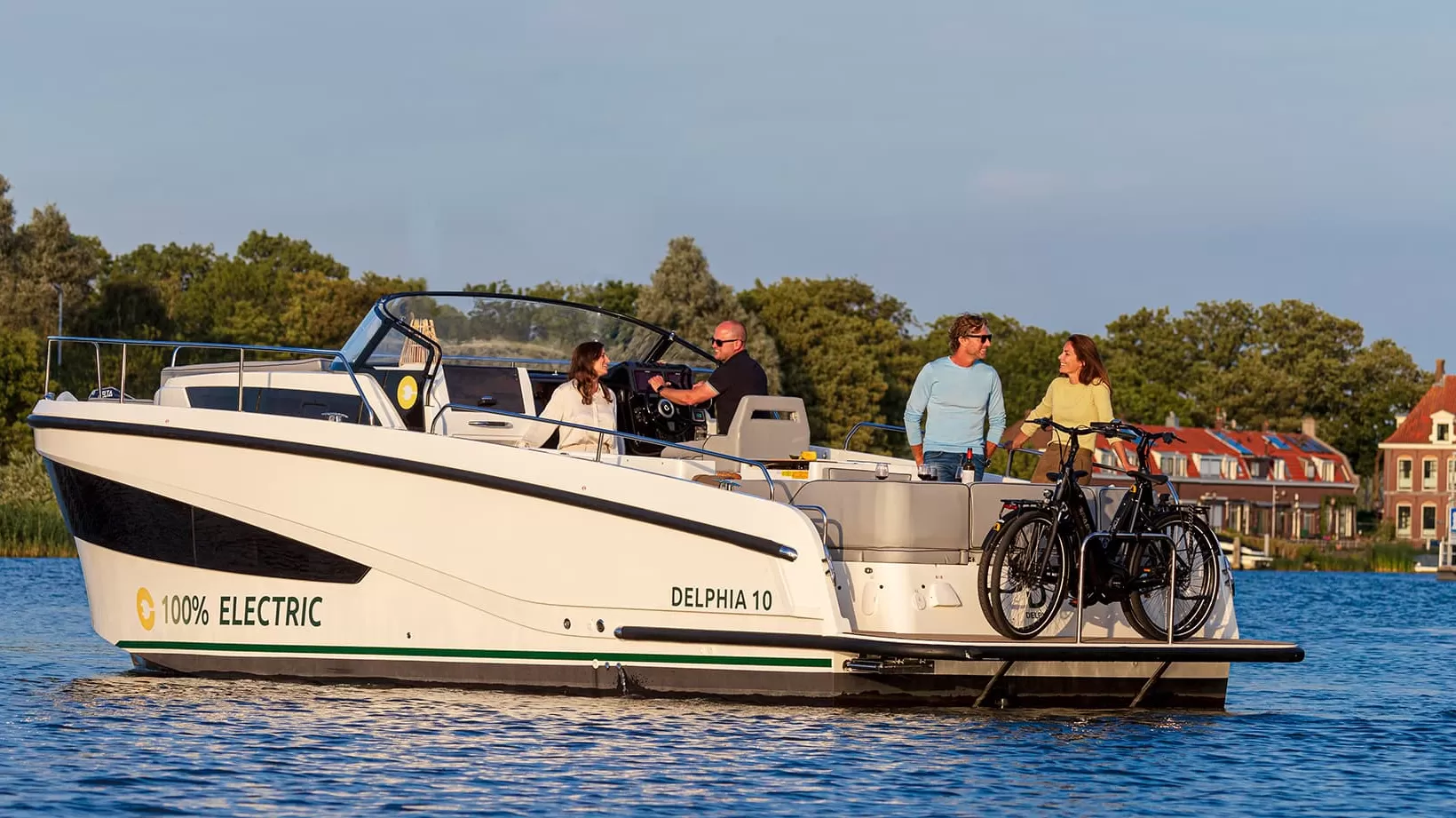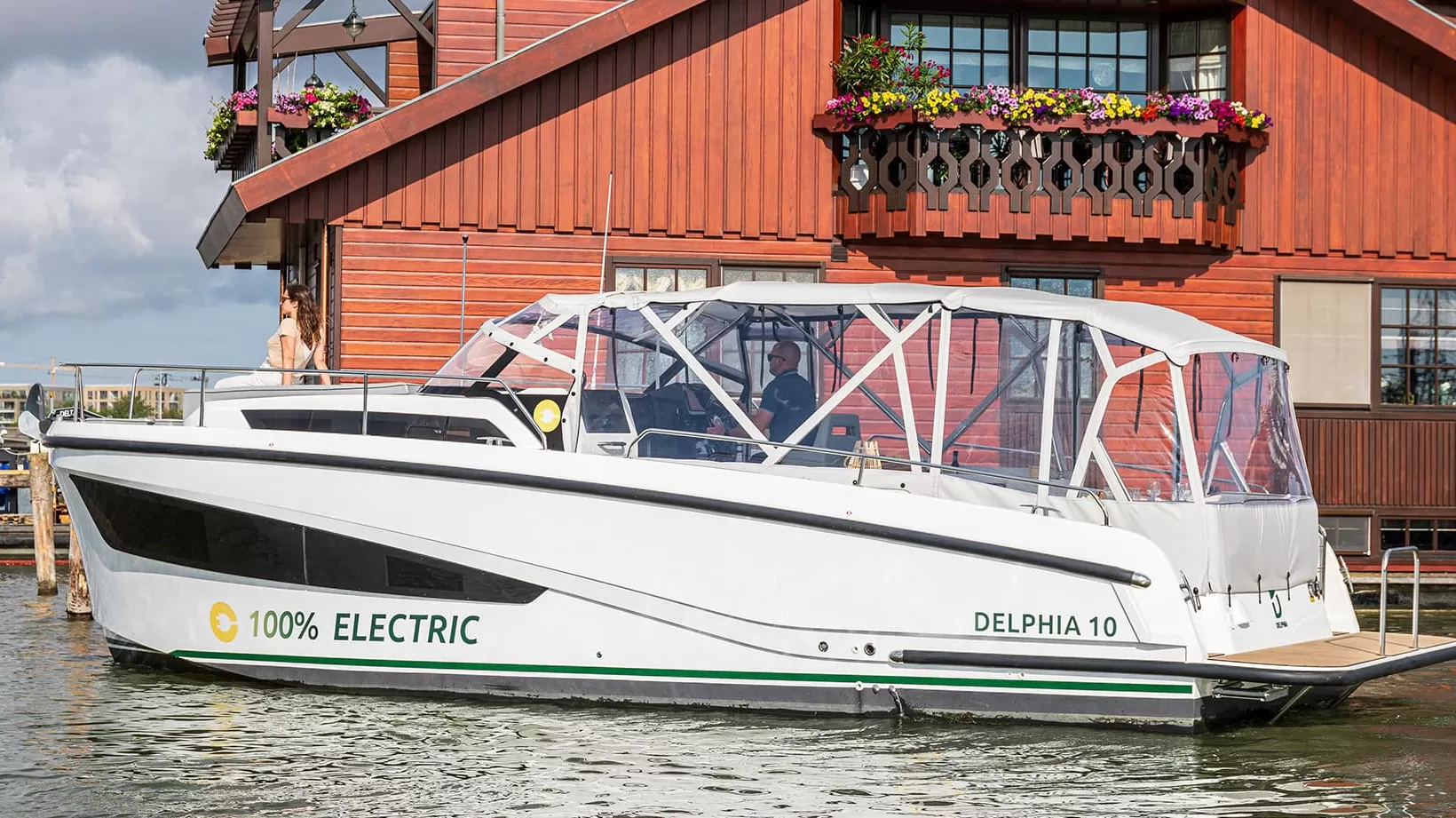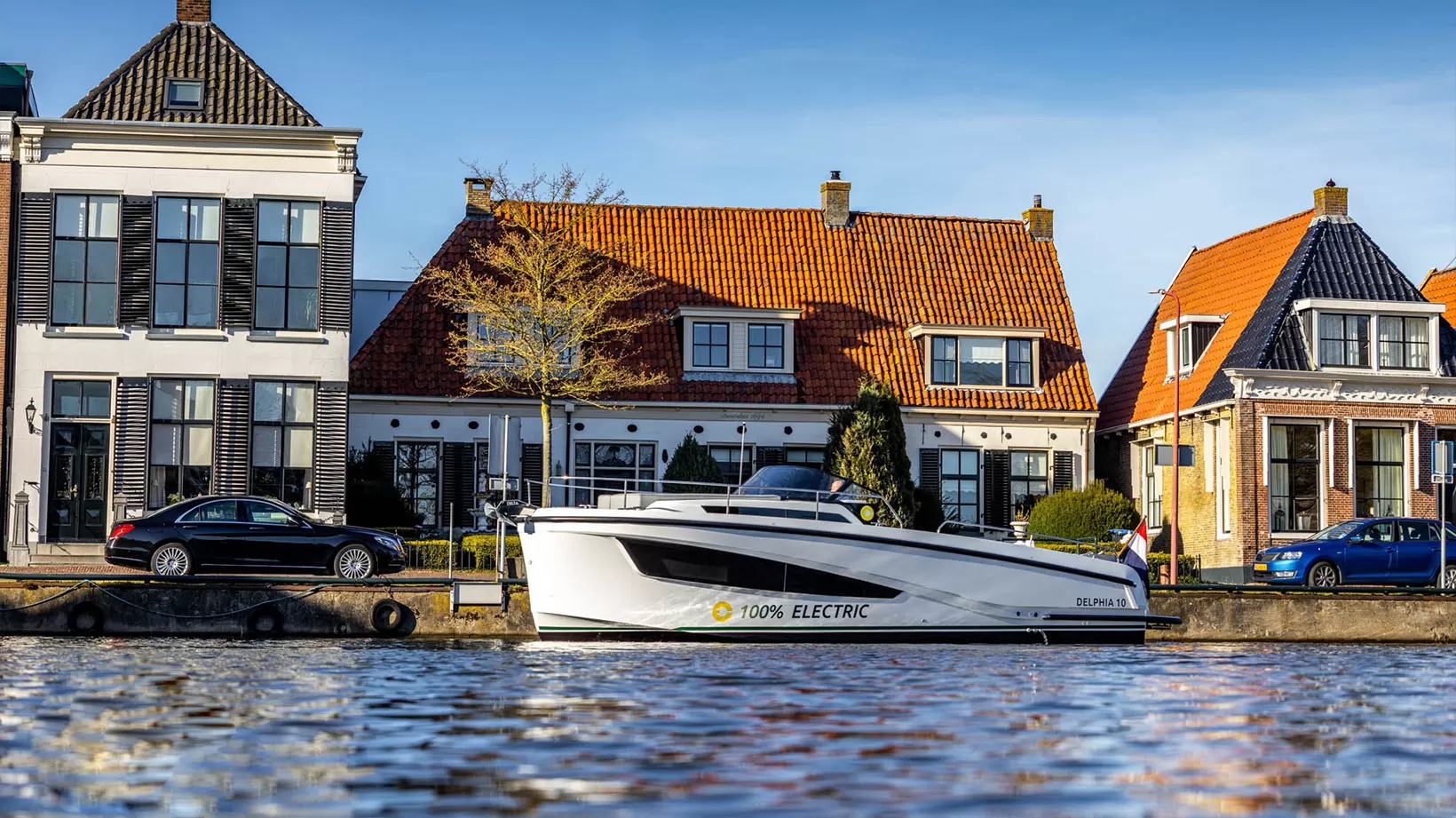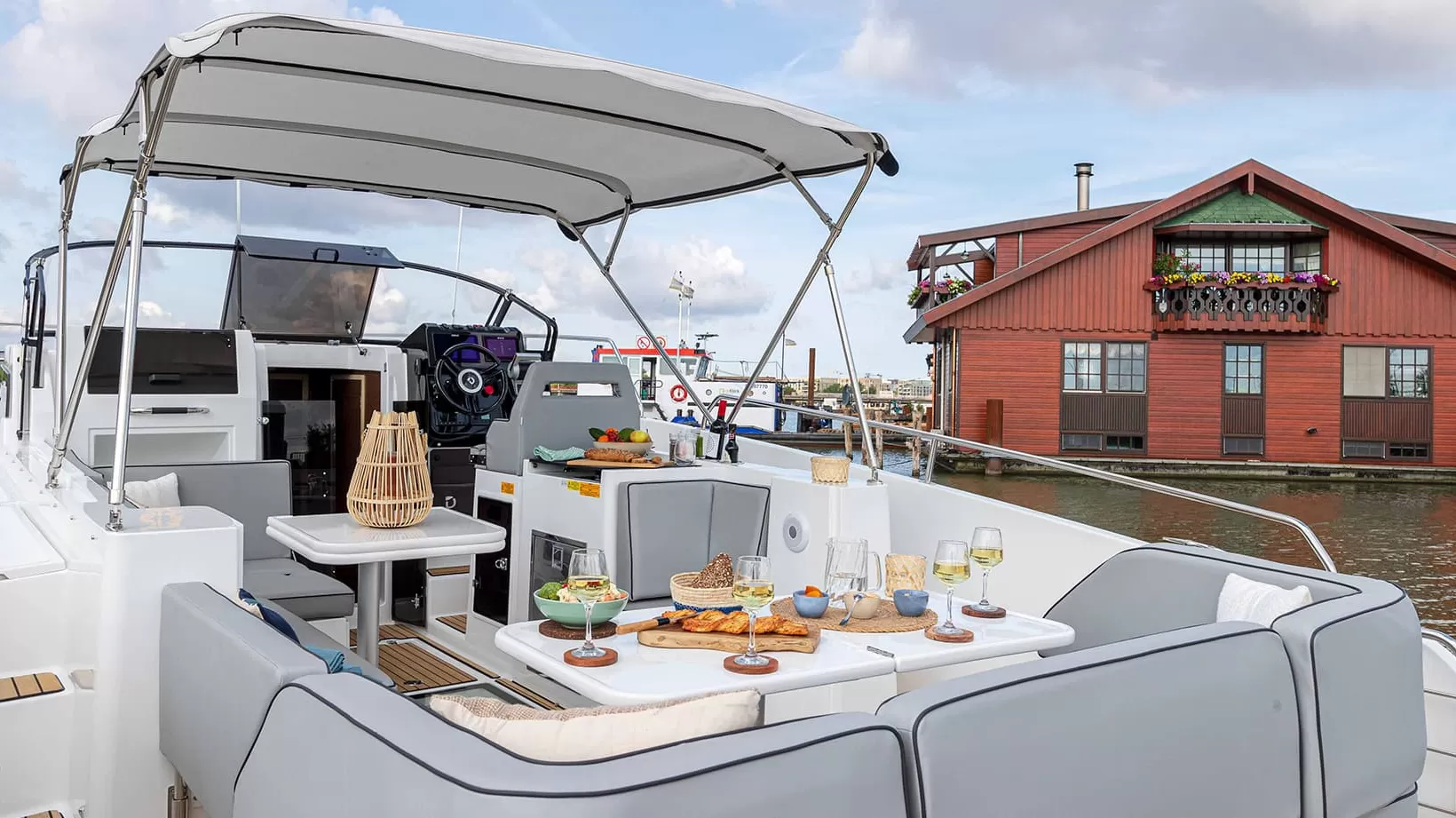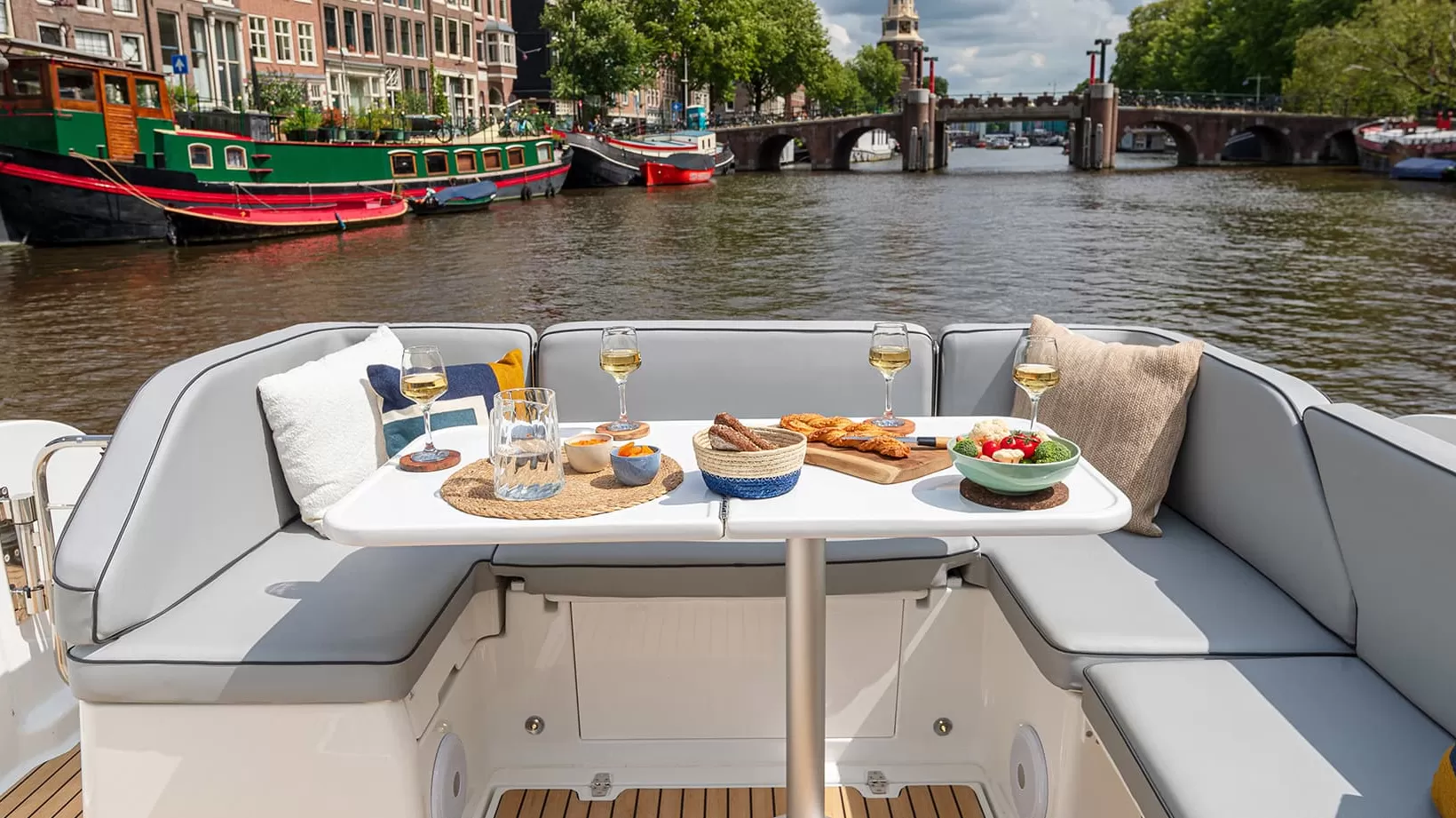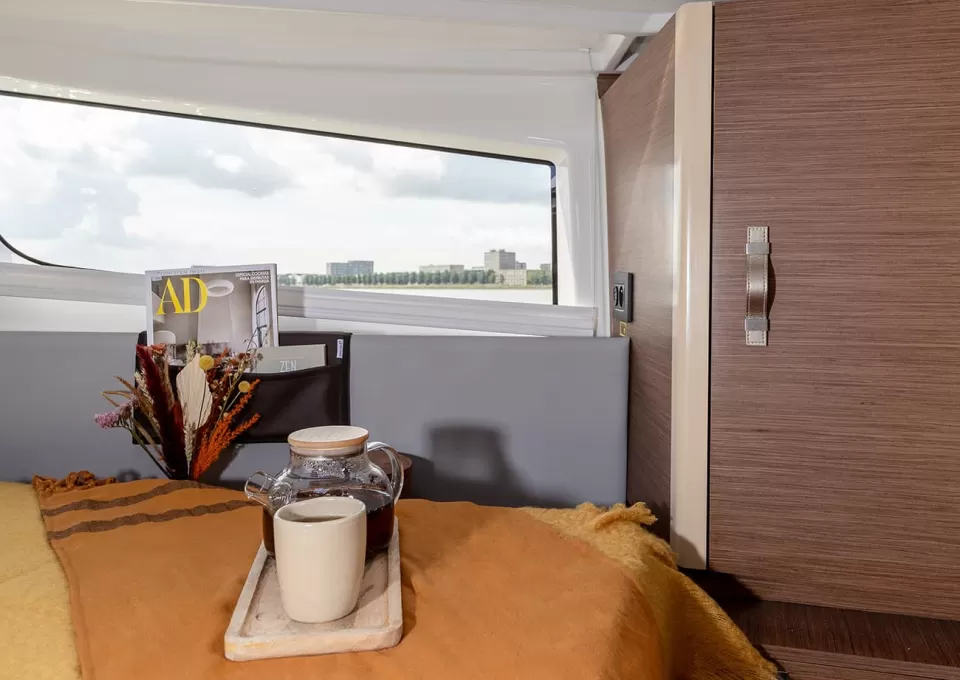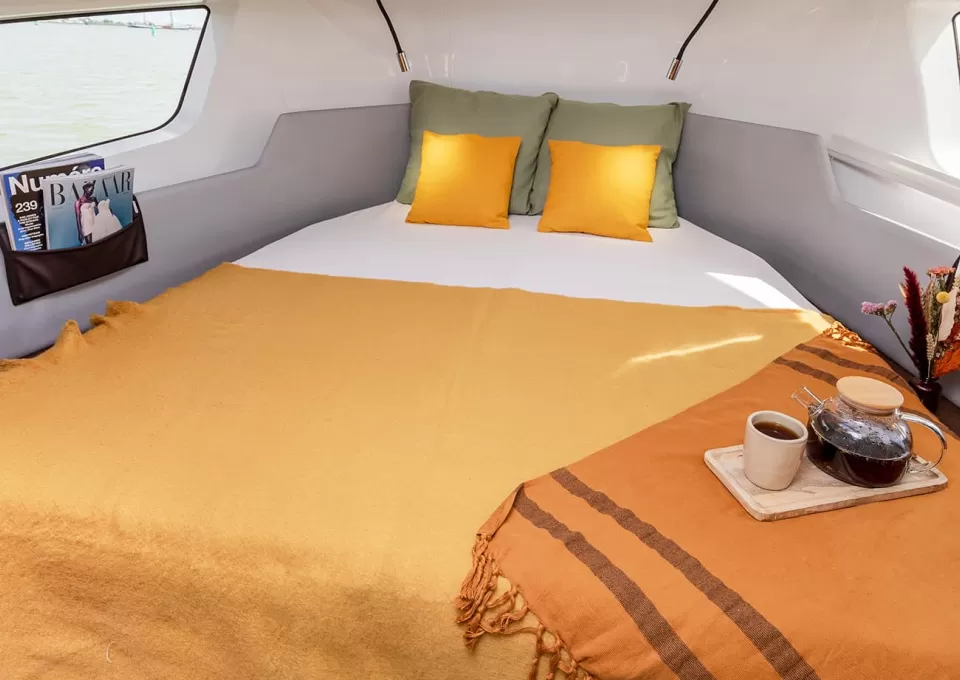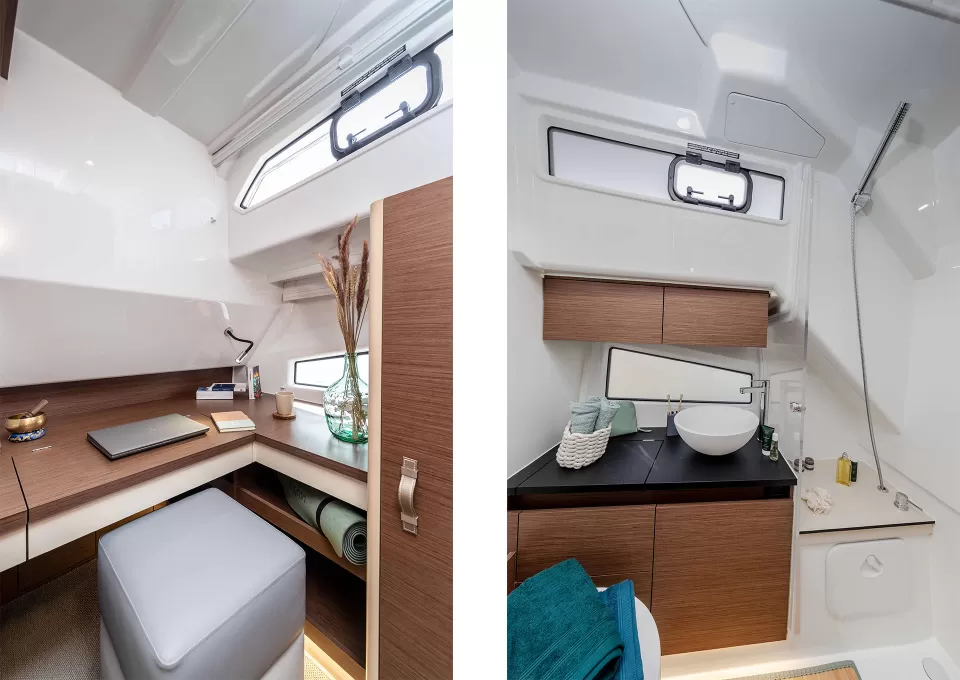 Delphia 10 Lounge
Interior
The interior design features large portholes to let in as much light as possible. Positioned on the bow, a versatile master cabin means that the space can be adapted to suit the needs. A separate bathroom provides the comfort needed to guarantee a relaxing cruise. To make sure that this boat offers you exactly what you're looking for, there's the option of converting the second cabin into an office.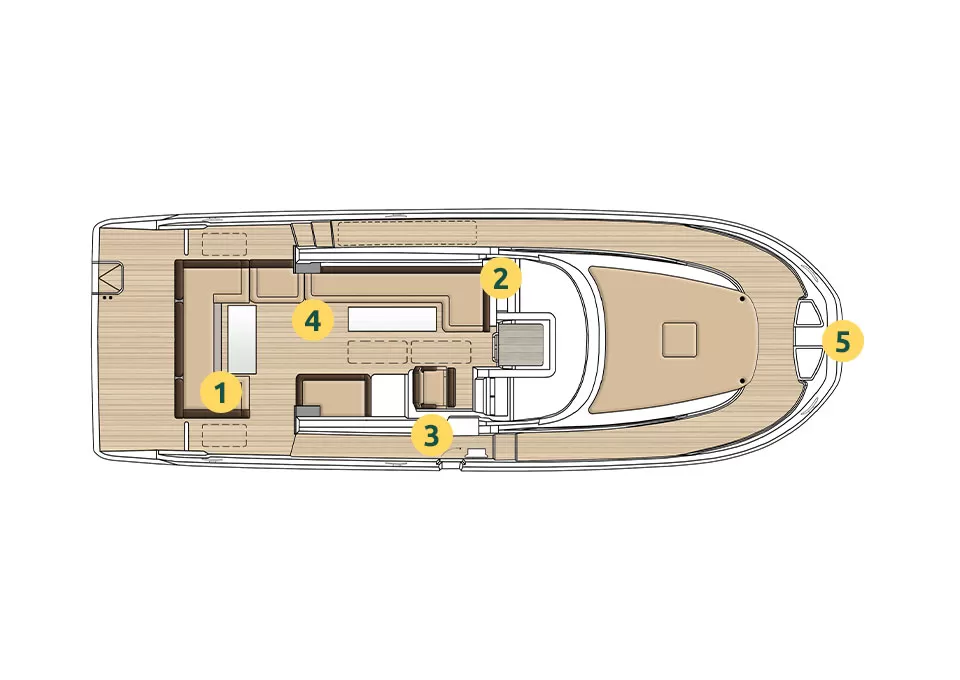 Delphia 10 Lounge
Main deck
1. Gas bottle storage
2. Glove box
3. Side door exit
4. Vis-a-vis seating arrangement
5. Bow sprit with integrated ladder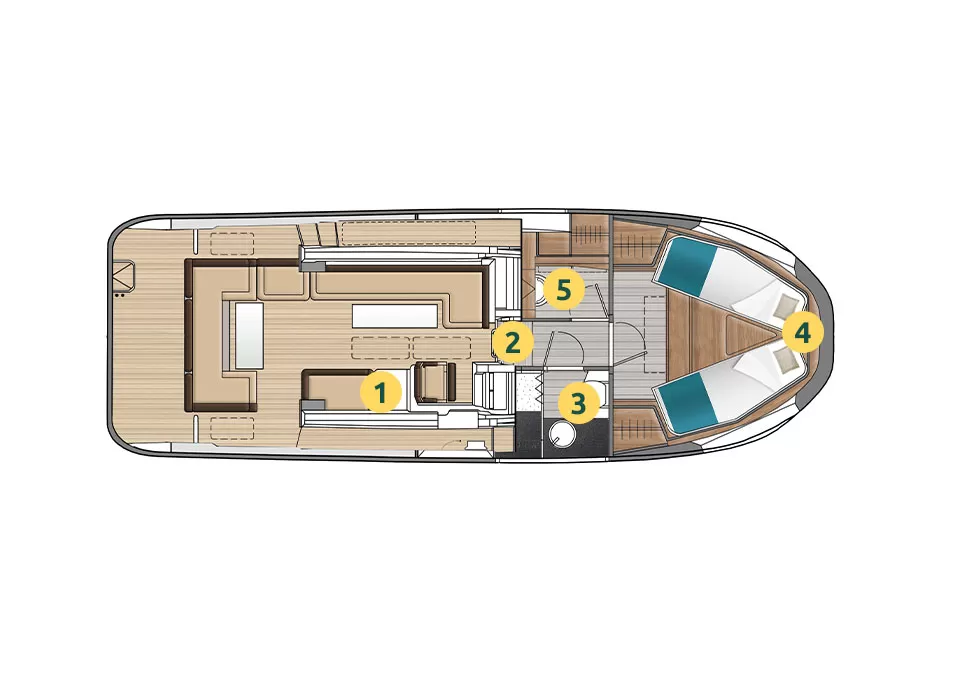 Delphia 10 Lounge
1 cabin & 1 bathroom
1. Front opening fridge
2. Storage space under companionway stairs
3. Bathroom with separate shower stall
4. Owner's cabin with variable double bed
5. Office/utility room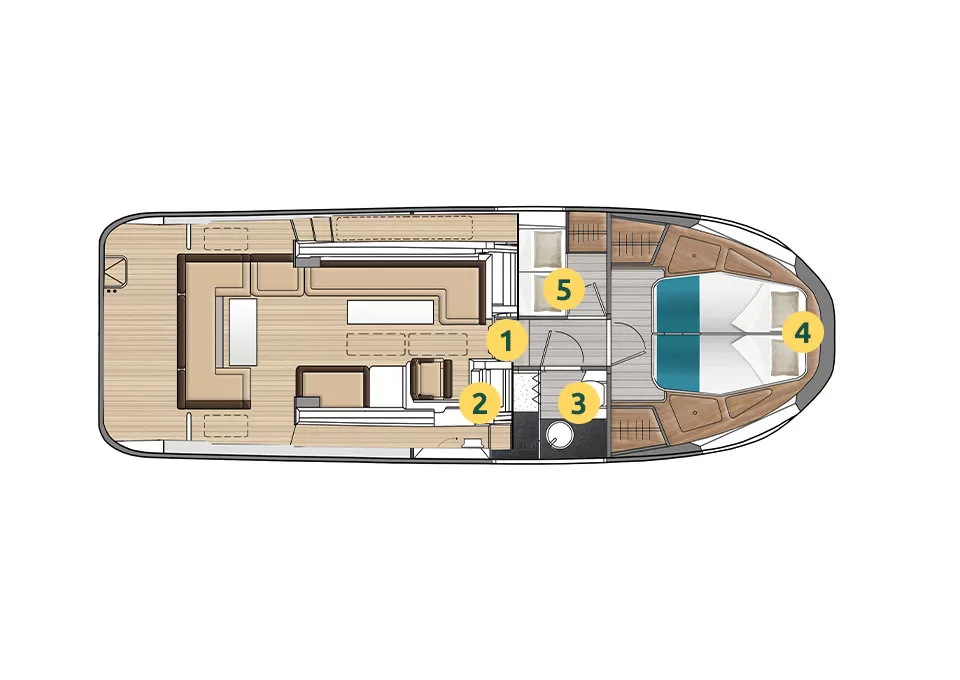 Delphia 10 Lounge
2 cabins & 1 bathrooms
1. Companionway with doors and hatch
2. Helm station
3. Bathroom with separate shower stall
4. Owner's cabin with variable double bed
5. Guest's cabin with double bed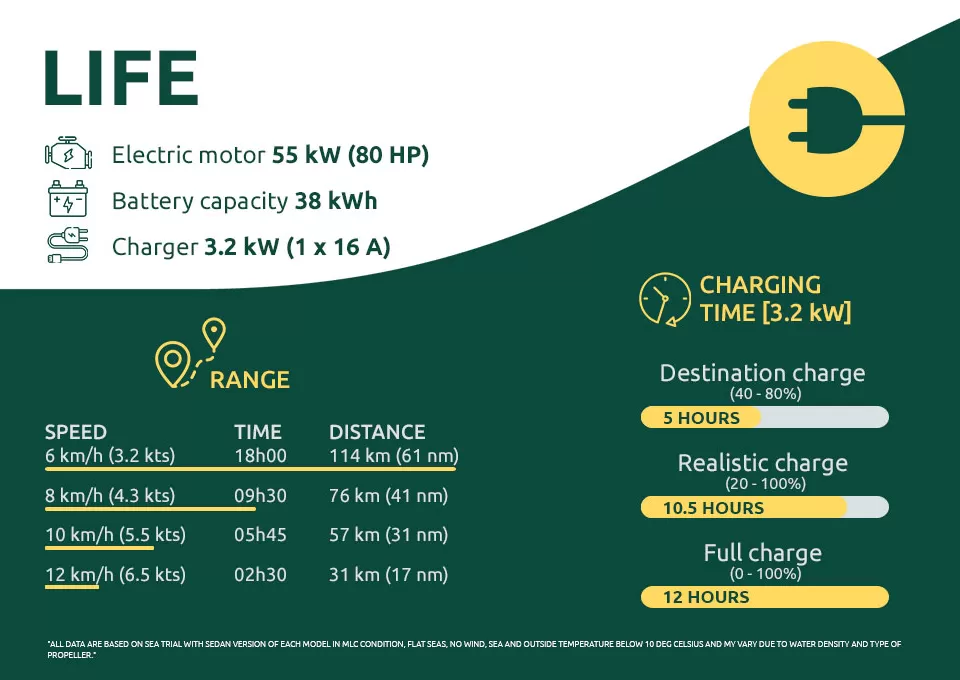 Performance
Delphia 10 Life
"Life" represents a first step in Delphia's conscious boating by an unbelievable value ideal for boaters using their boats in limited navigation areas, such as lakes, urban areas or tend to enjoy short cruises or day outings.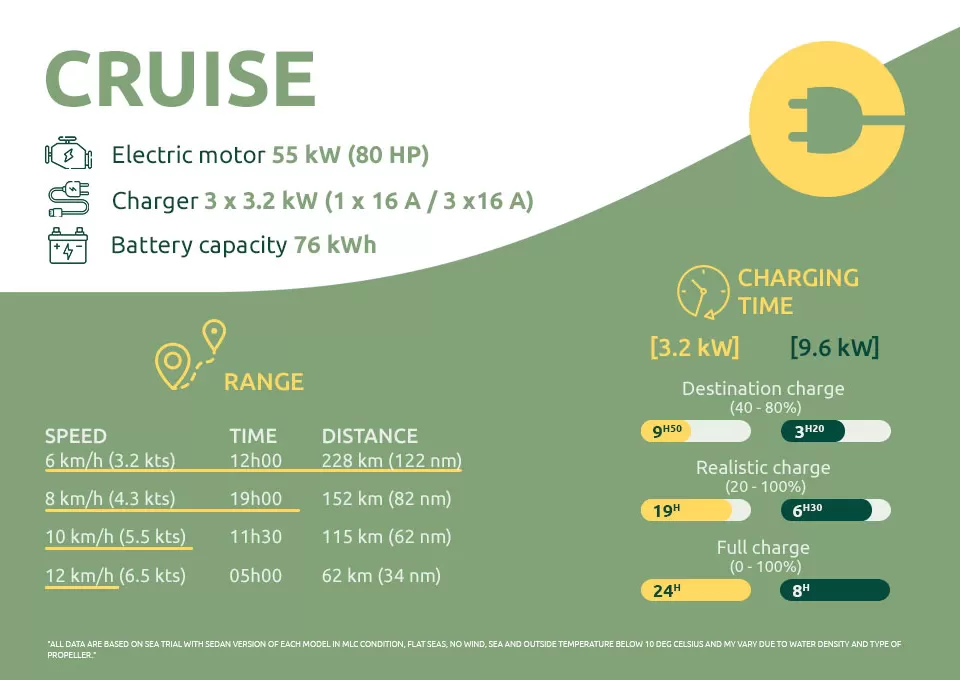 Performance
Delphia 10 Cruise
"Cruise" is a thought-out system for explorers who like to take their love ones to secluded bays or distant villages expecting more autonomy and added functionality.
Performance
Delphia 10 Rapid
"Rapid" system, it is a look into the future – meaning that, those owners who navigate in areas where infrastructure is already in place for fast charging.
Delphia 10 Lounge
Characteristics
Fuel capacity

| diesel