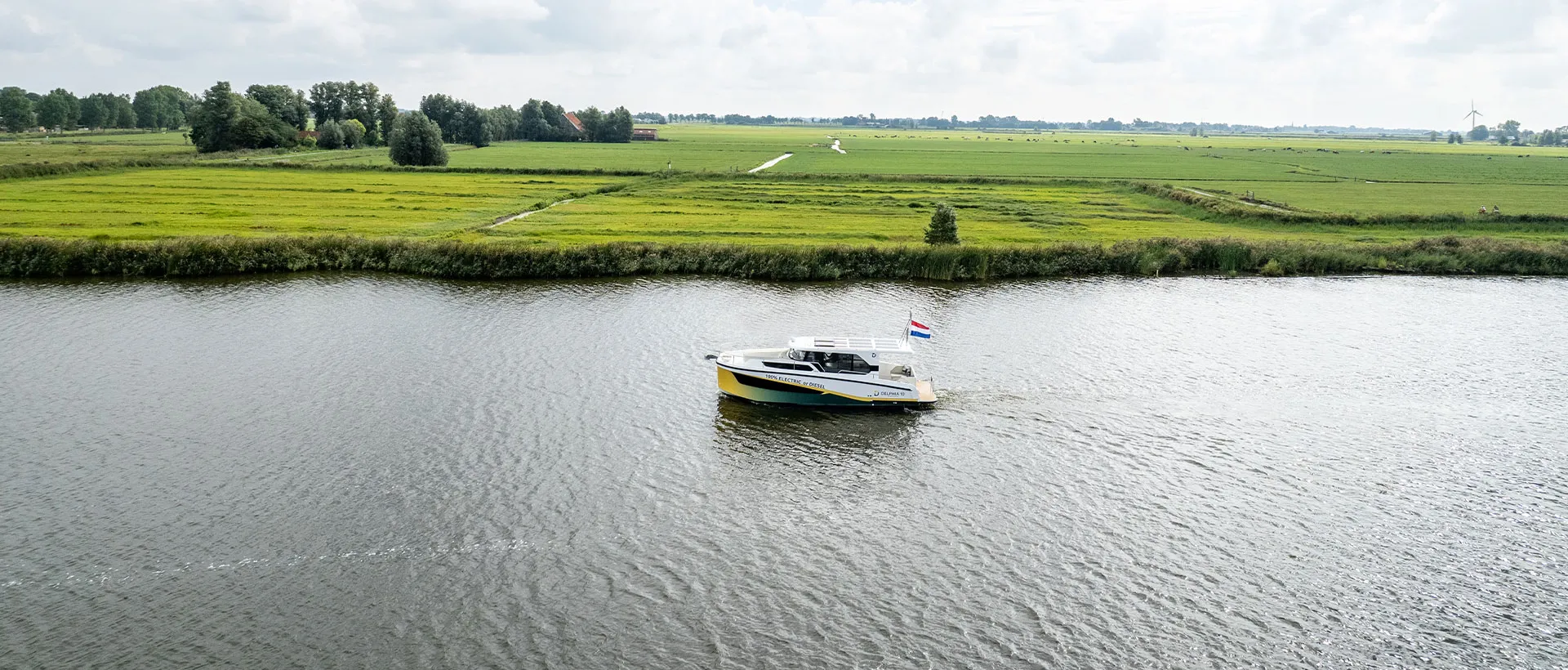 Delphia 10
Sedan
Available in electric and internal combustion versions
Get ready to make some unforgettable sailing memories on board the Delphia 10 Sedan! This innovative boat stands out with its stunning design and finishes, offering an exceptional quality of life on board.
Ideal for family cruises lasting several days, this boat has been designed by Vripack to offer gorgeous living spaces that guarantee privacy and comfort.
Available in electric and internal combustion versions
Designer : Vripack Yacht Design
Panoramic views

Besides the incredible 360° views, the vertical windows of the wheelhouse minimize raindrops and prevent the interior from overheating on sunny days, which reduces the amount of energy needed to cool the interior.
Your home away from home

The entire Delphia range truly offers that home away from home feeling: comfortable U-shaped seating, fully equipped galley, generous headroom, natural light, domestic appliances, and storage spaces. The materials used have been carefully selected.
E-mobility

electric
The 100% electric propulsion gives the cruiser an added benefit: no emissions, no fuel odors, no noise, and no heat. The Delphia 10 Sedan is also fitted with a charging terminal for your electric bikes.
Choose your cozy spot

Reading, contemplation, catching up, or even remote working! On board the Delphia 10 Sedan, you're sure to find your cozy spot.
Passing under bridges? No problem!

Specifically designed for internal waterways, all of the Delphia models have a low air draft, meaning that they can pass under the main bridges of rivers and canals.
Solar Power

The sun is a very reliable and environmentally friendly source to harvest energy from to power all our onboard electric equipment. With Delphia's purposely designed photovoltaic system, you can extend your stay in a secluded area without having to worry about visiting a marina to recharge your batteries.
Delphia 10 Sedan
Exterior
The Delphia 10 Sedan's solar panels power the domestic appliances and lighting on board, offering increased autonomy and more responsible energy consumption.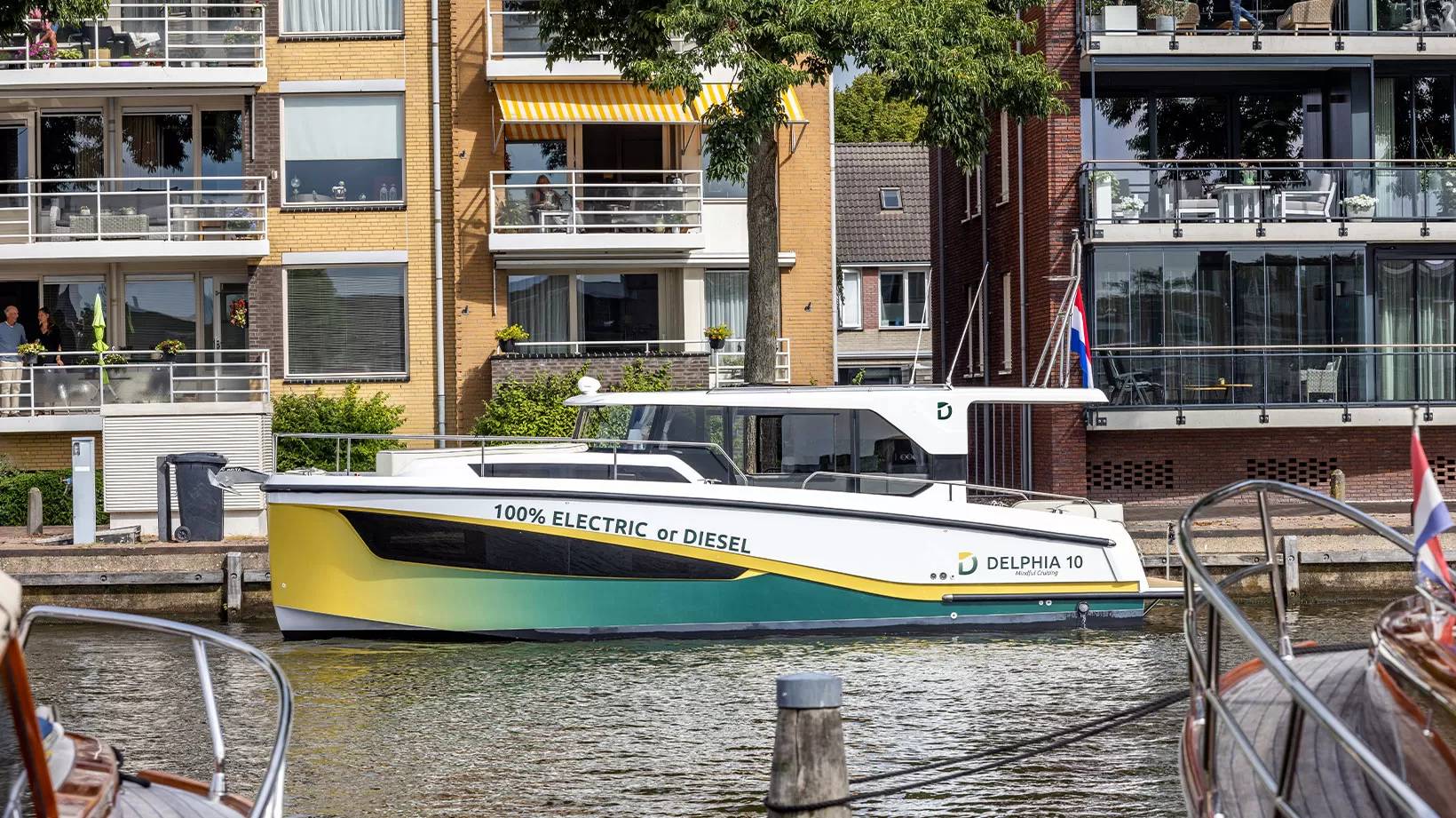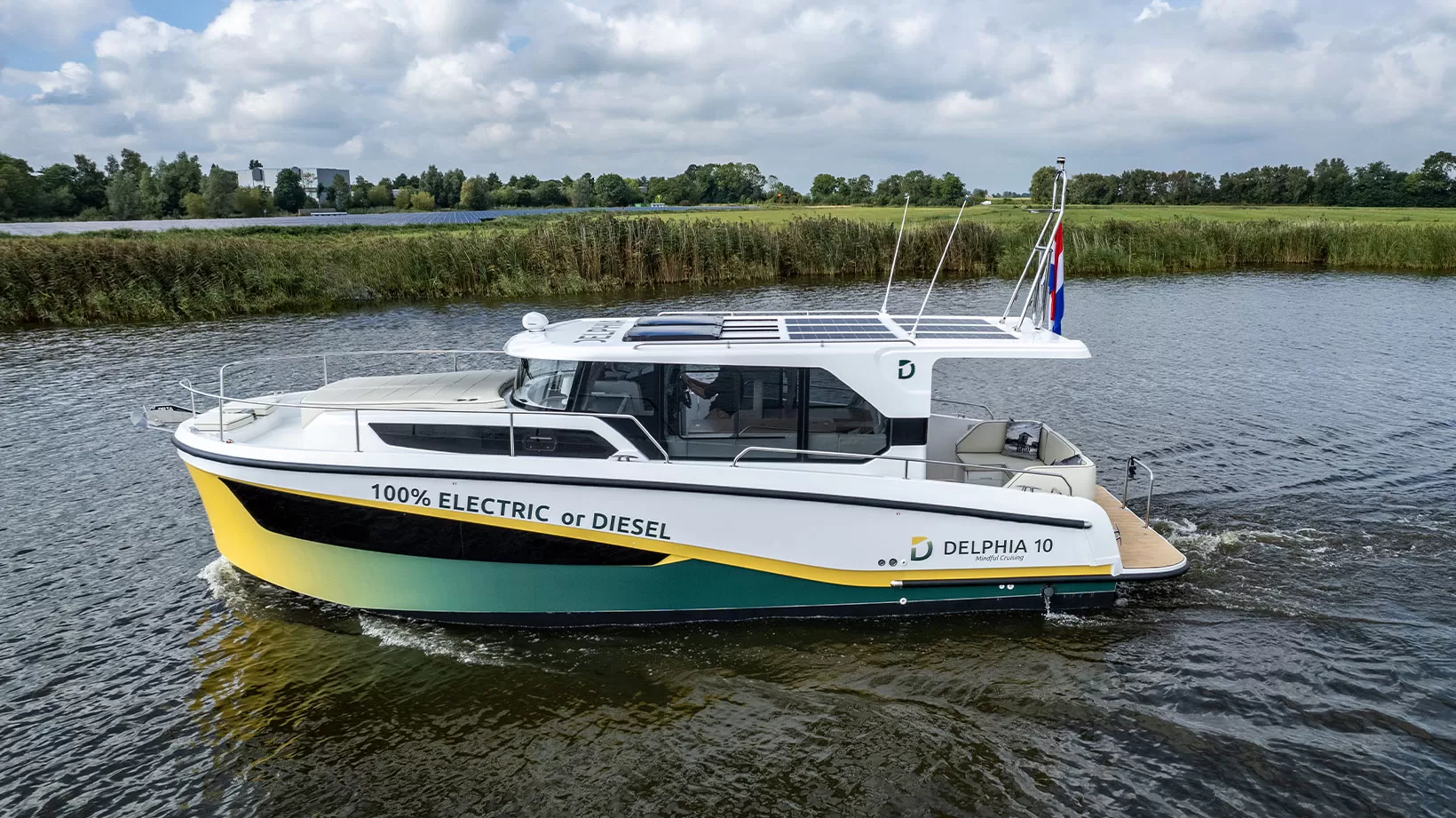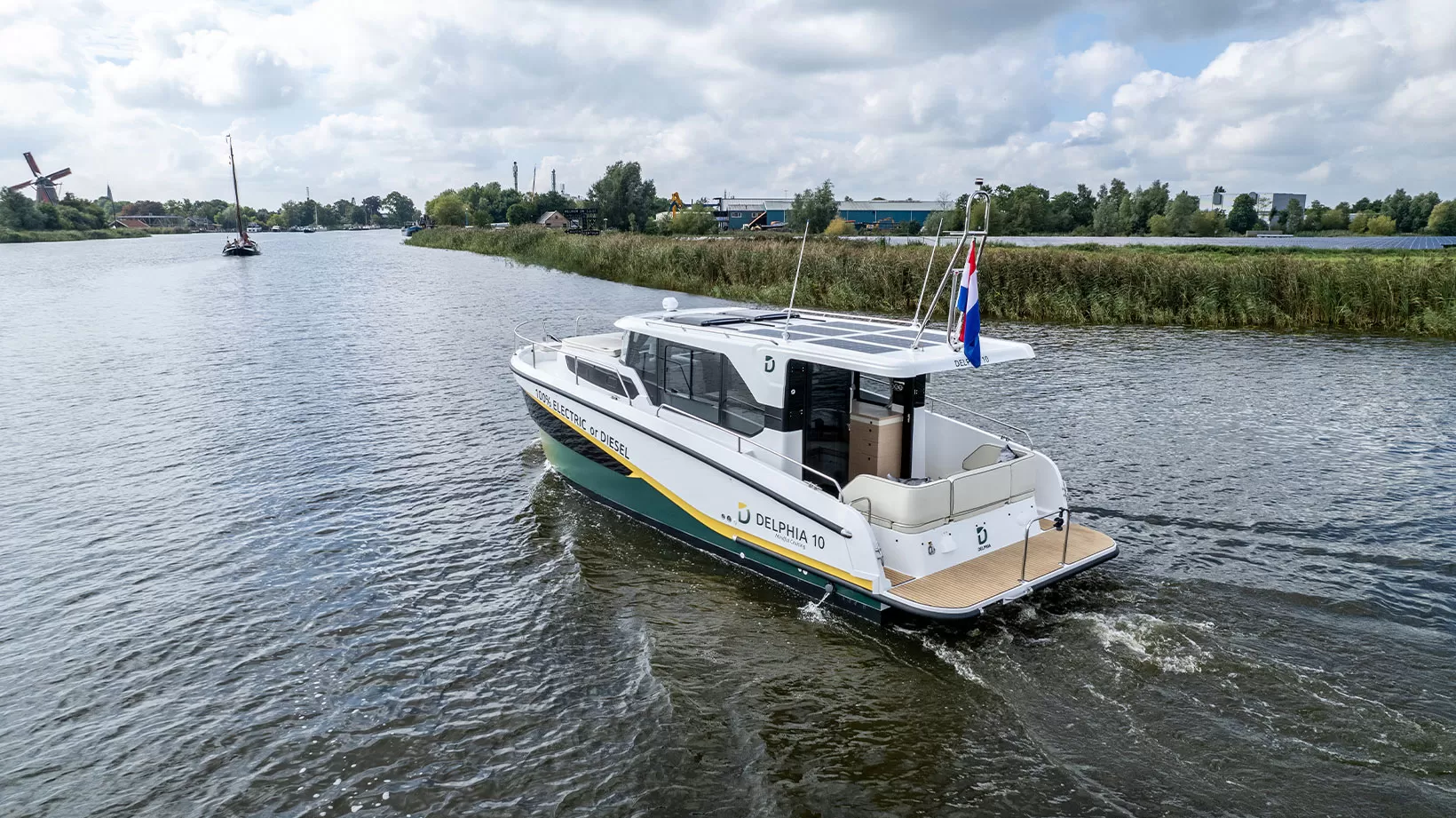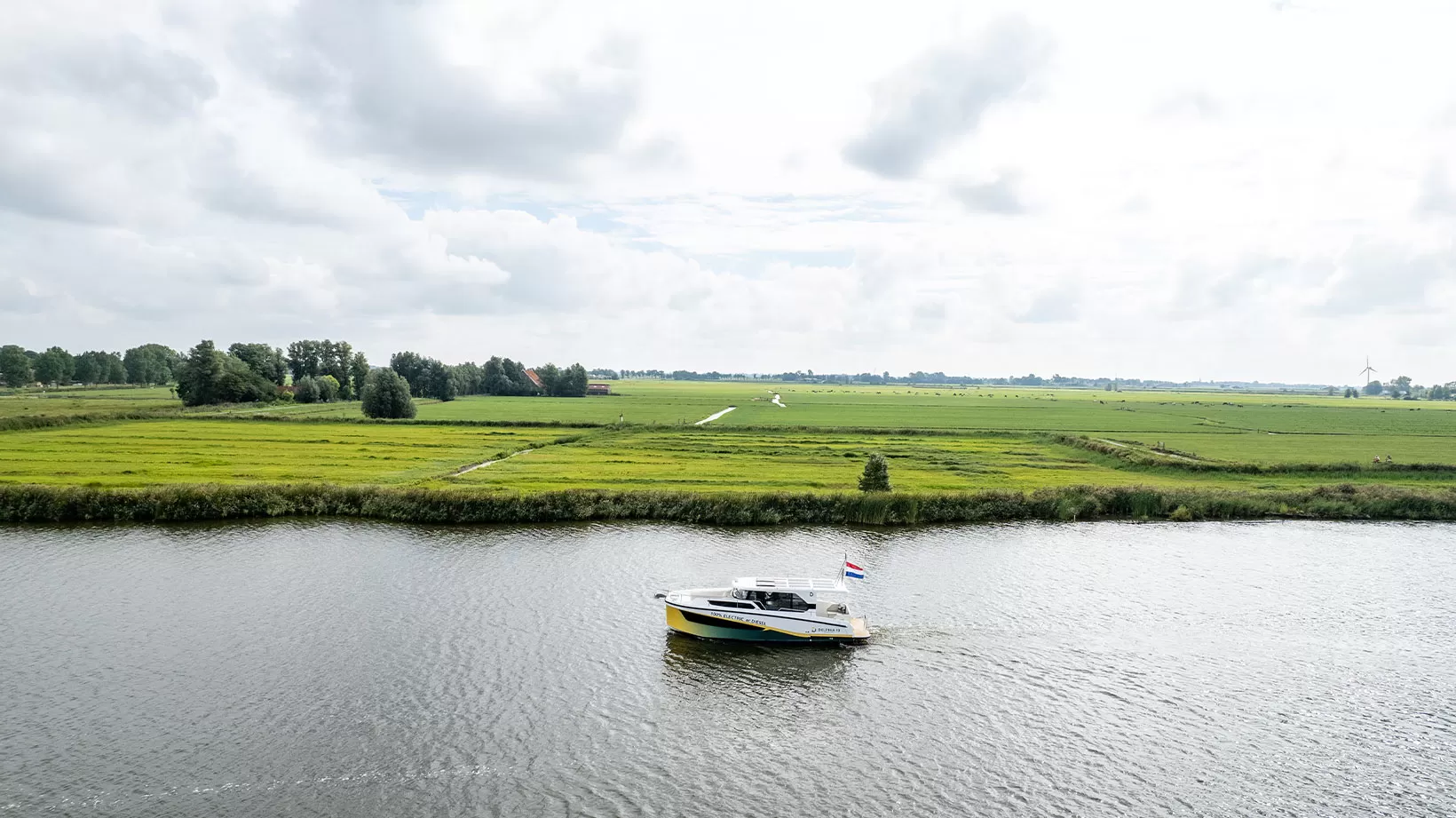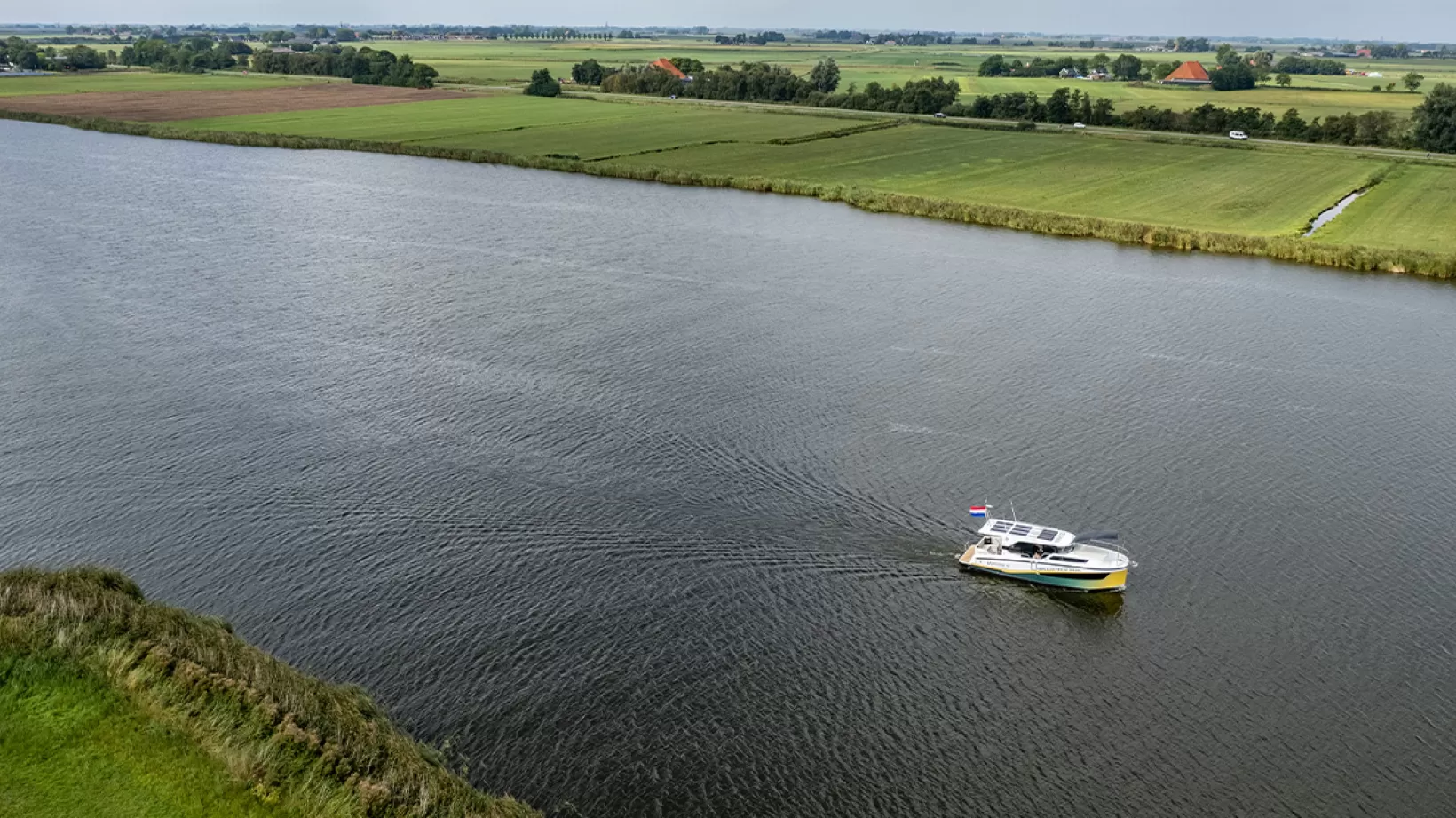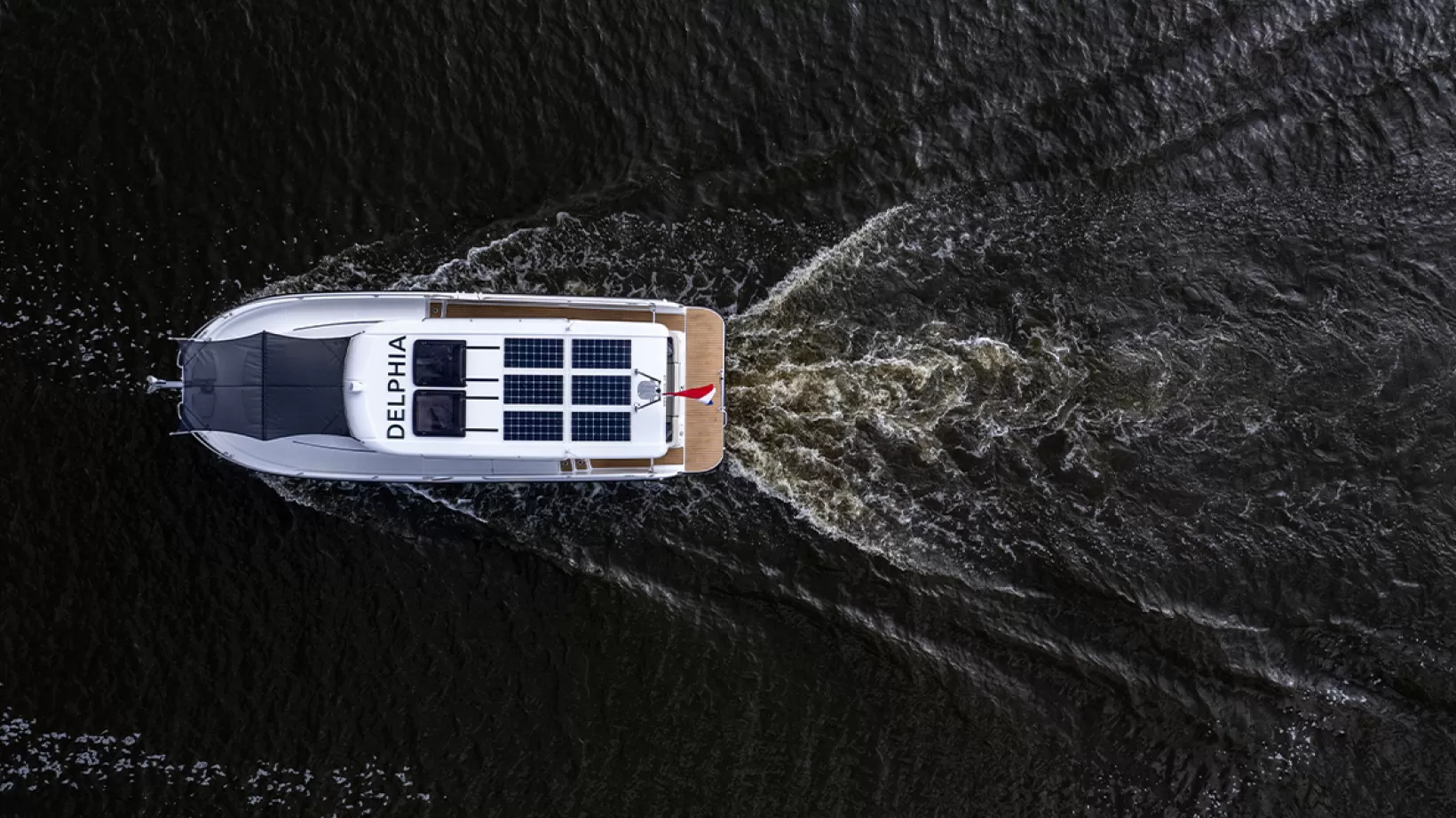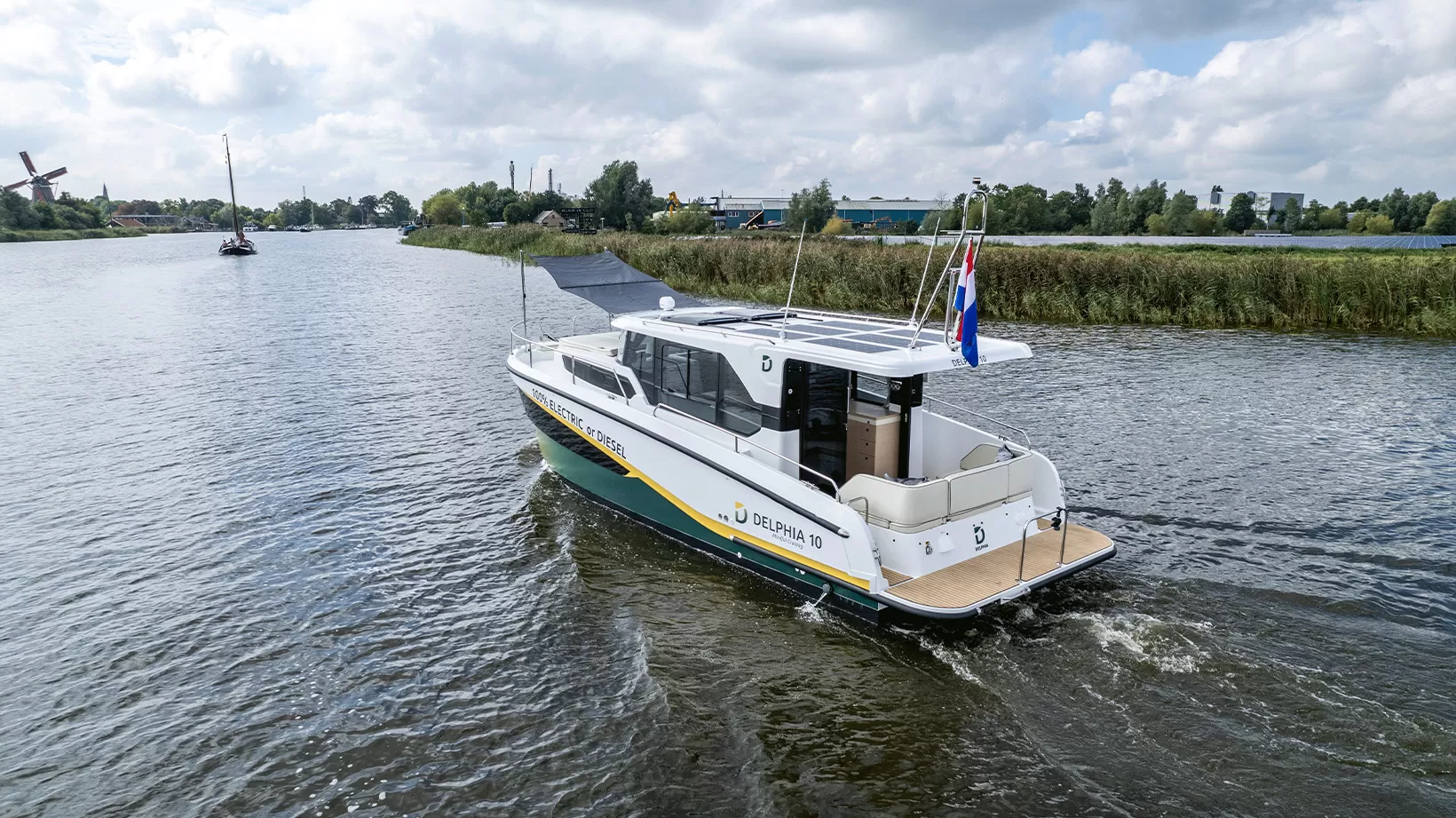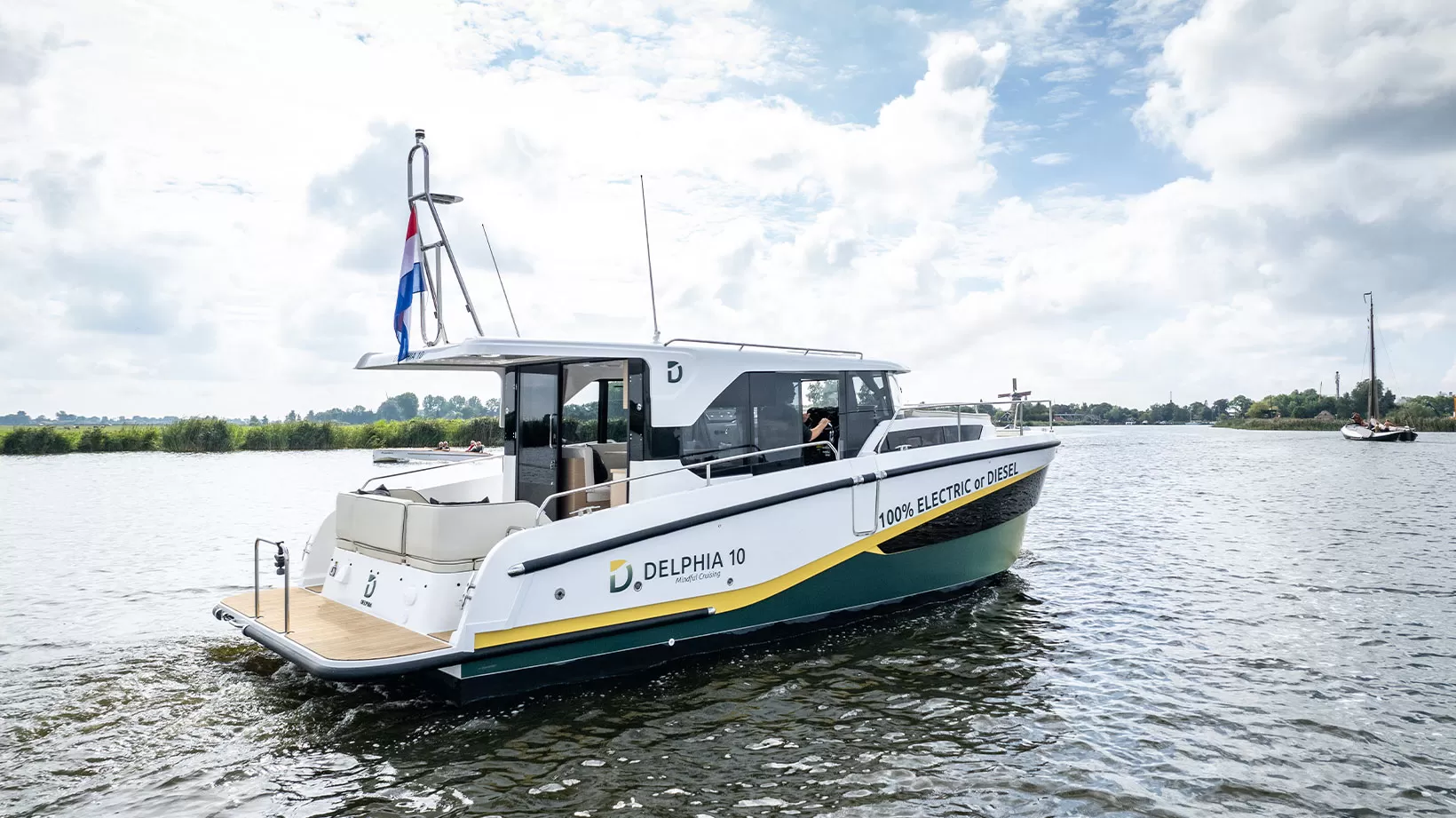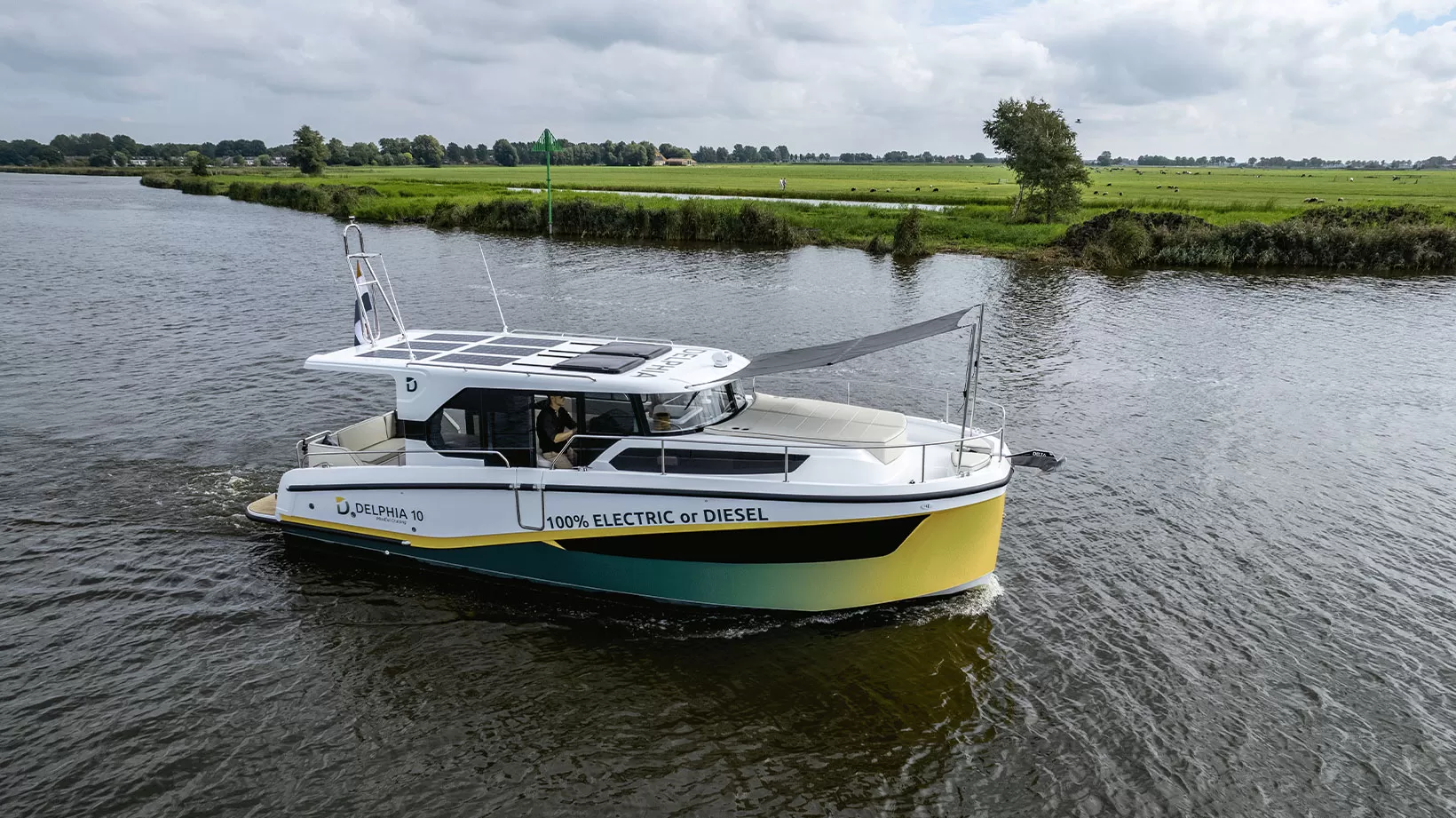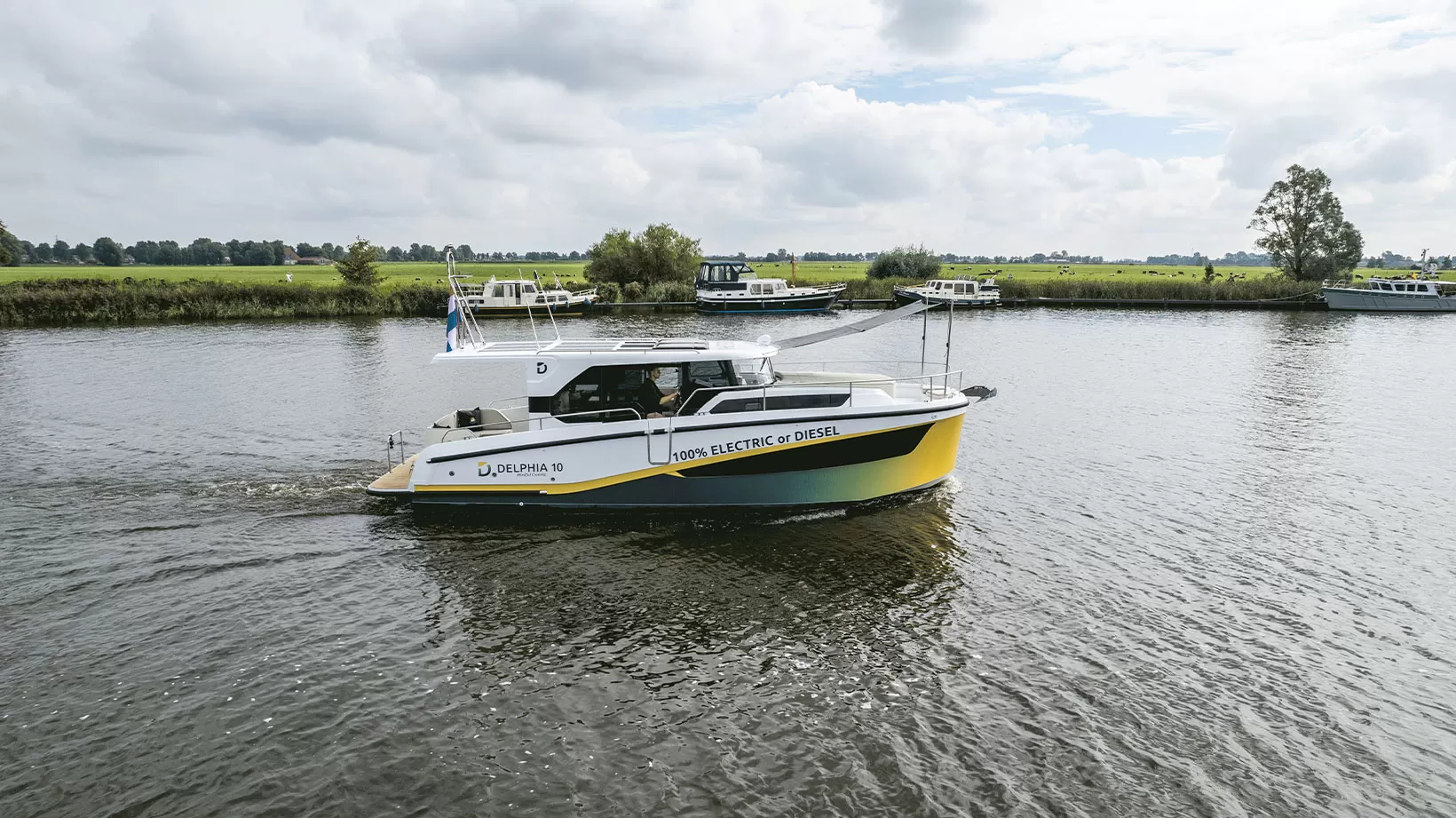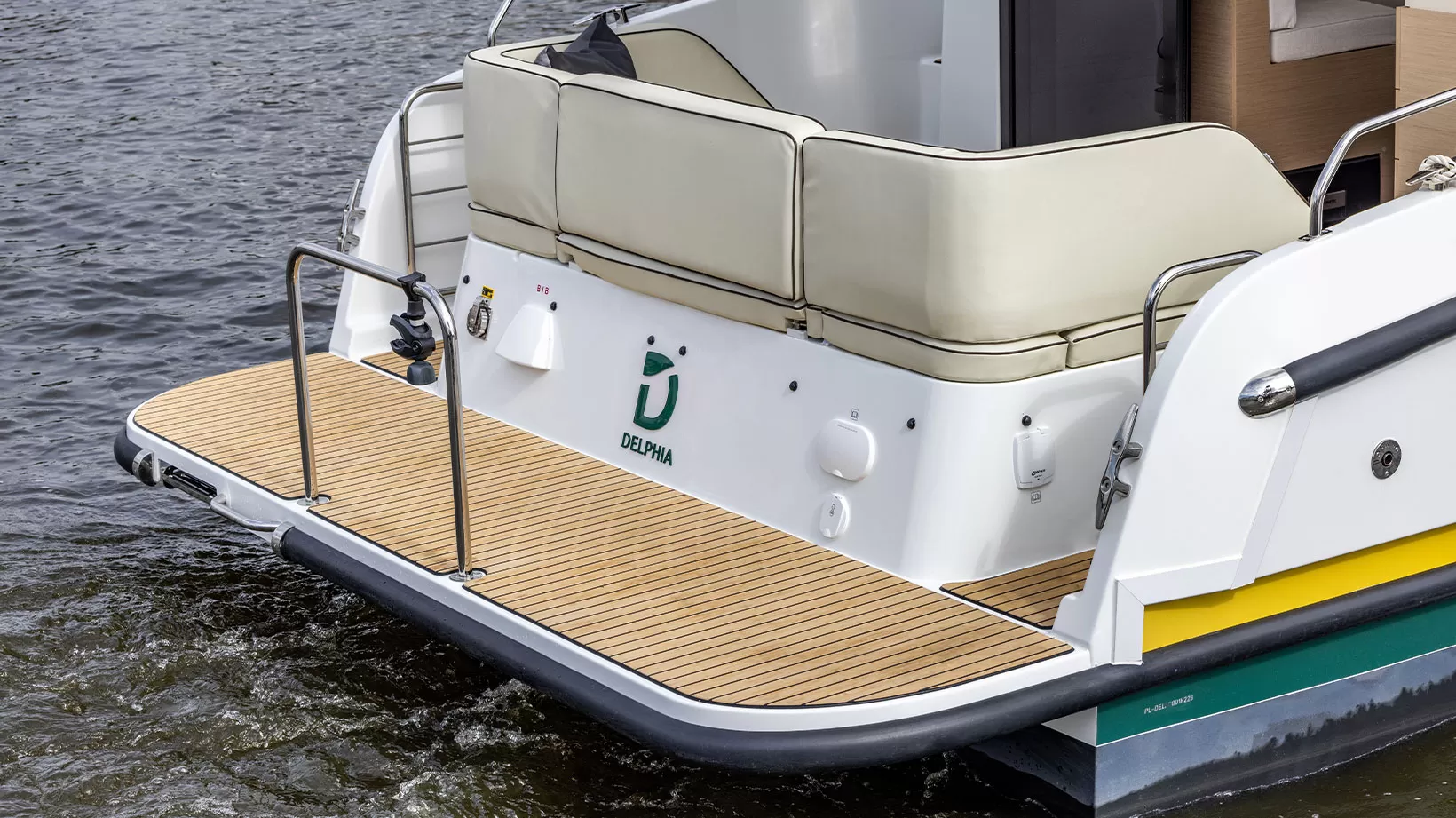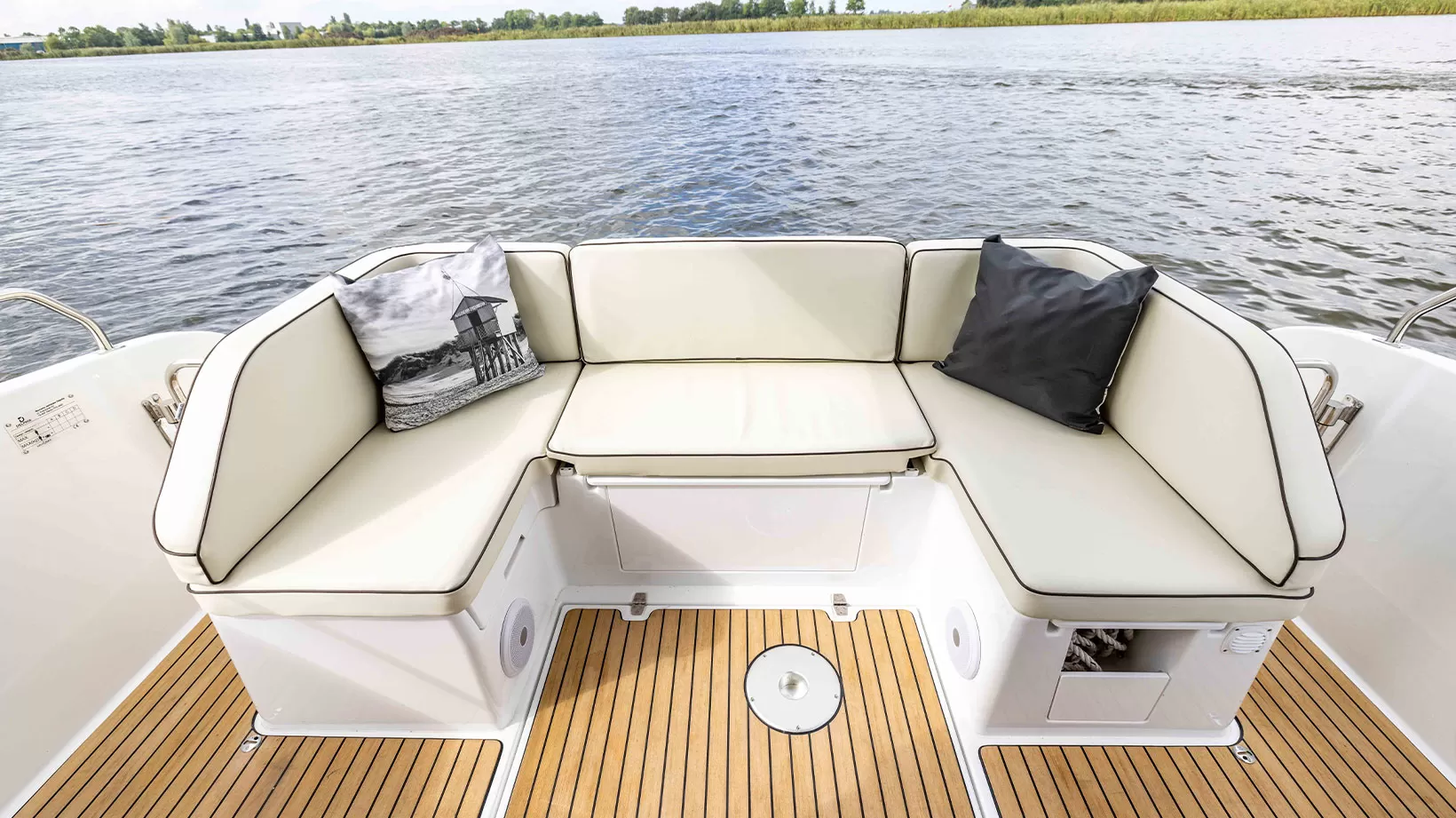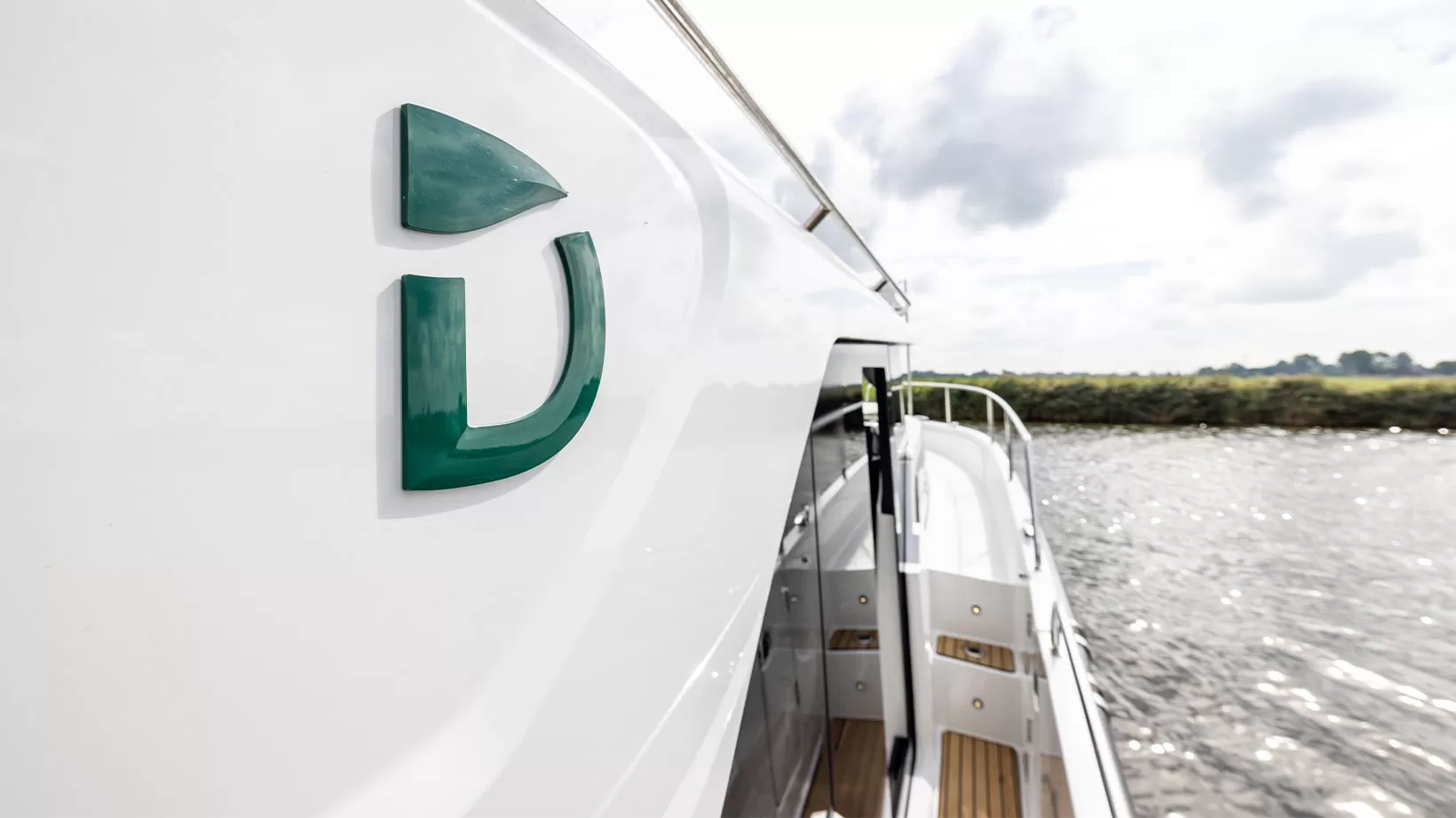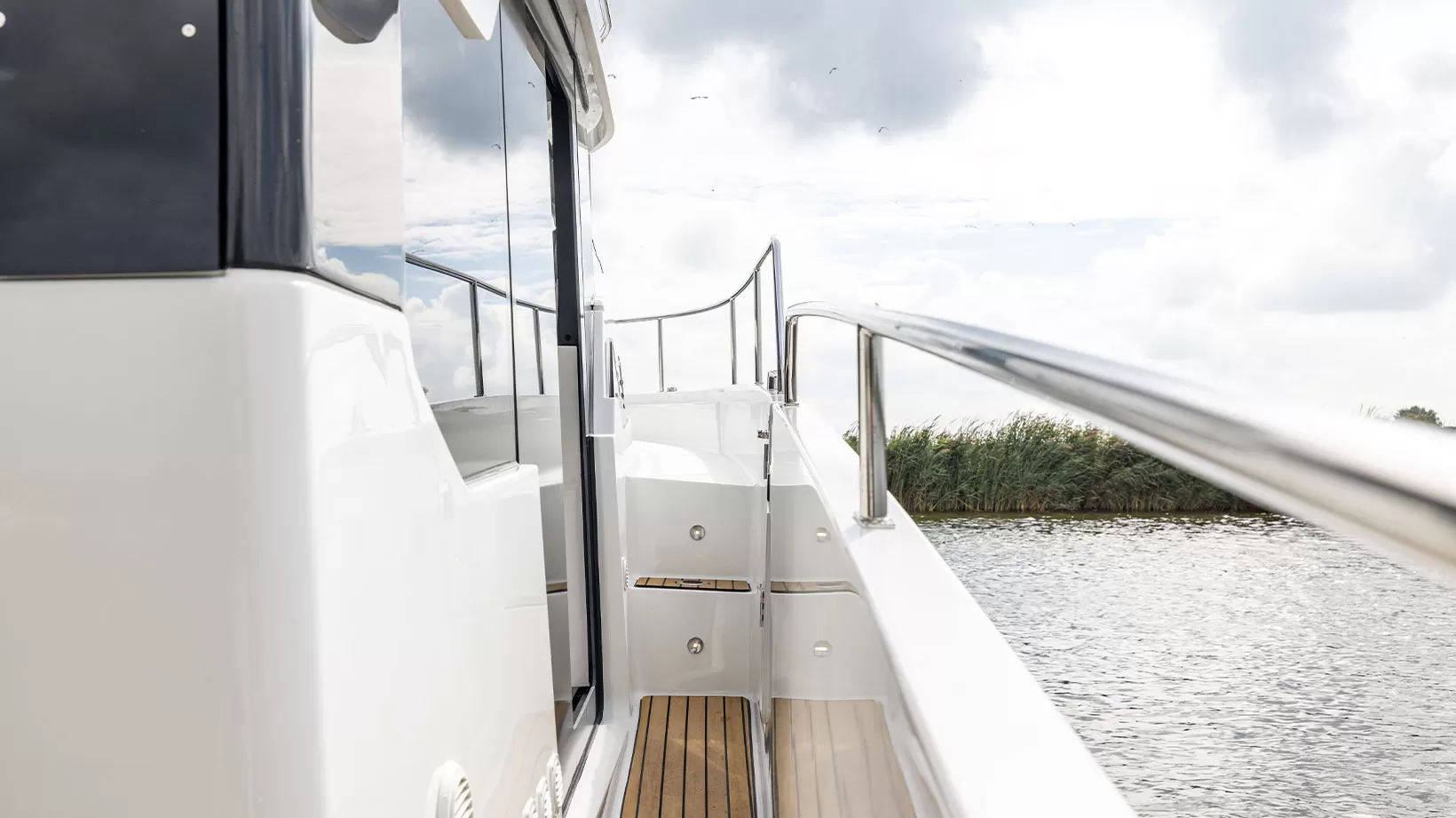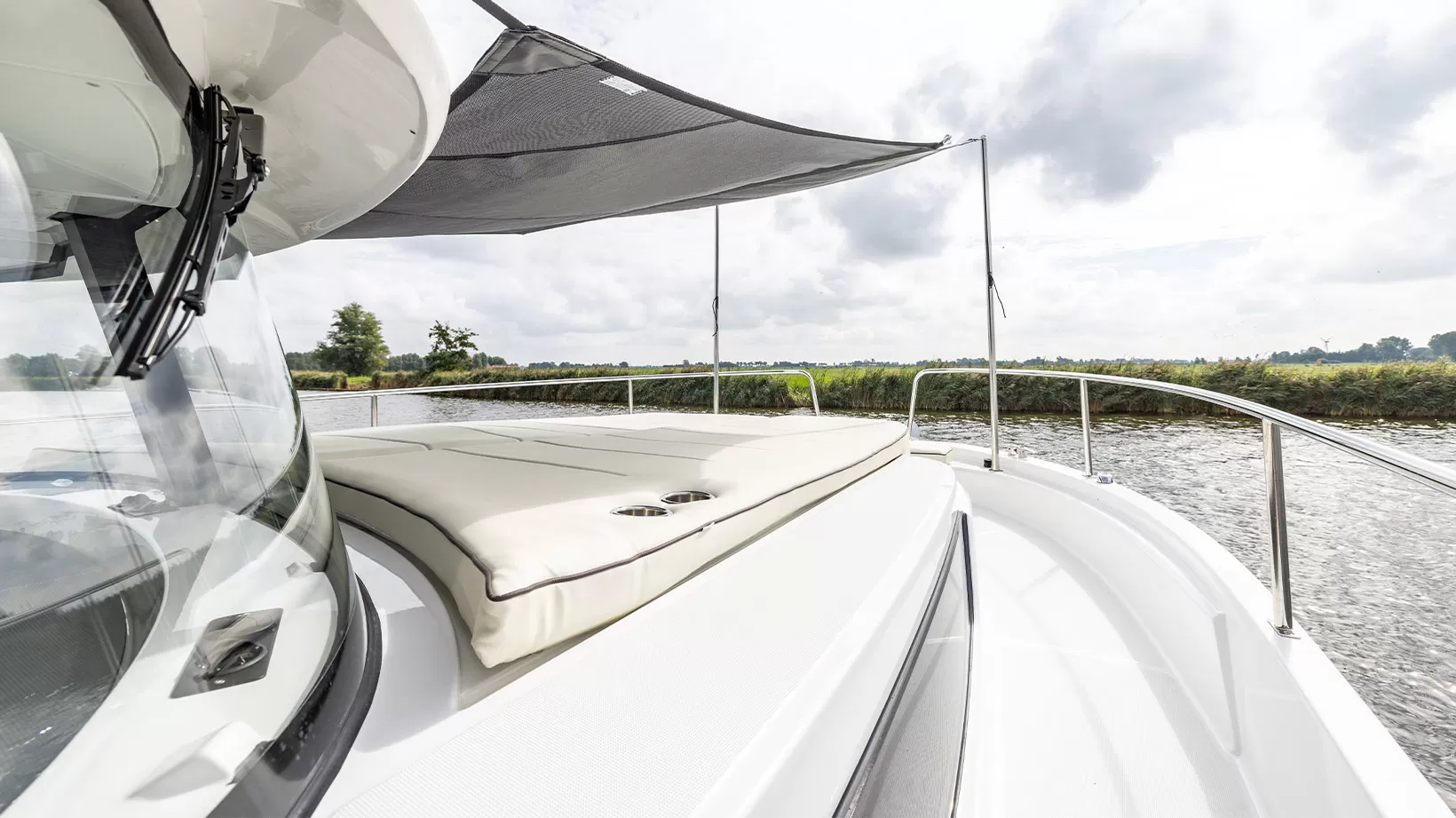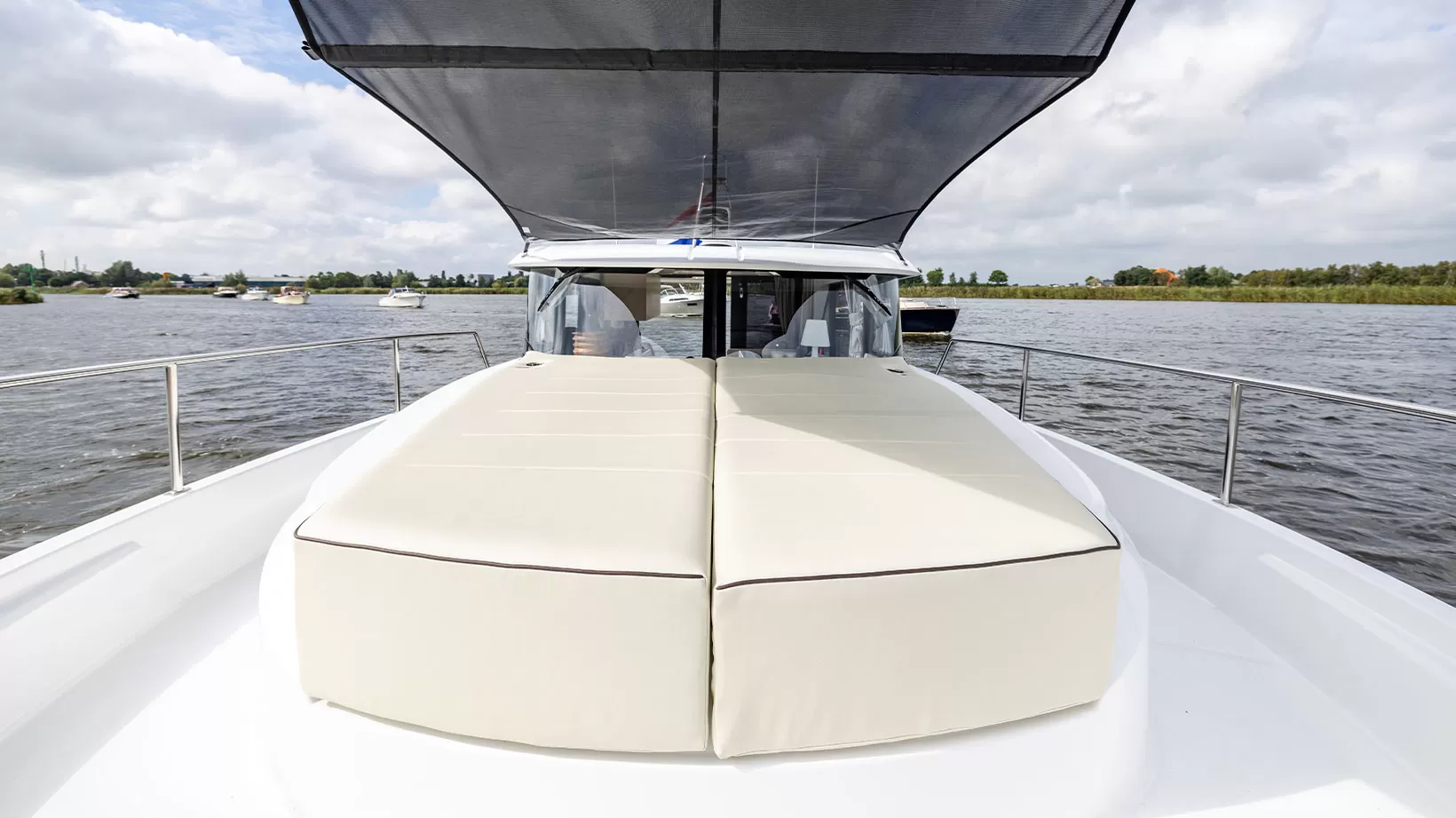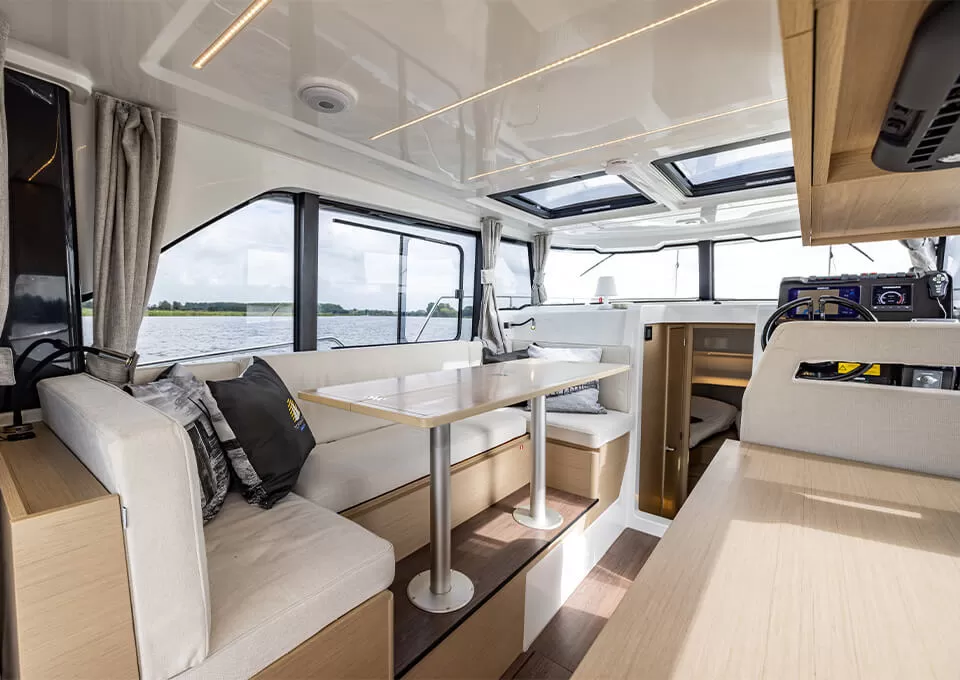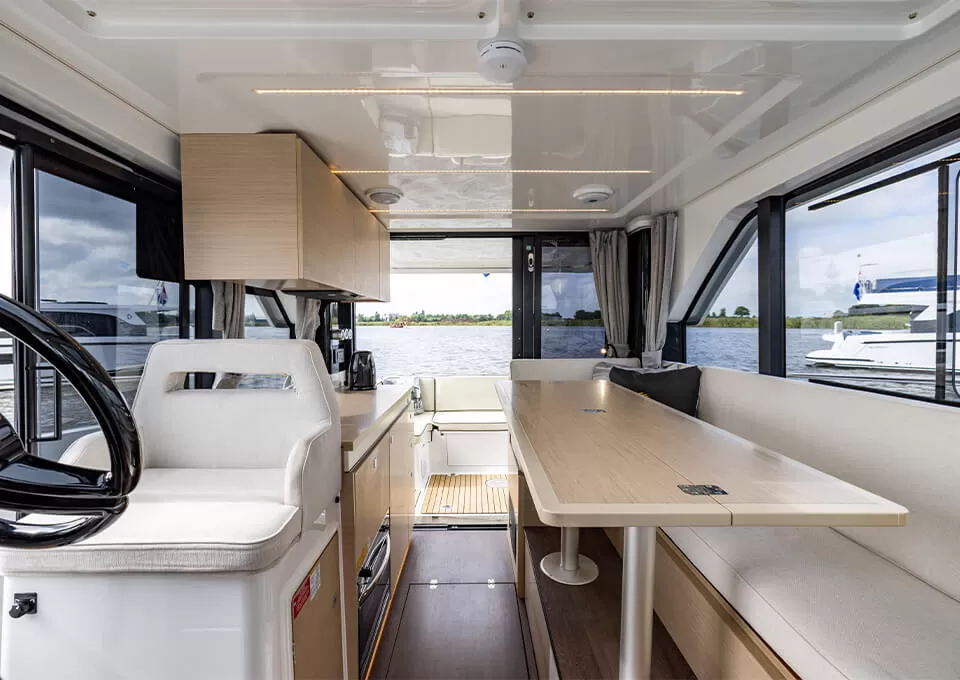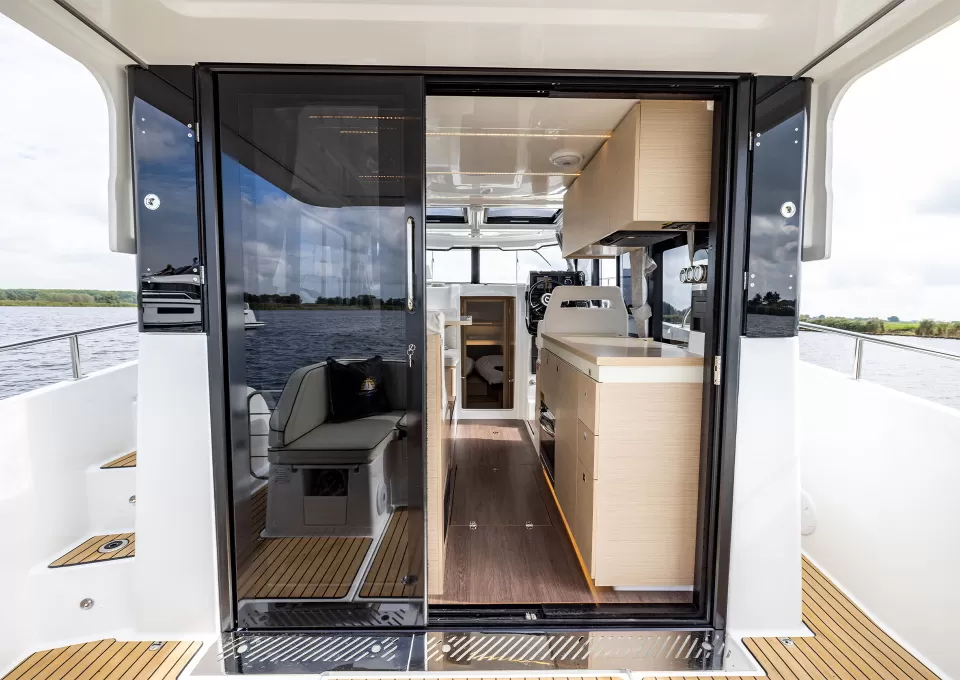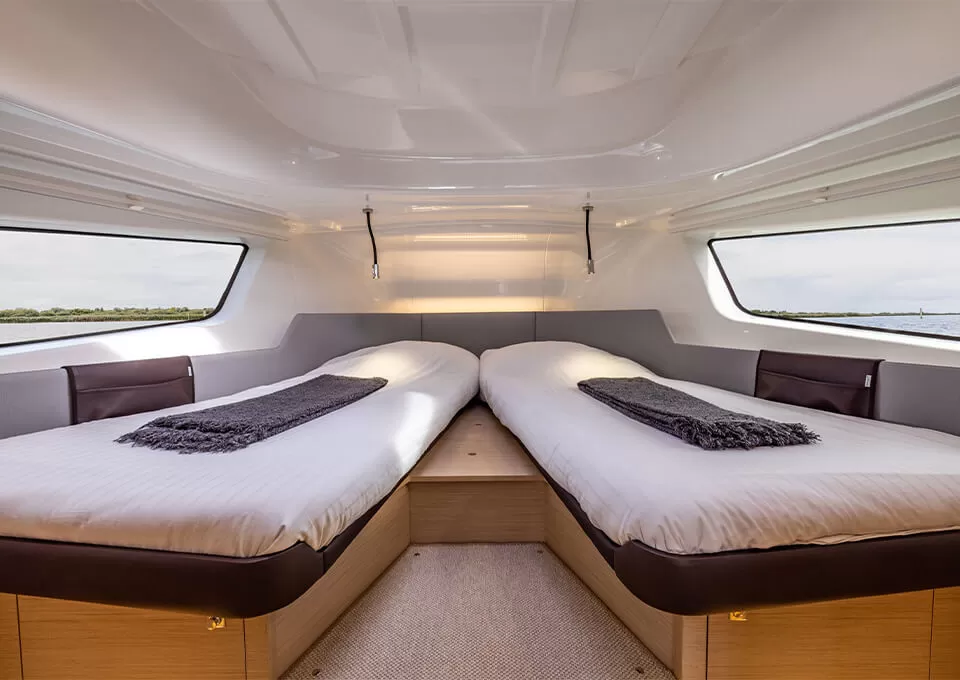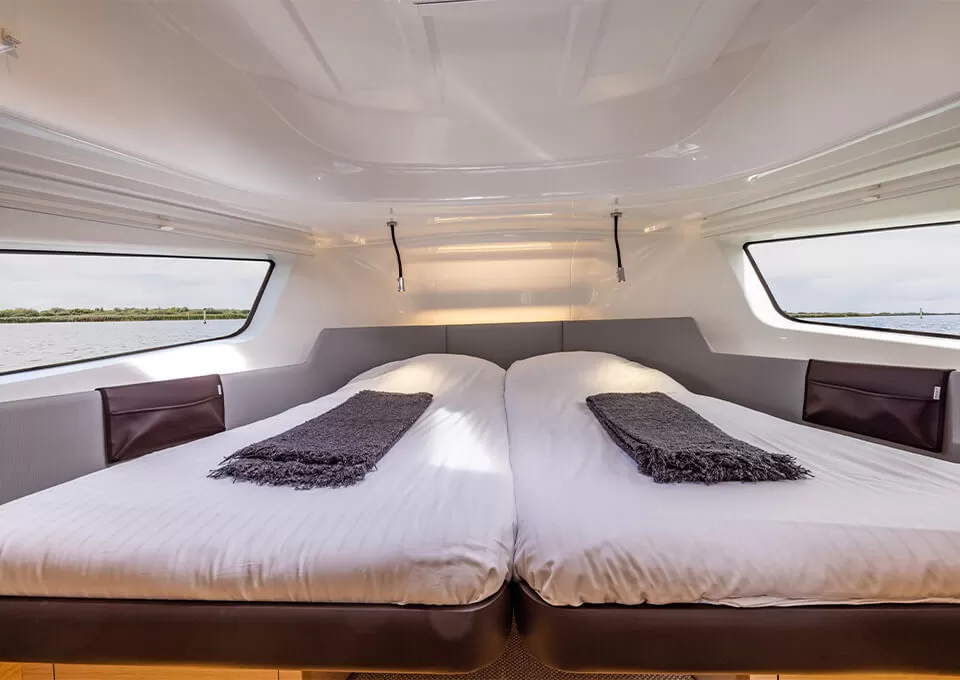 Delphia 10 Sedan
Interior
With an abundance of natural light, the lounge area of the Delphia 10 Sedan offers an incredible view thanks to its panoramic windows. Admire the breathtaking beauty of the passing landscapes as you cruise along the coast or rivers.
The open-plan kitchen aft combines the cockpit, lounge area and kitchen into a beautiful living space. With the fully fitted kitchen, you can enhance your cruising experience with homemade dishes in total simplicity, thanks to its extremely functional design.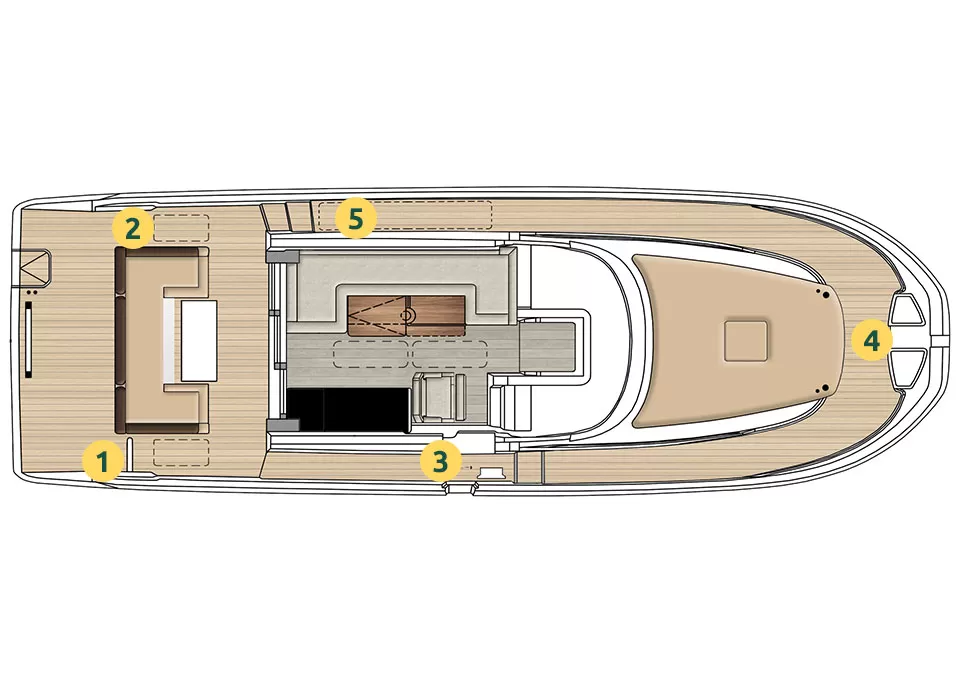 Delphia 10 Sedan
Main deck
1. Transom gate
2. U shape cockpit bench
3. Side door at helm
4. Syetrical side decks
5. Storage for fenders & mooring lines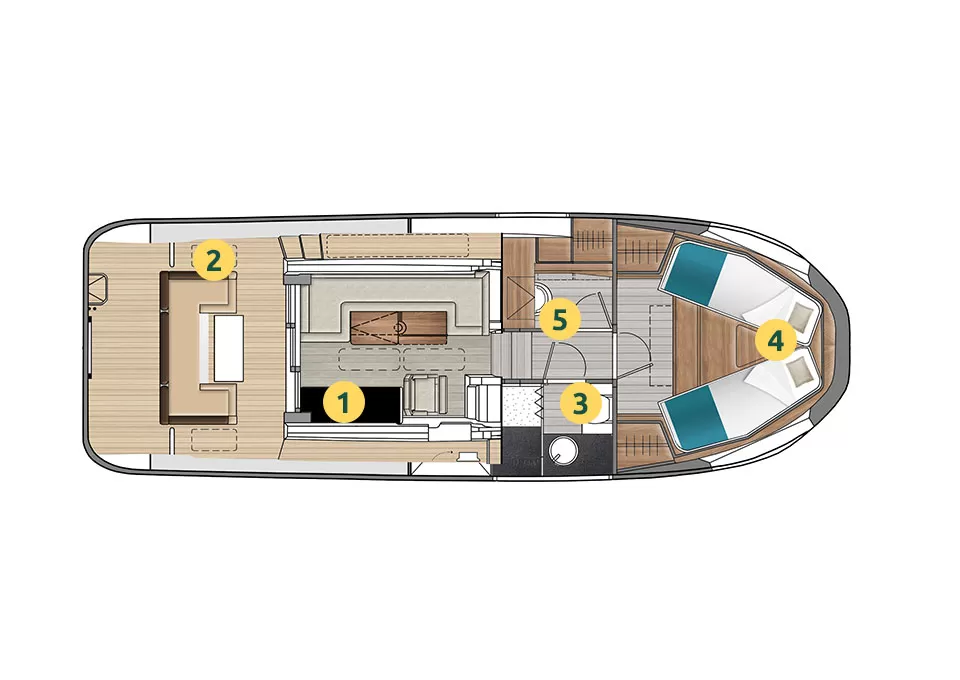 Delphia 10 Sedan
1 cabin & 1 bathroom
1. Full functionnal galley
2. Dining table in salon
3. Bathroom with separate shower stall
4. Variable double bed
5. Office/utility room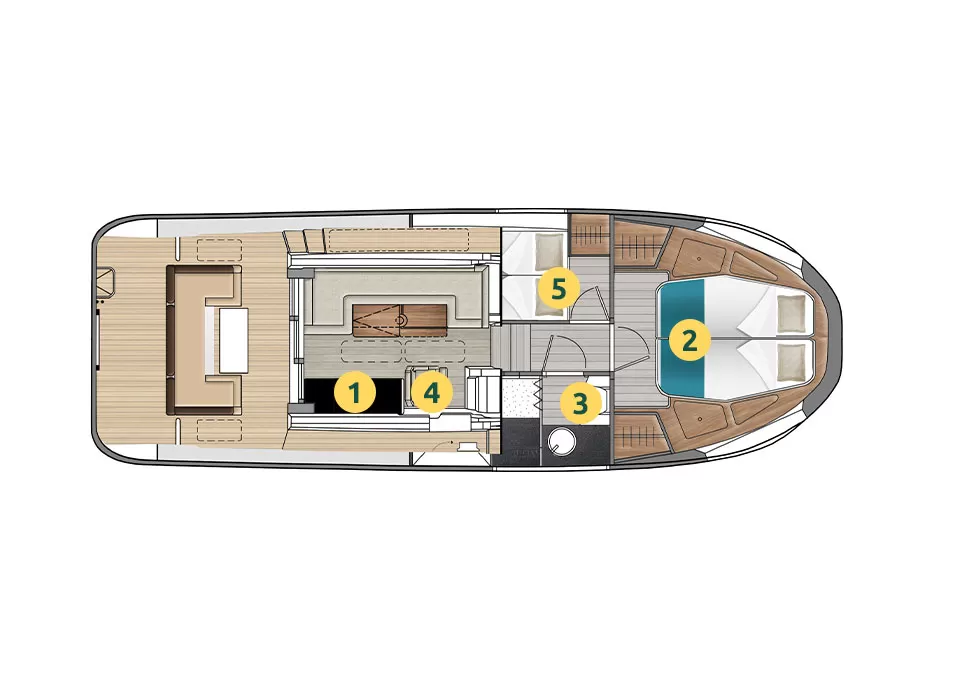 Delphia 10 Sedan
2 cabins & 1 bathroom
1. Full functionnal galley
2. Owner's cabin with variable double bed
3. Bathroom with separate shower stall
4. Helm station
5. Guest's cabin with double bed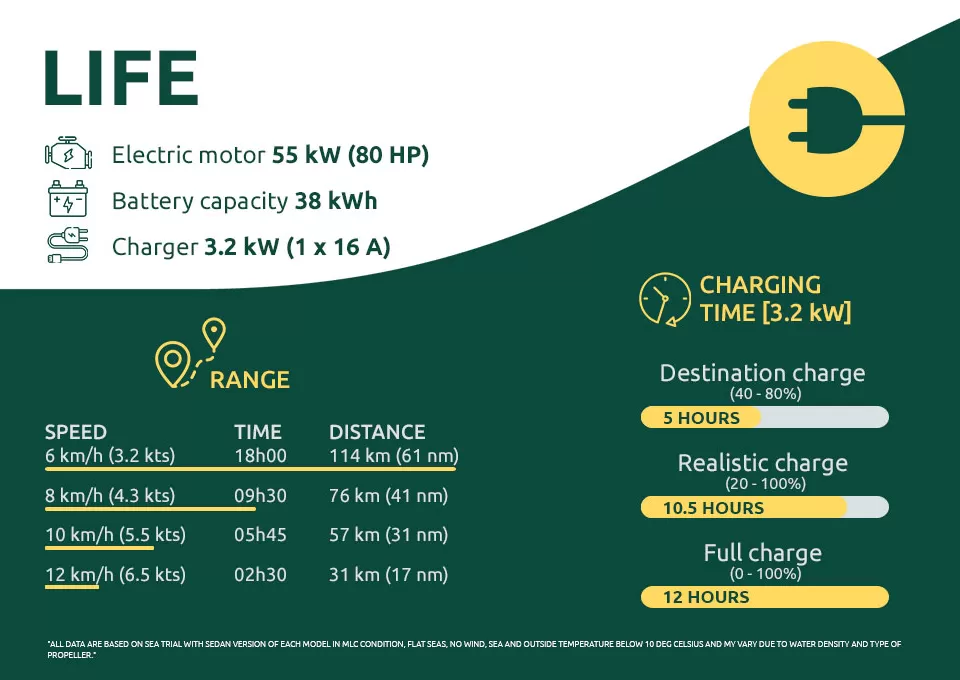 Performance
Delphia 10 Life
"Life" represents a first step in Delphia's conscious boating by an unbelievable value ideal for boaters using their boats in limited navigation areas, such as lakes, urban areas or tend to enjoy short cruises or day outings.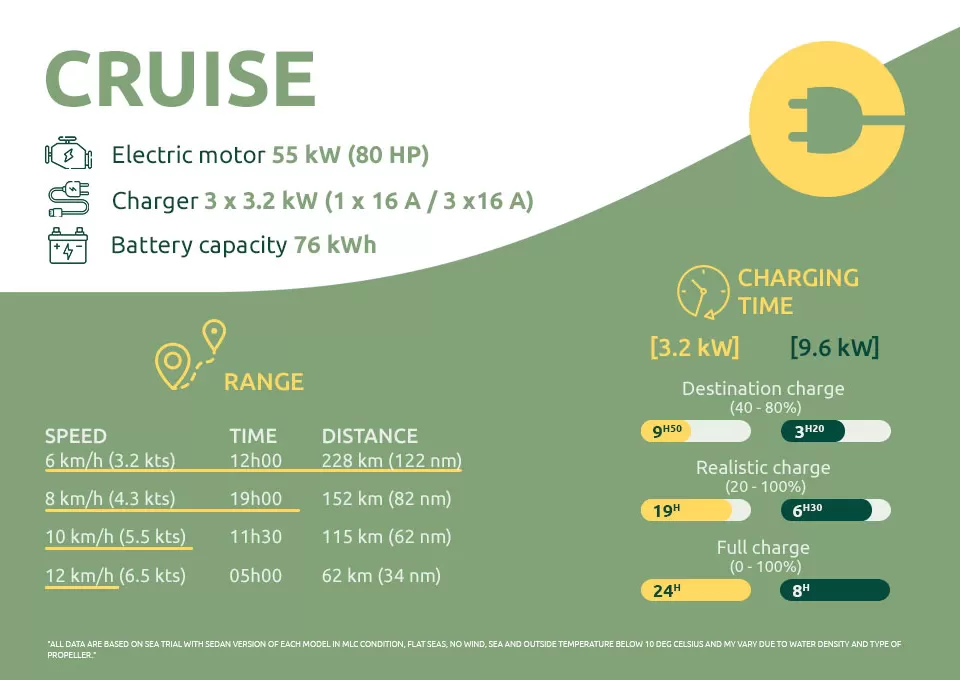 Performance
Delphia 10 Cruise
"Cruise" is a thought-out system for explorers who like to take their love ones to secluded bays or distant villages expecting more autonomy and added functionality.
Performance
Delphia 10 Rapid
"Rapid" system, it is a look into the future – meaning that, those owners who navigate in areas where infrastructure is already in place for fast charging.
Delphia 10 Sedan
Characteristics
Fuel capacity

| diesel