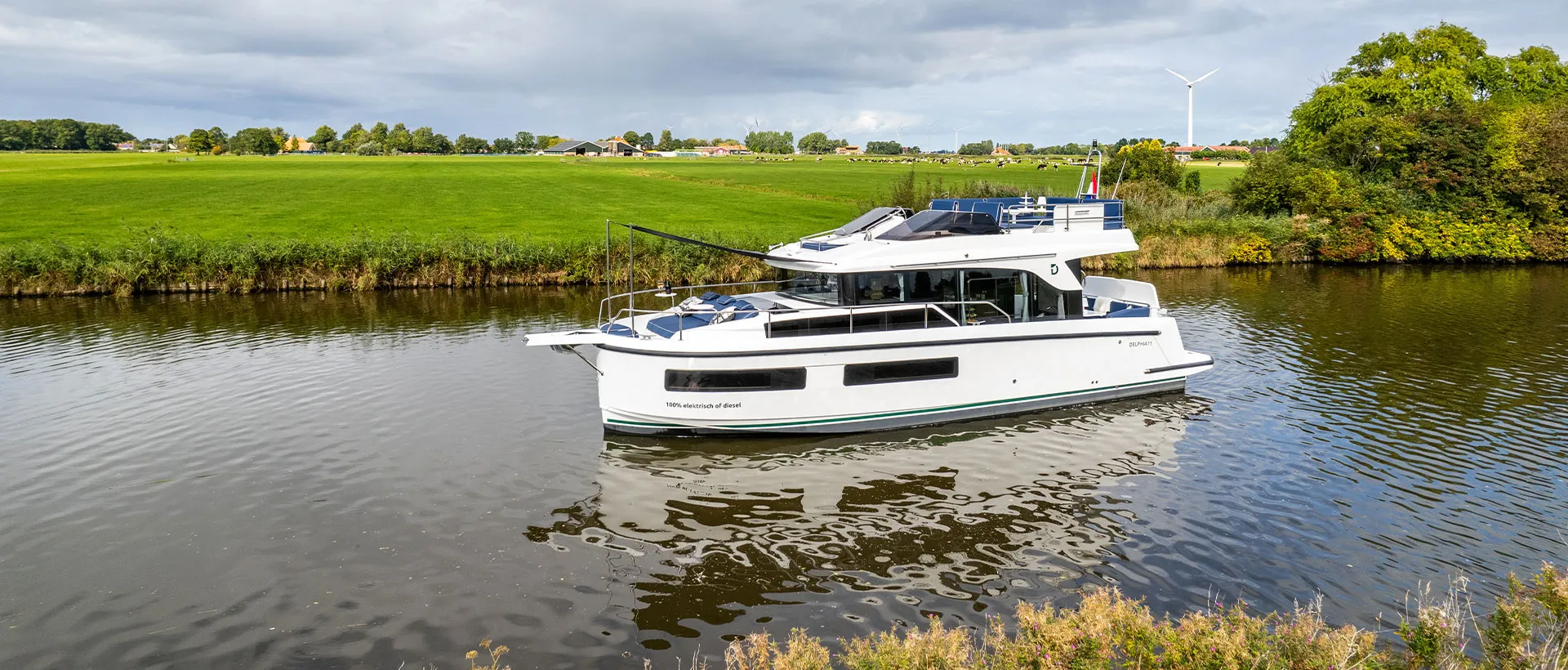 Delphia 11
Flylounge
Available in electric and diesel versions.
Made for those looking to get away for a few days with family or friends, ready to enjoy a relaxing and comfortable sailing experience, the Delphia 11 FlyLounge has been designed for peaceful cruising through canals and in sheltered coastal areas.
The Delphia 11 FlyLounge is equipped with the latest sailing and carefree technology, giving you total peace of mind. Set sail to explore new horizons with confidence.
Available in electric and diesel versions.
Designer : Tony Castro Yacht Design
Bike rack

A piece of must-have equipment for your river cruising boat! We've put a lot of thought into where and how you can store your bikes on the boat.
As the bathing platform is the most practical spot for storing them, we've added a stainless steel arch, addition of thule bike accessories and a charging station — the perfect set-up for your bike.
On-board office

Set up your office on the Delphia 11 FlyLounge and take working remotely to the next level in an exceptional setting.
Sustainable deck covering

Forests are the lungs of our planet, and we're committed to our duty of minimizing the use of tropical woods. Delphia uses an alternative material made with vinyl, using eco-friendly methods. As a result, you get a lighter material that is not only easier to care for, but which will also last longer.
Full cockpit closing system

An elegant and practical solution for when the weather takes a cold and wet turn, this system allows you to quickly and effortlessly roll out the protective canvas, or to store it away in a dedicated space.
Delphia 11 Flylounge
Exterior
Her elegant design and sleek lines reflect the very essence of sophistication. The Delphia 11 FlyLounge is an invitation to discover versatile travel. Steer from the interior or exterior helm station while enjoying the well-designed comfort of the cockpit.
Bathed in stunning natural light entering through its large windows, the lounge area offers a panoramic view of the surrounding landscape. Settle into different lounge areas, get comfortable, and soak up the ambiance of the generous living spaces, perfect for spending time with loved ones.
The Delphia 11 FlyLounge emphasizes spaces to accommodate the whole family on board, without compromising on privacy and while maintaining great flexibility of movement.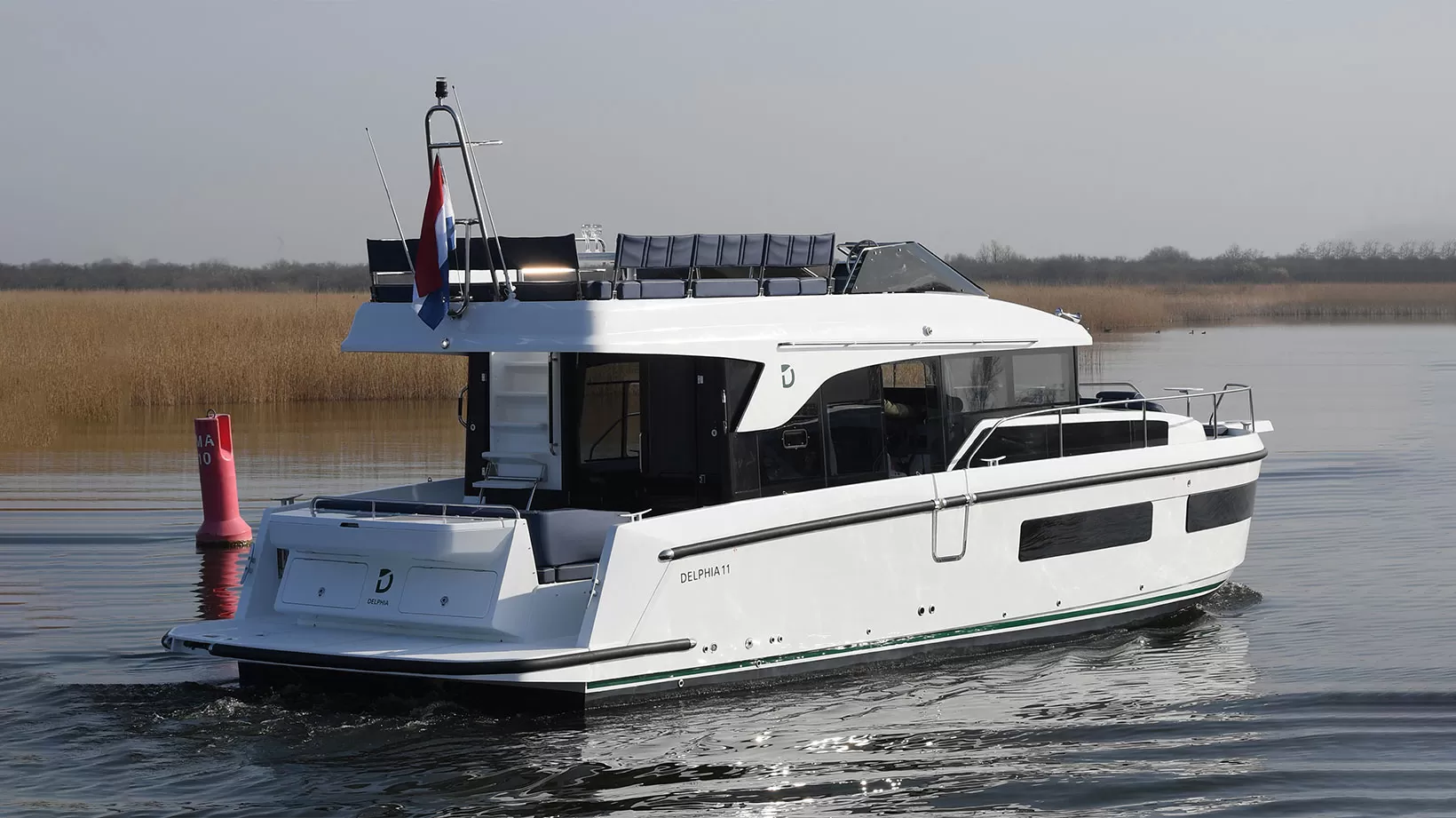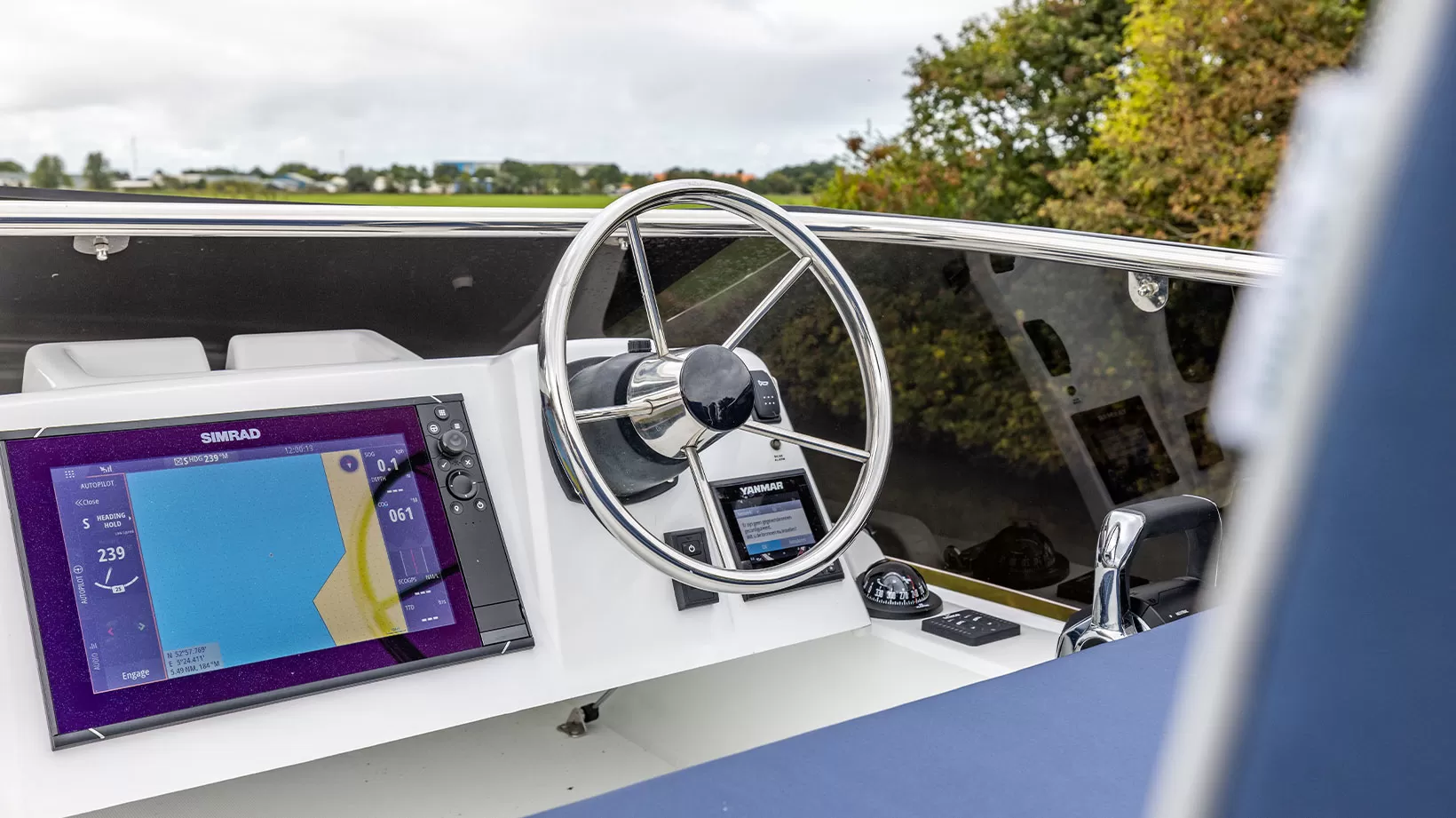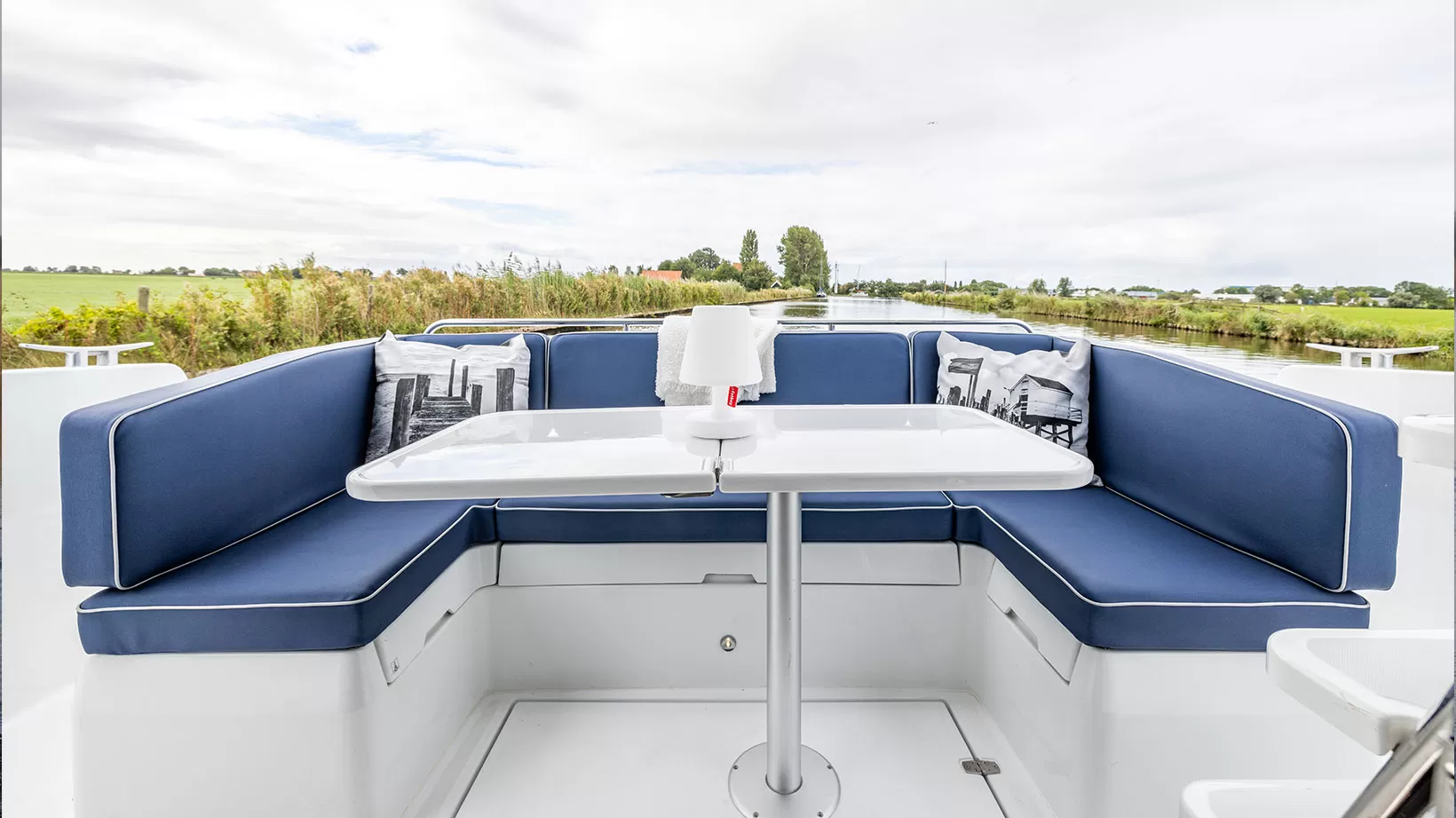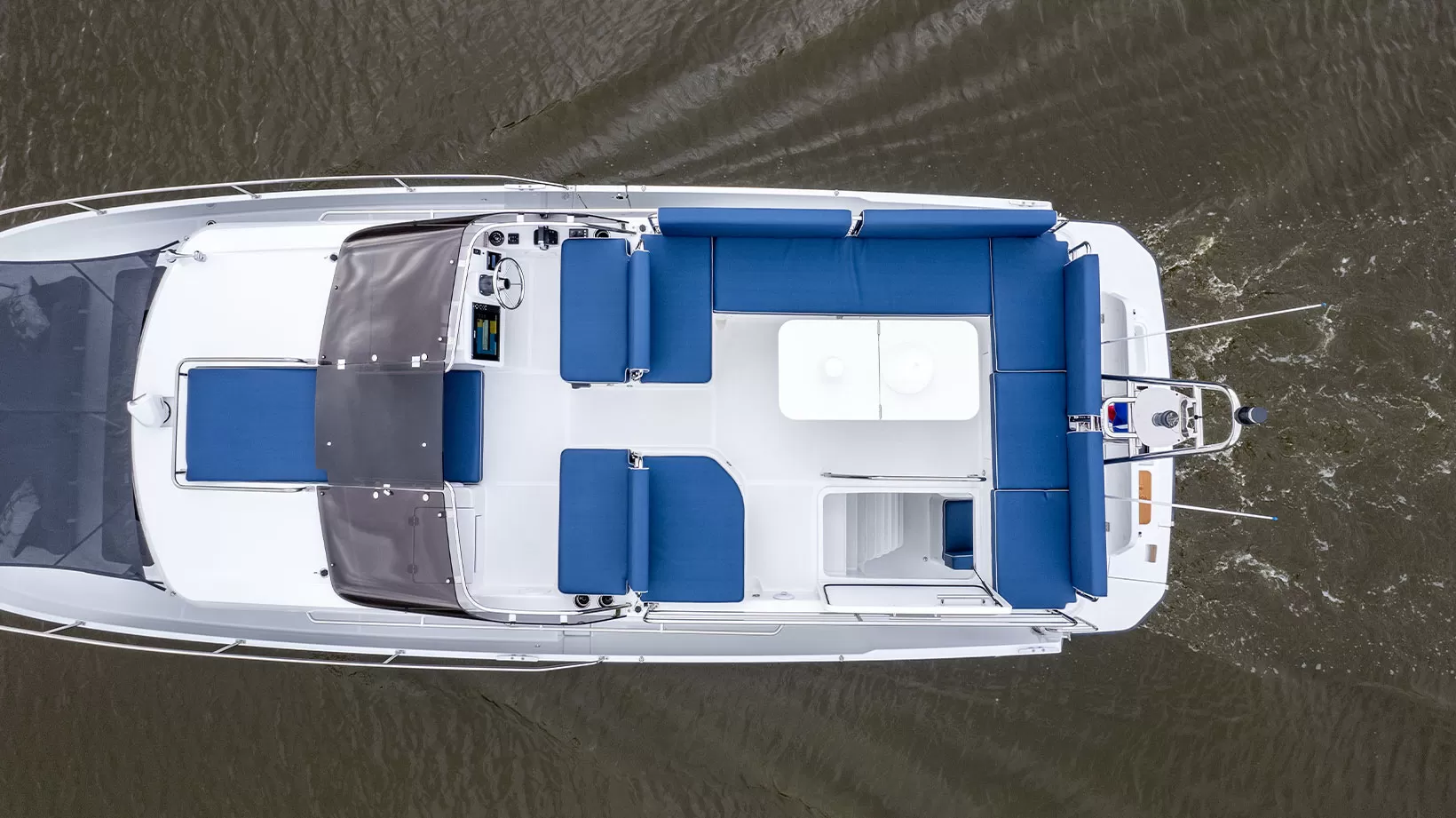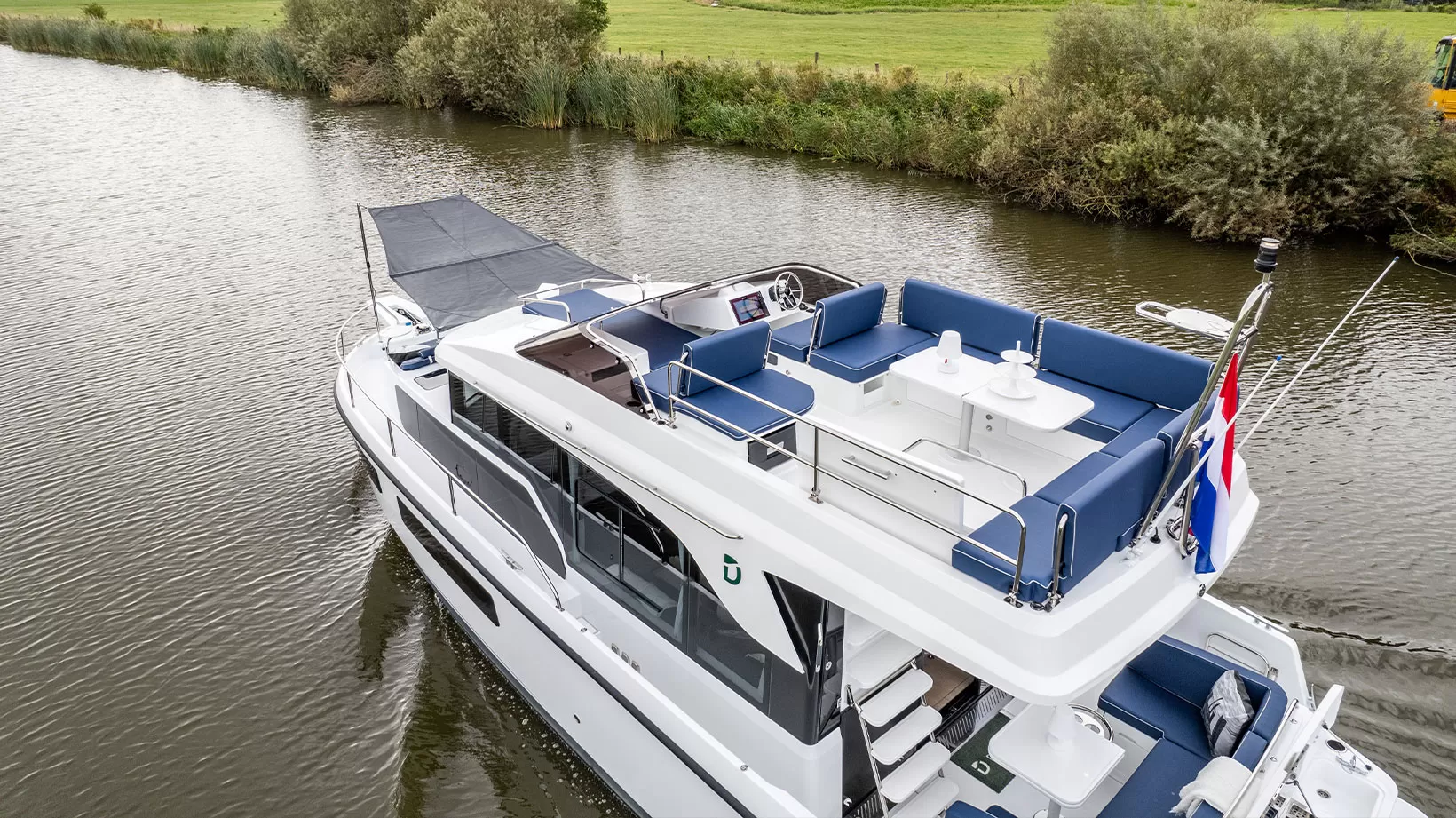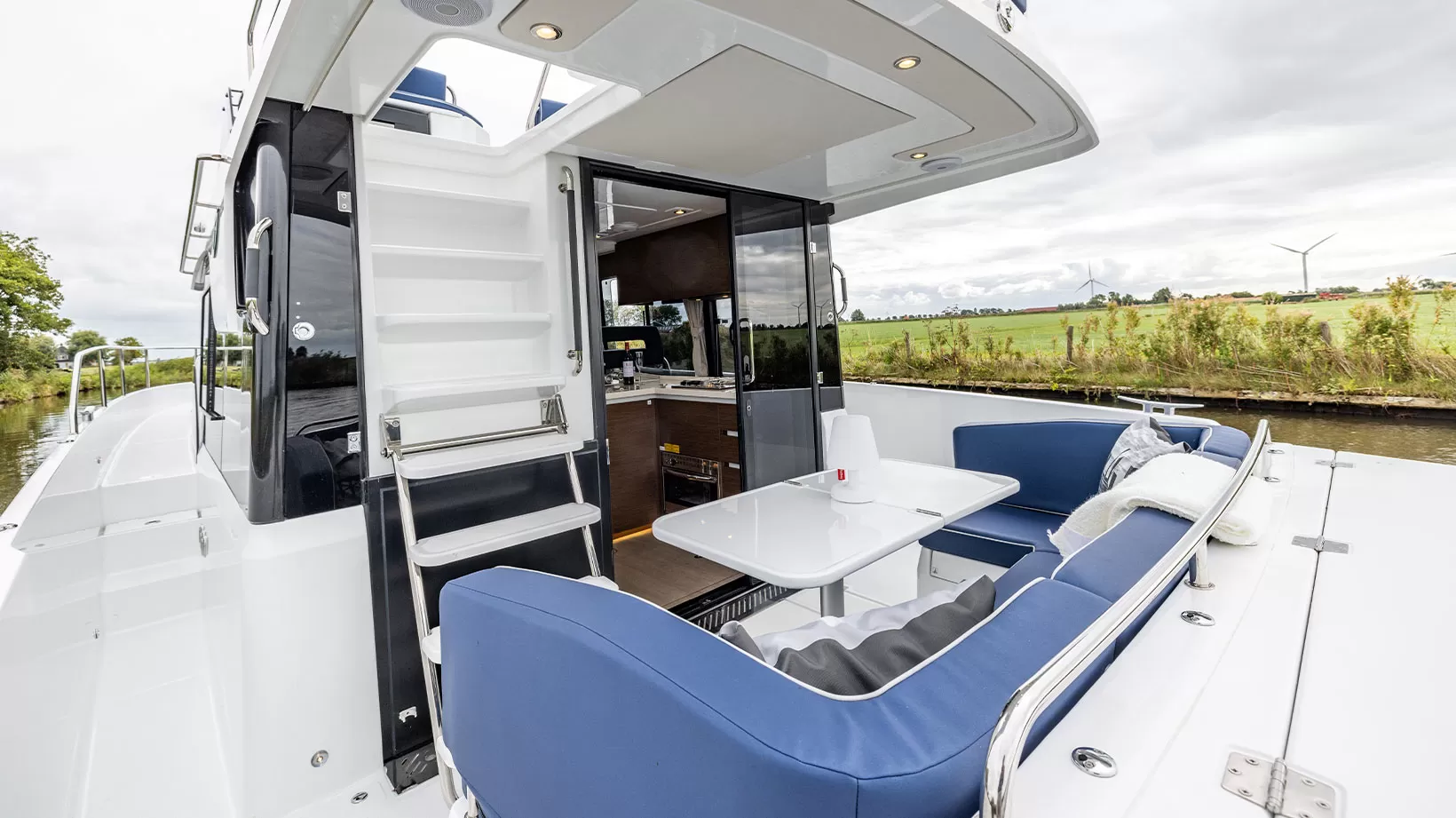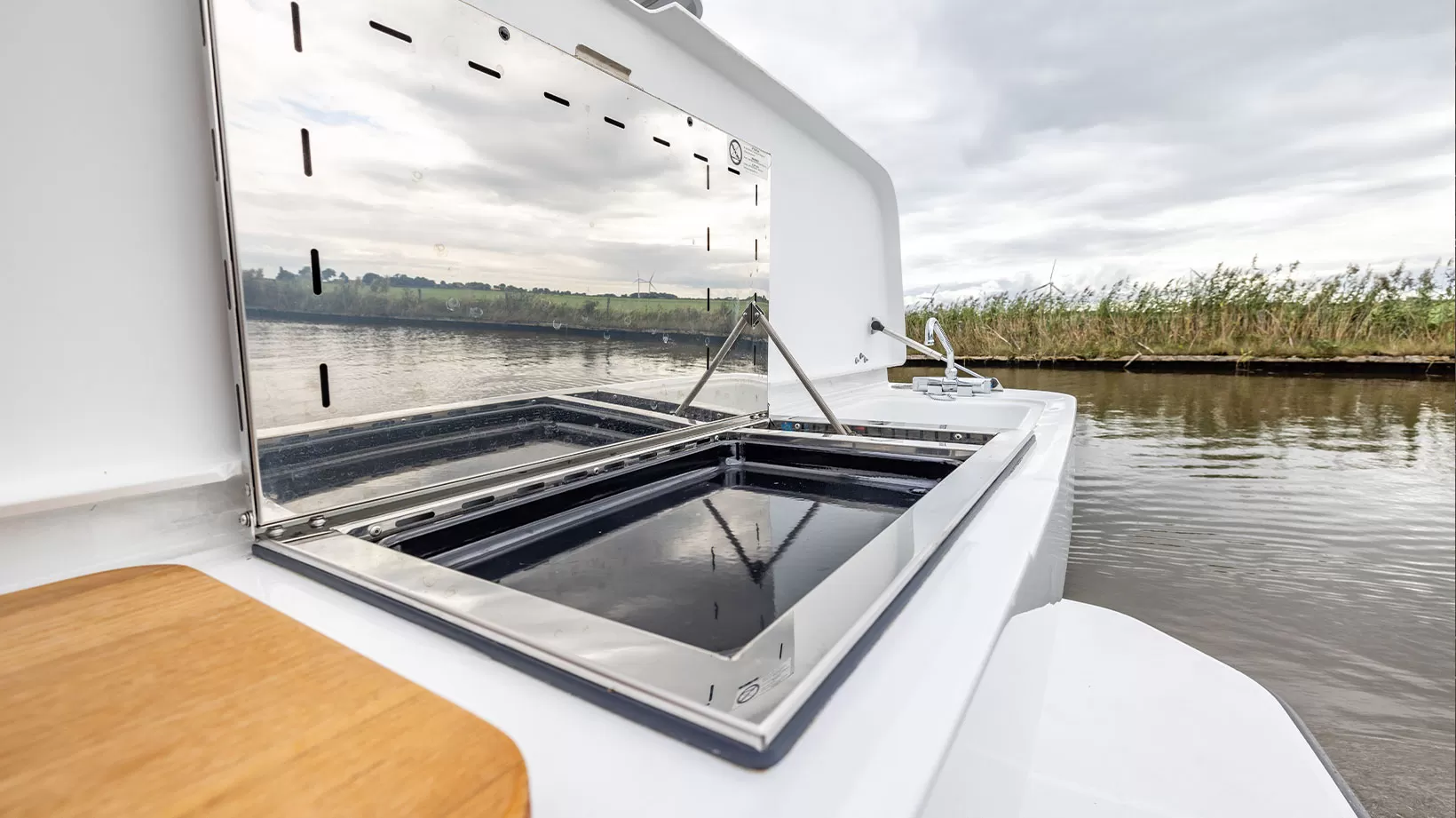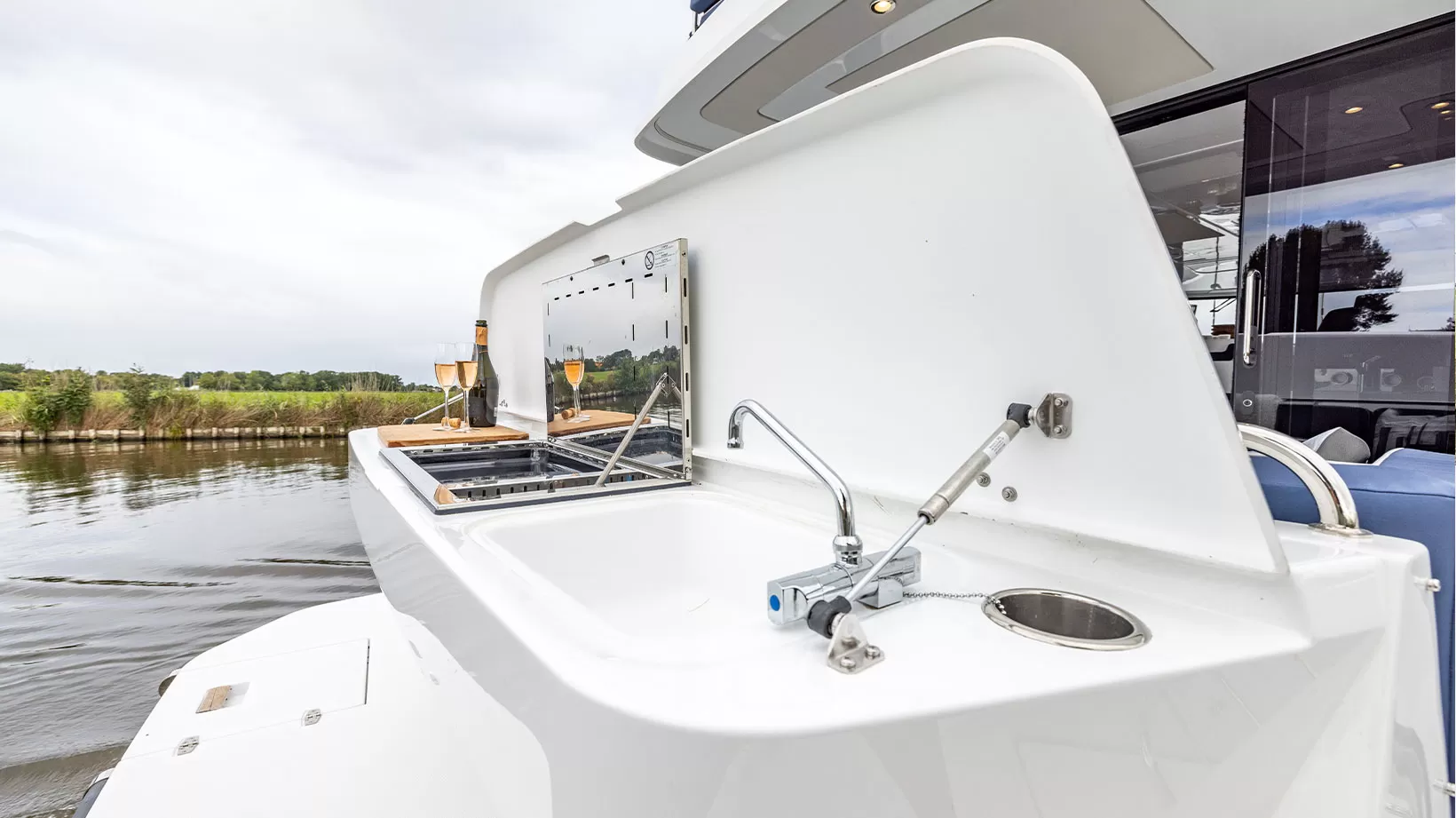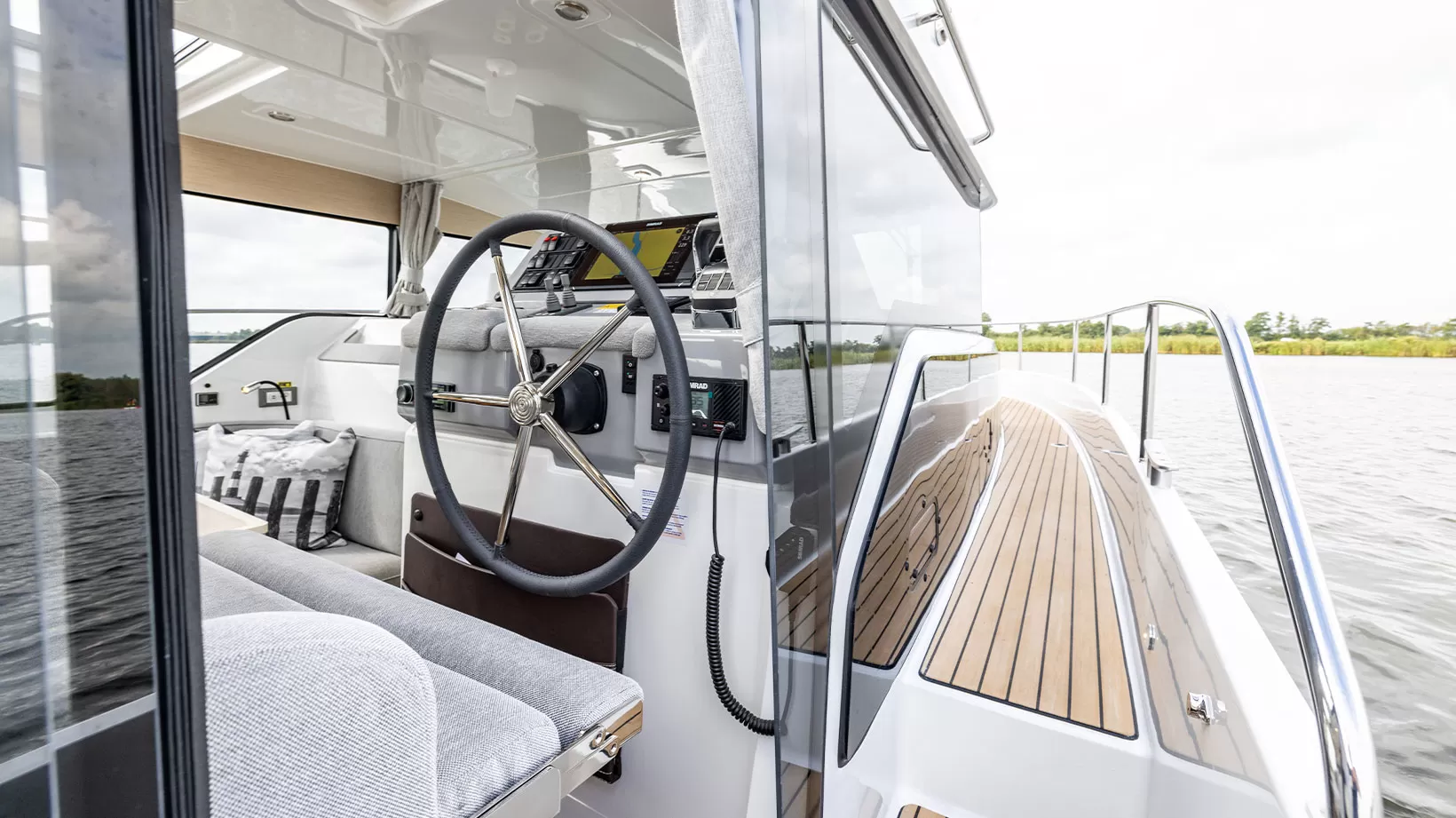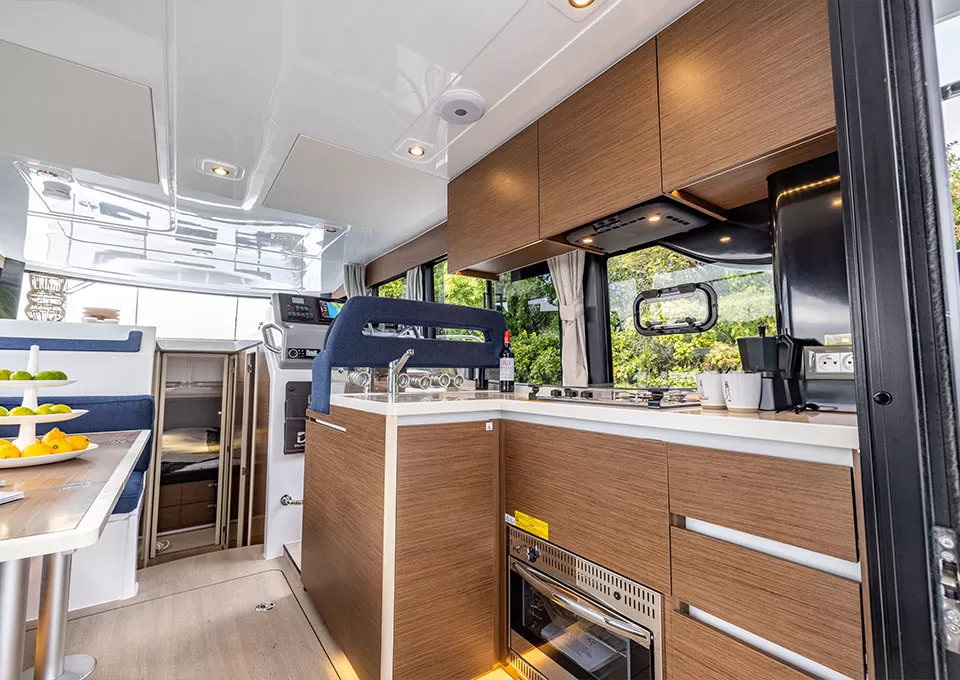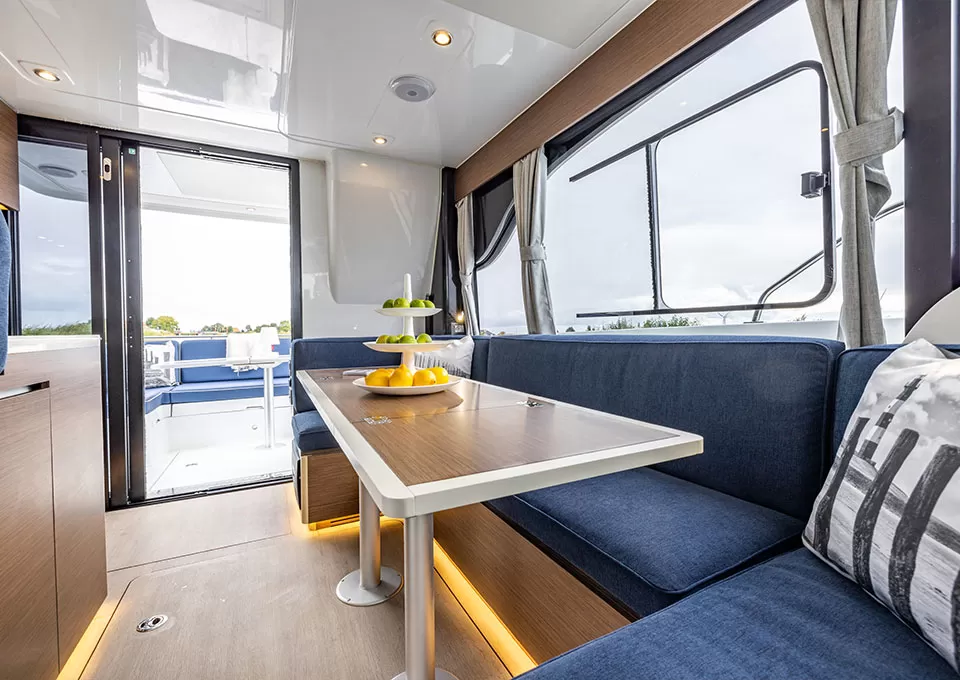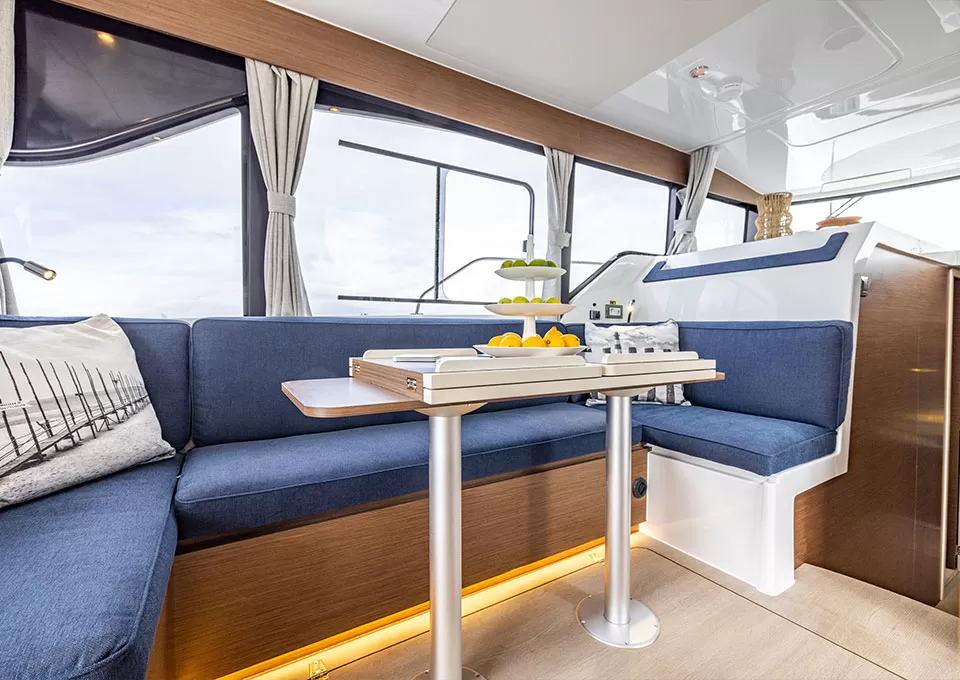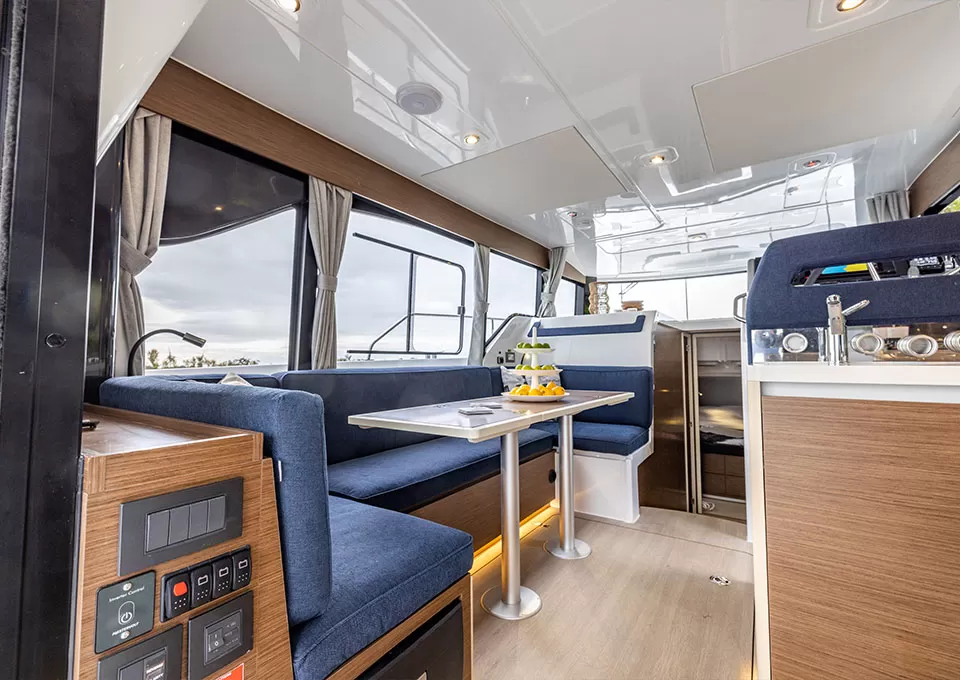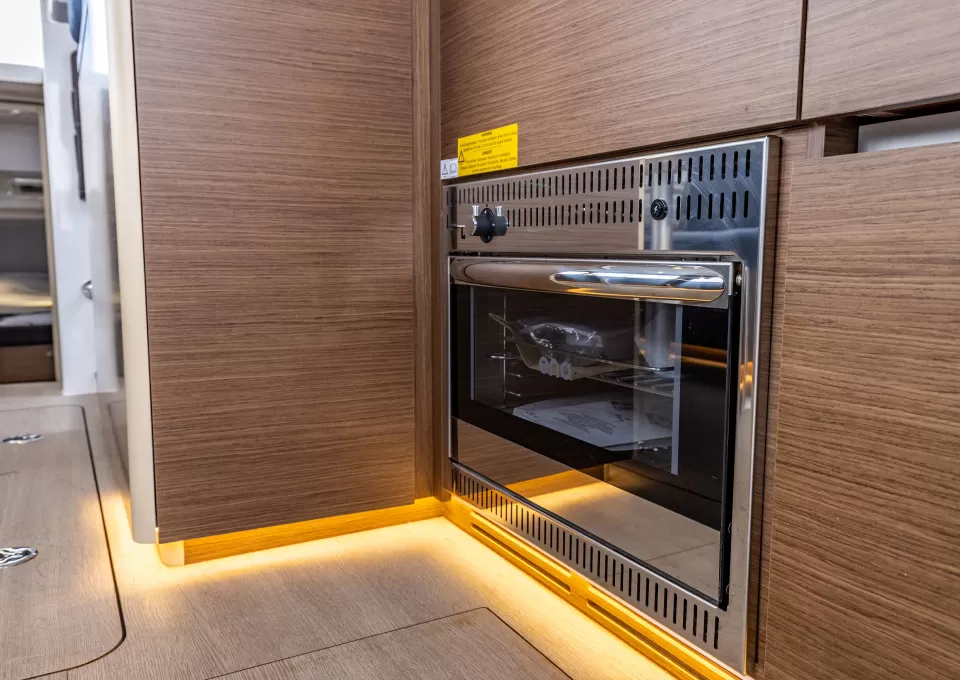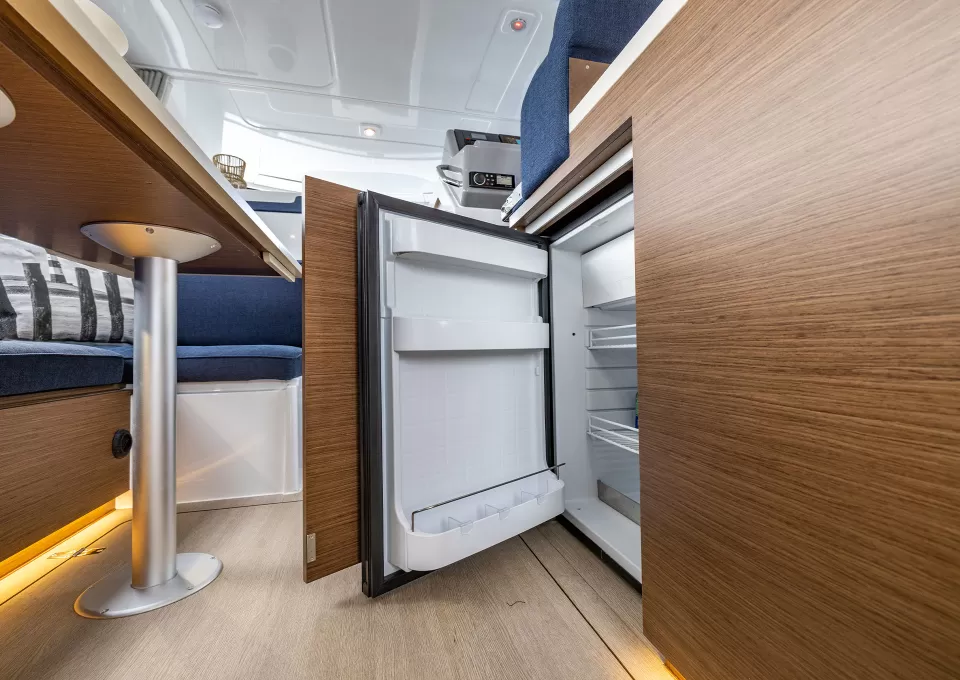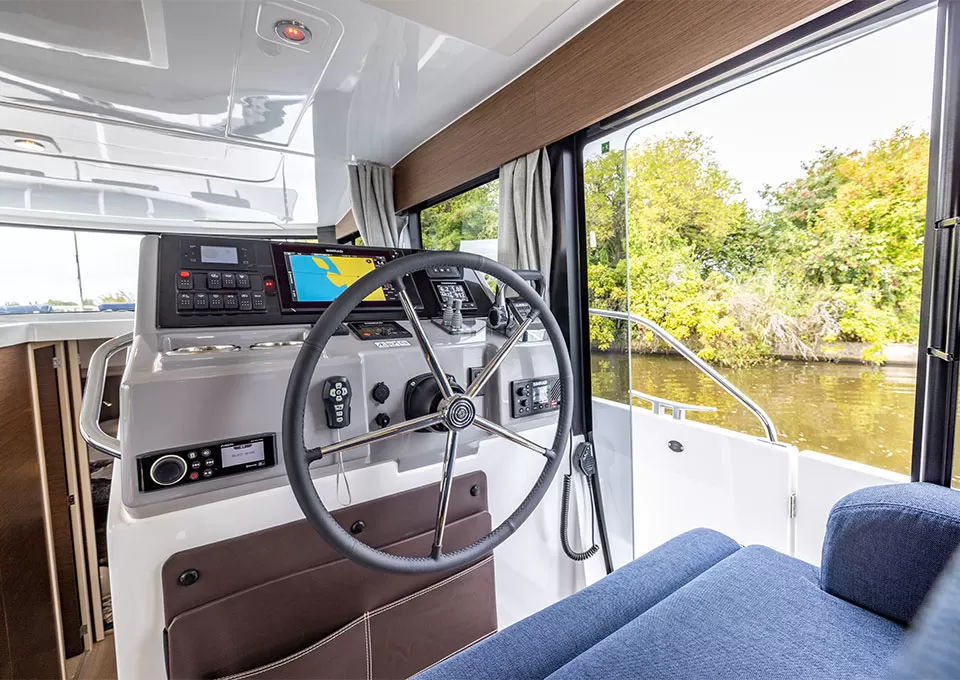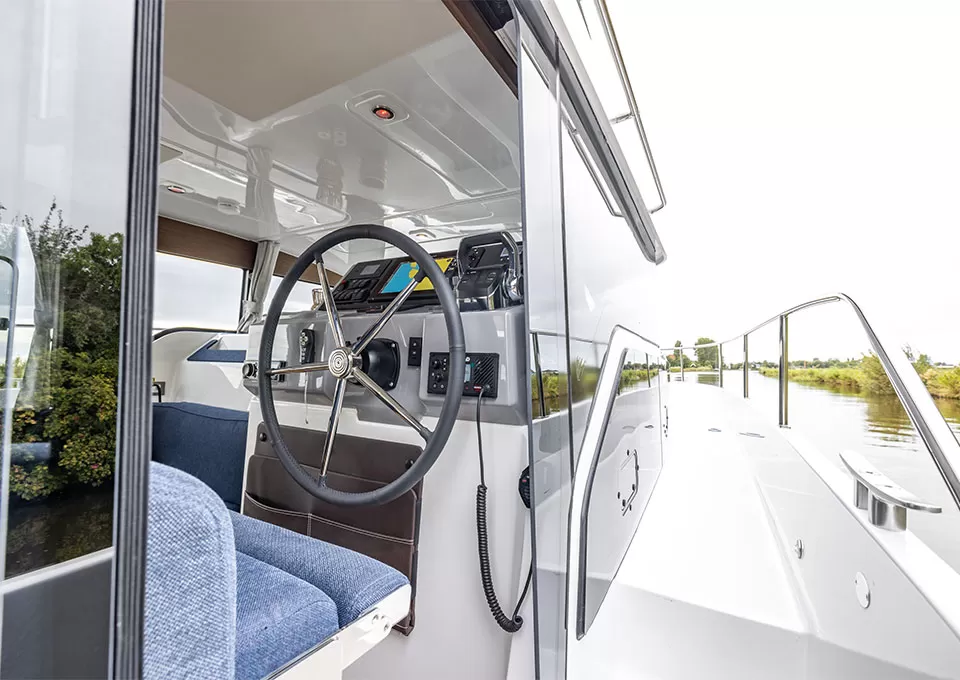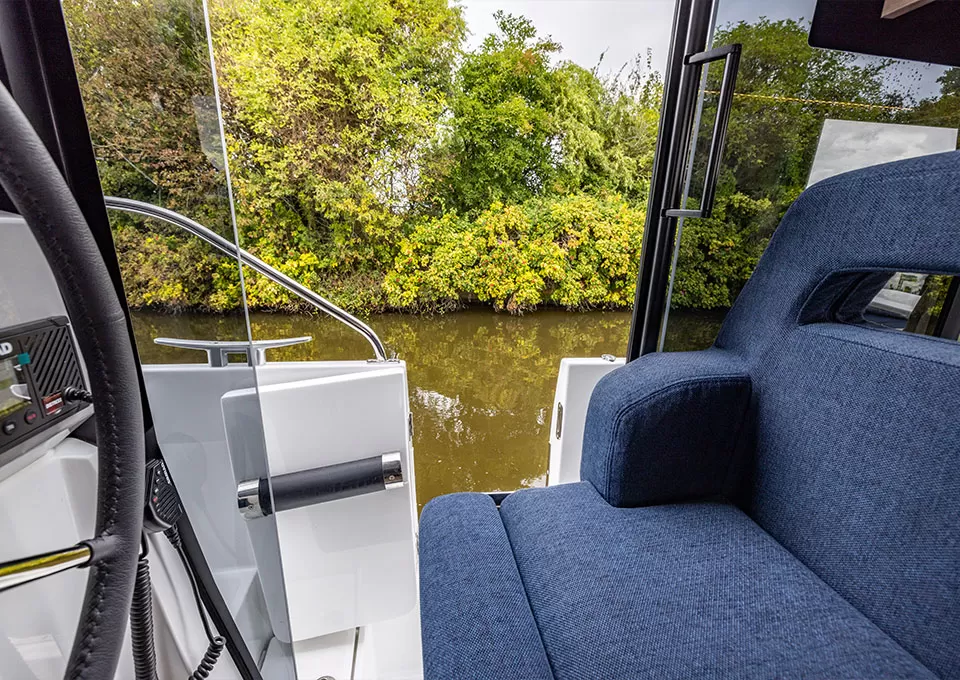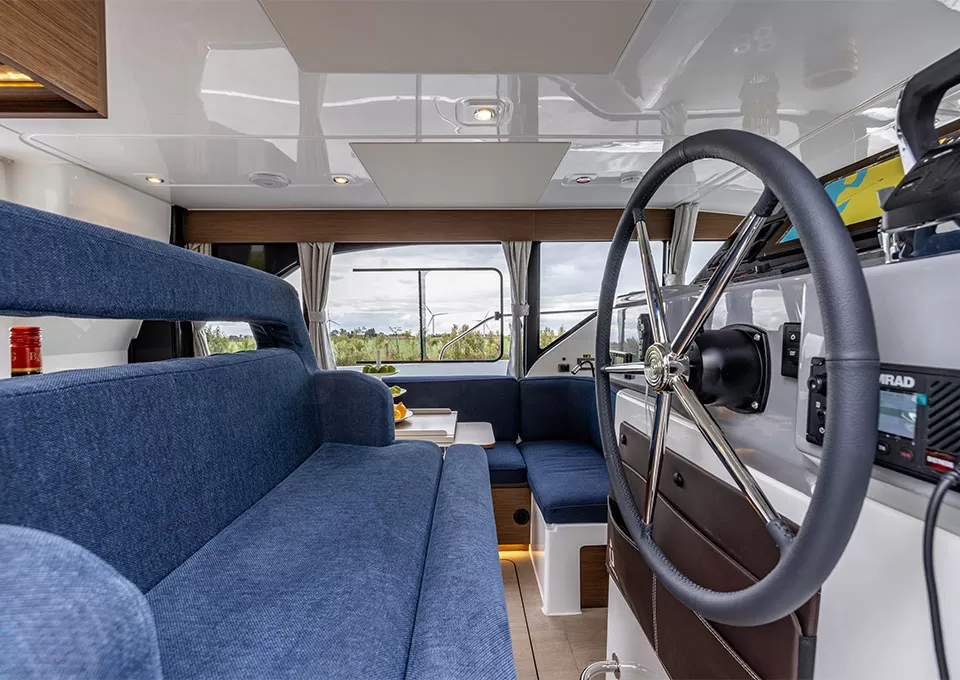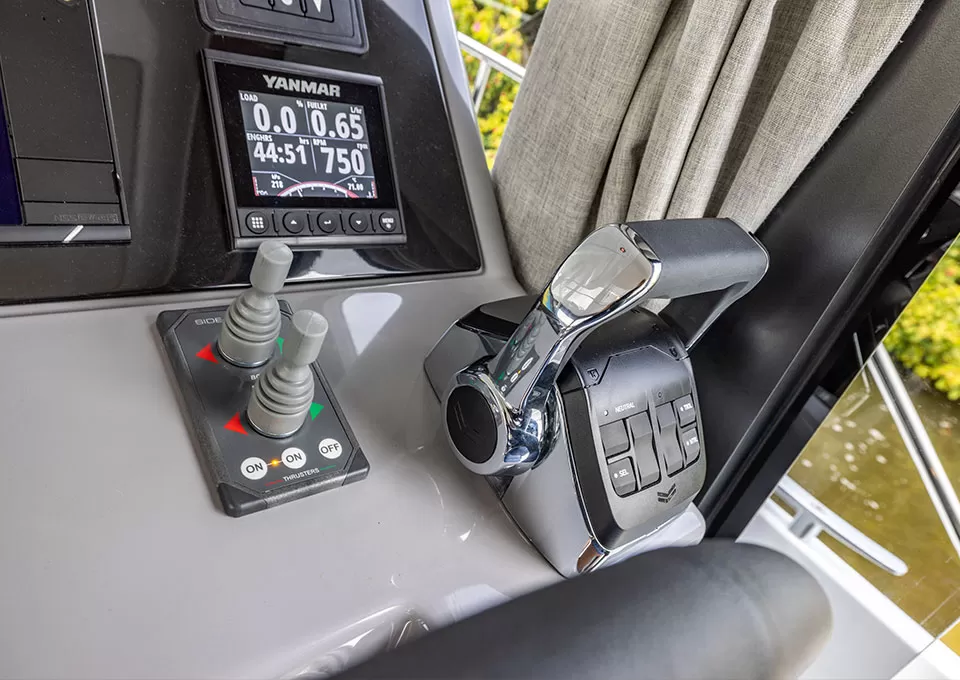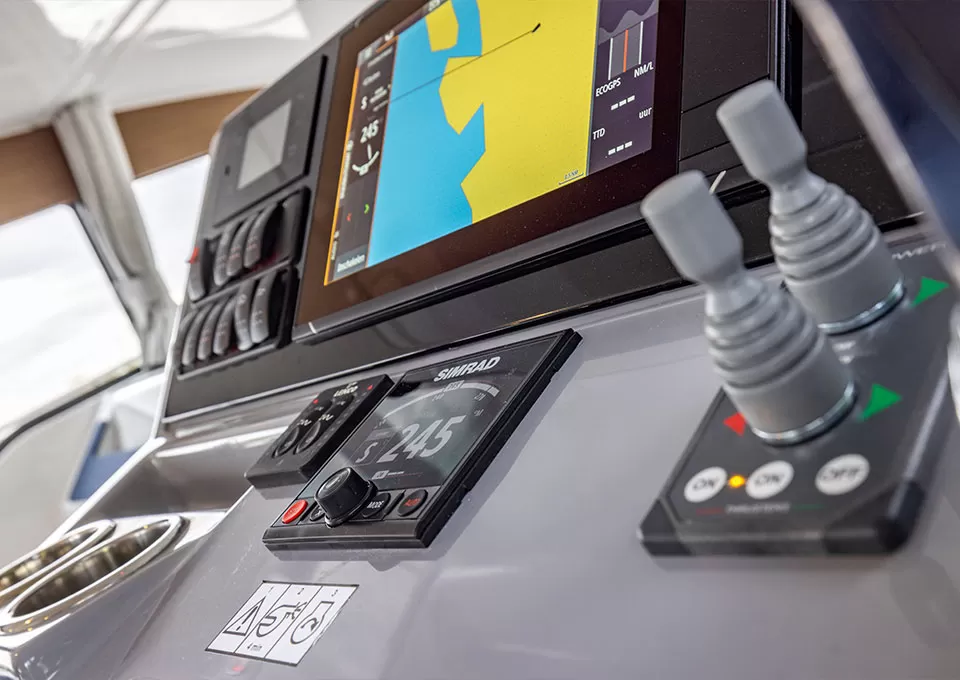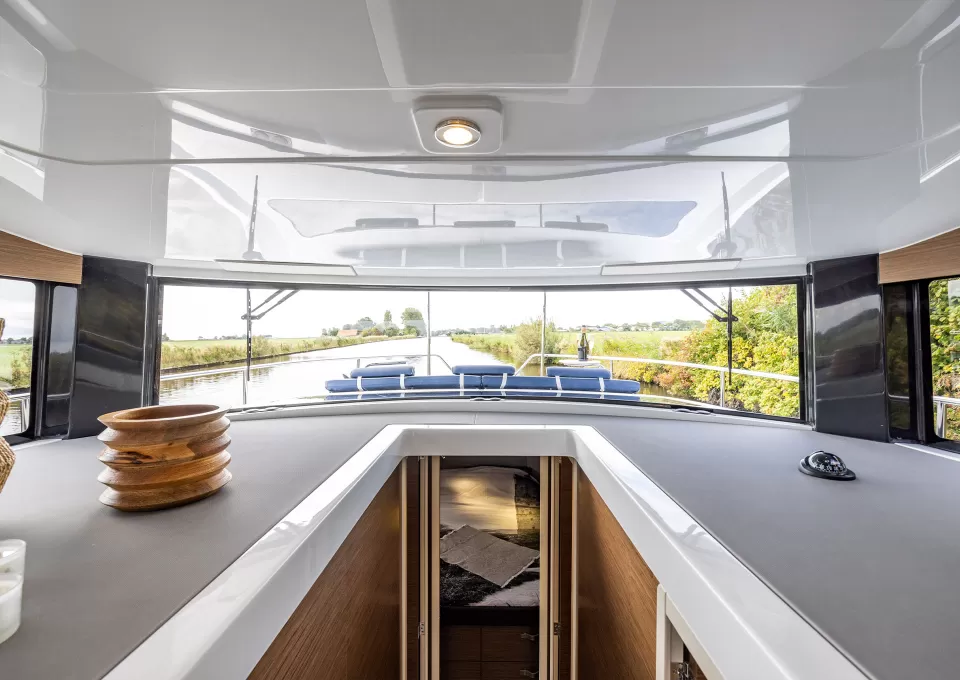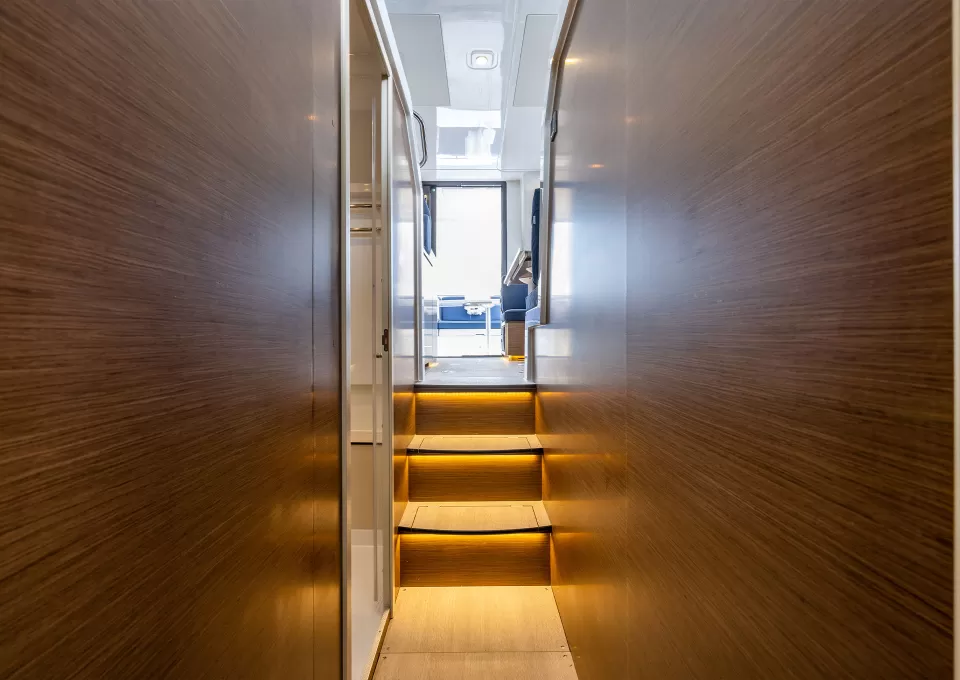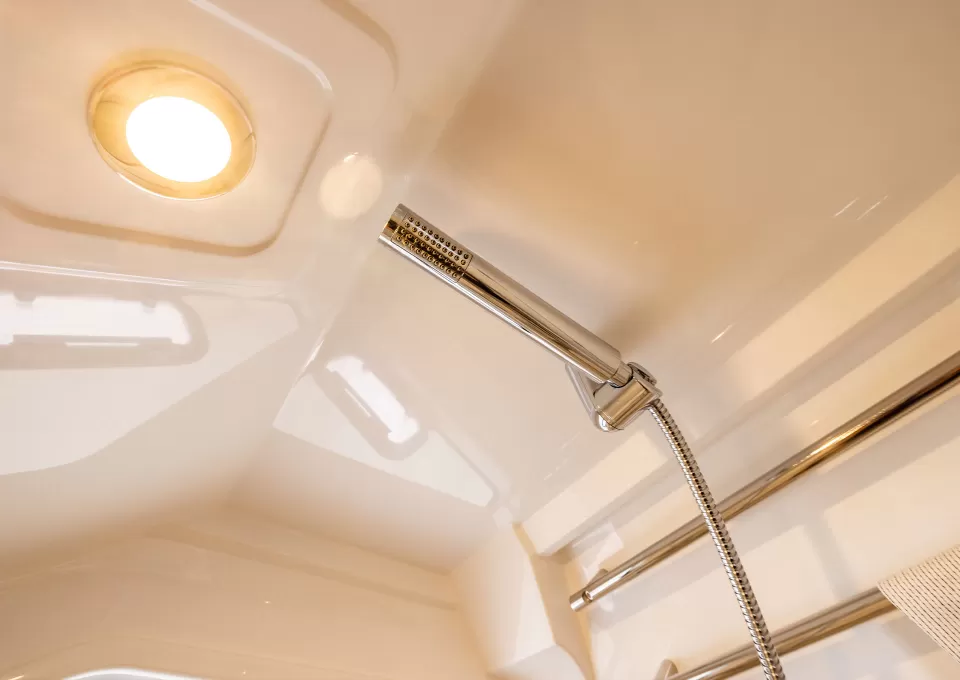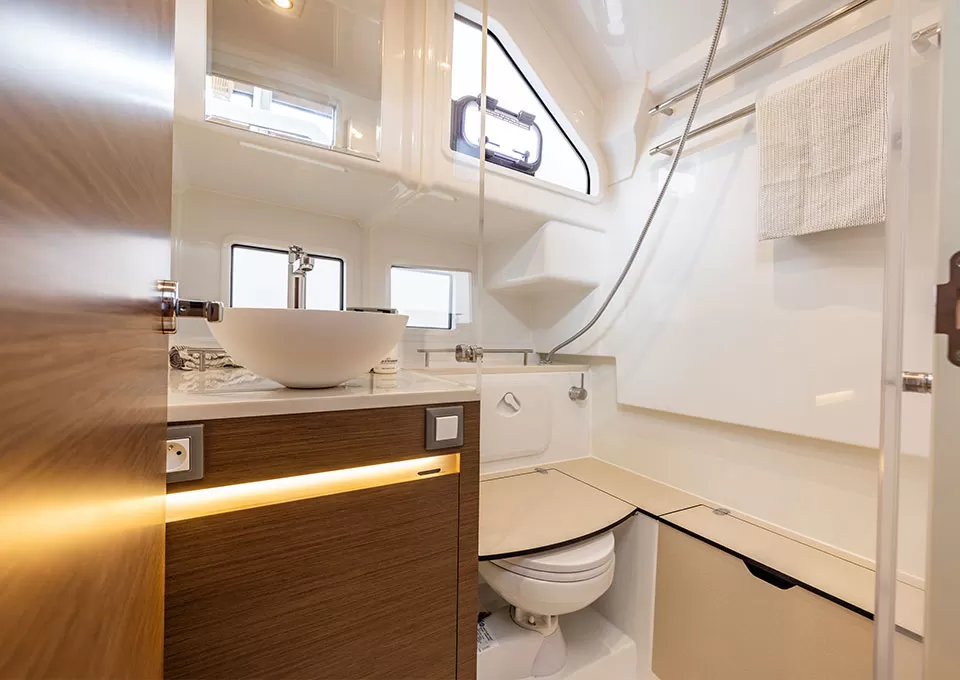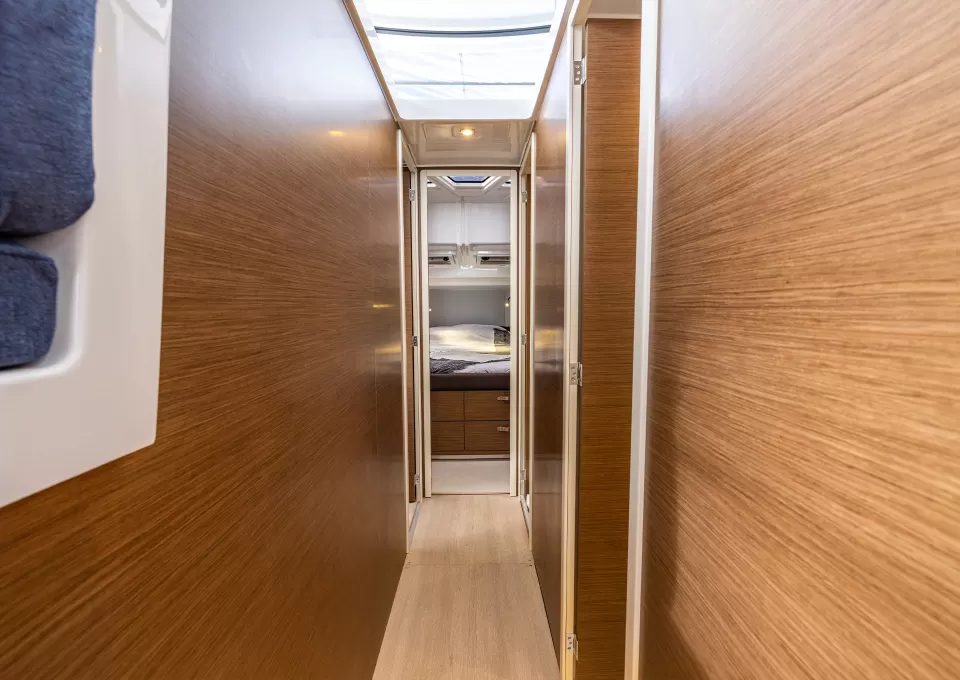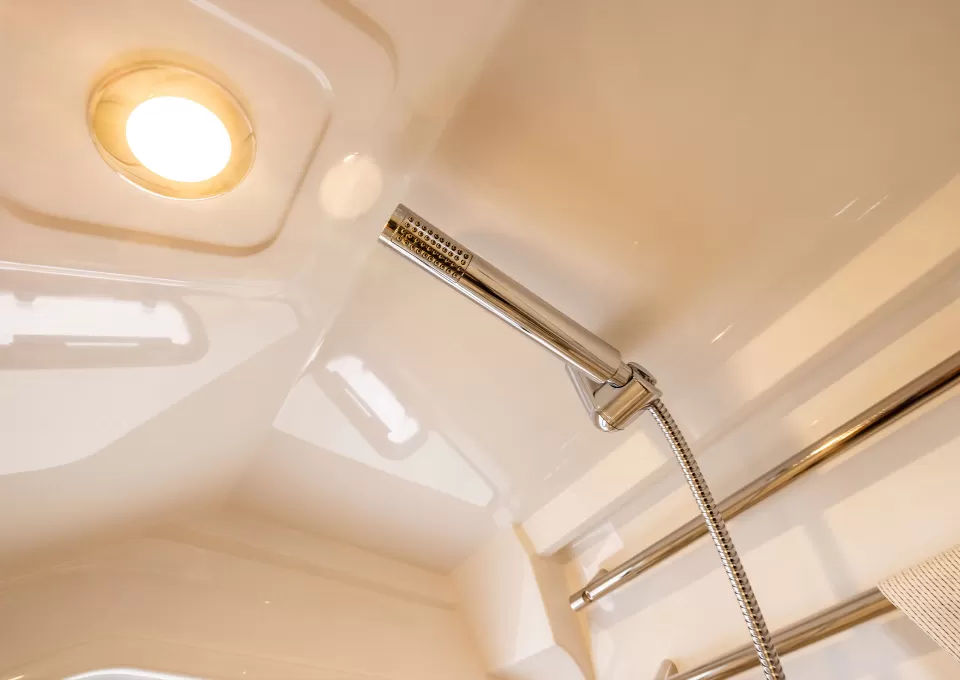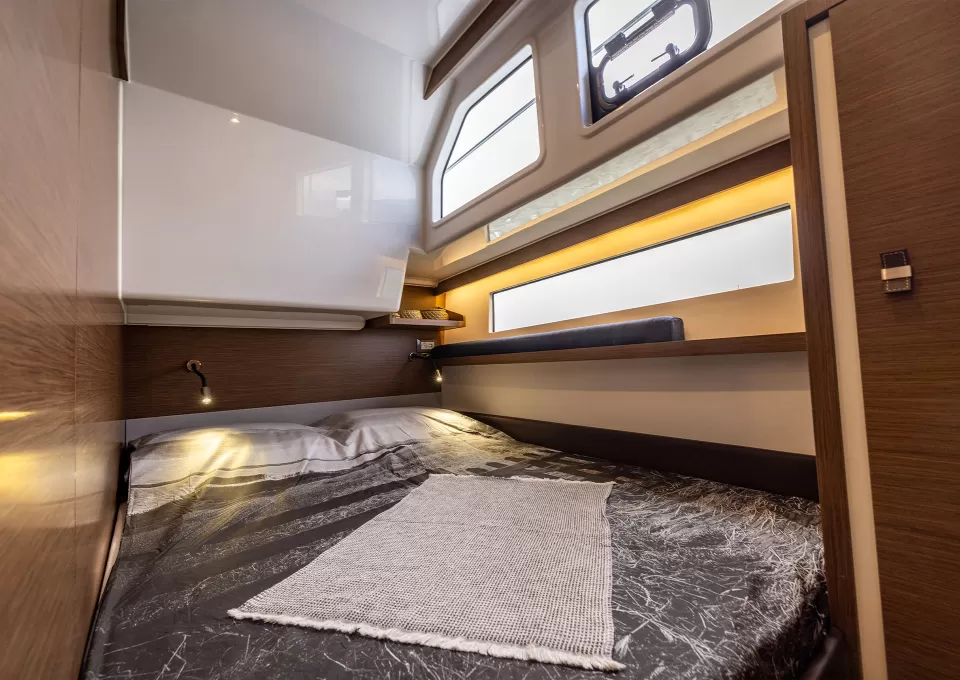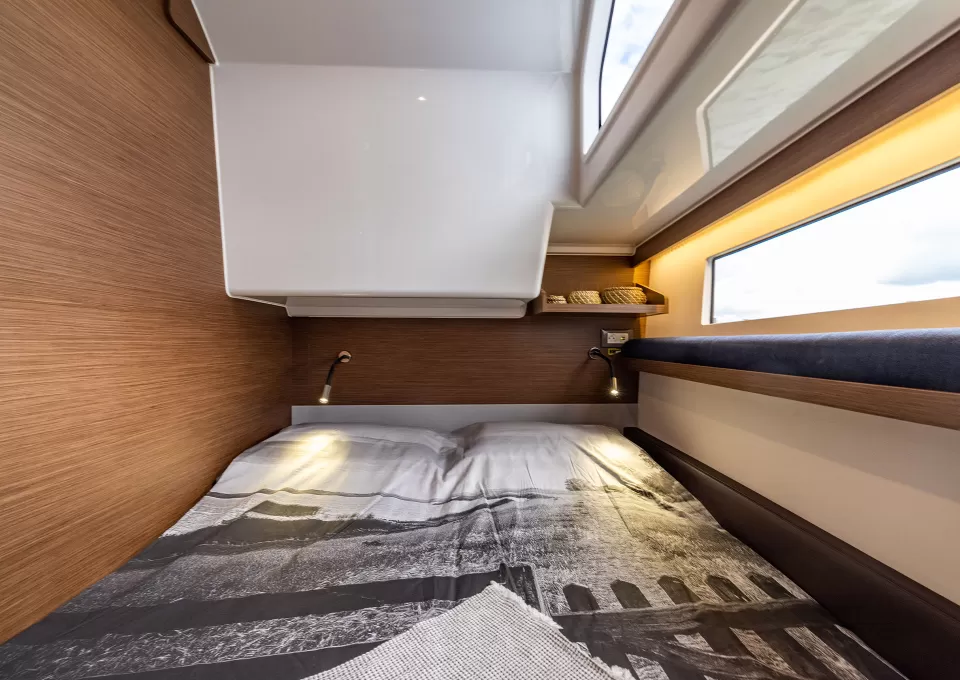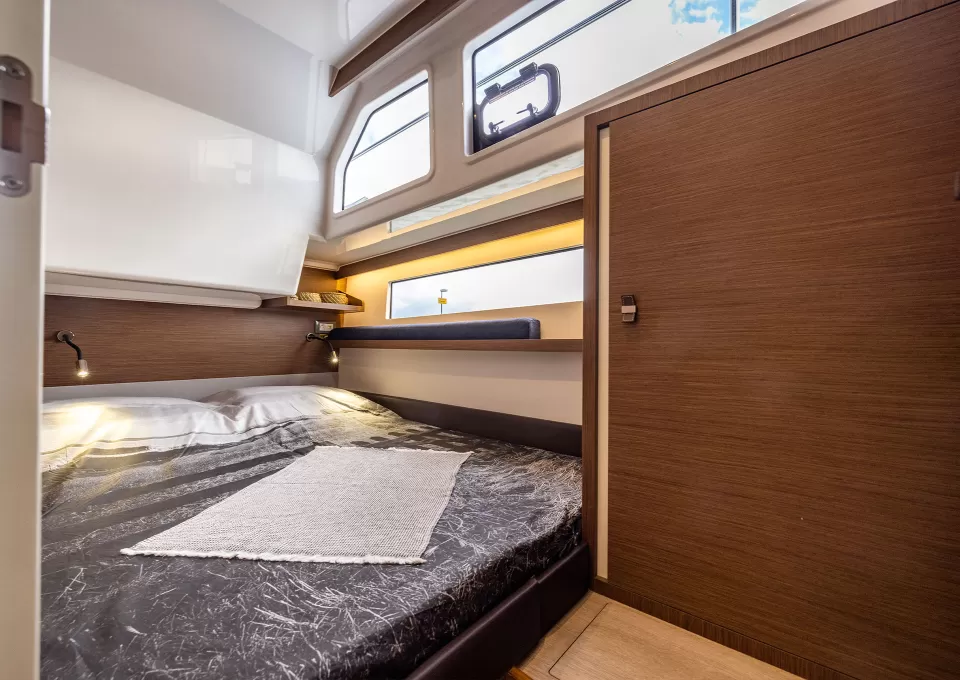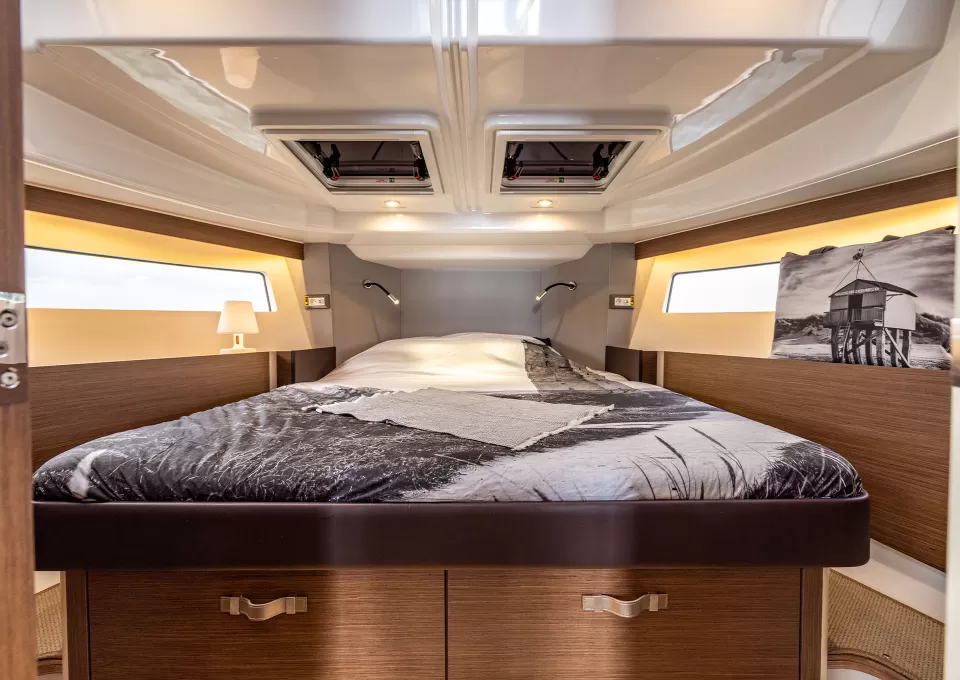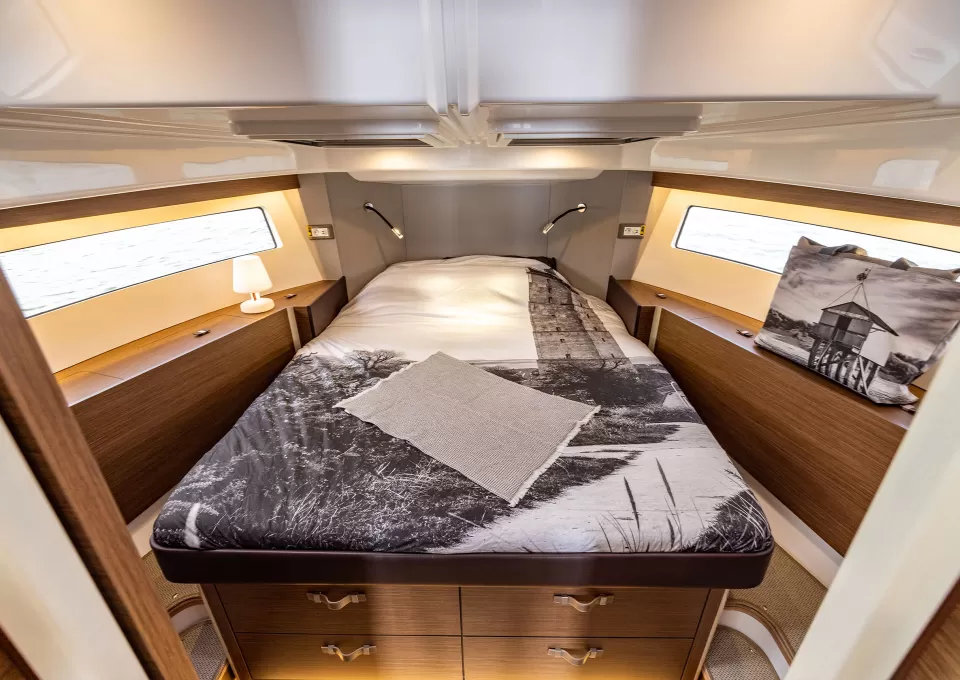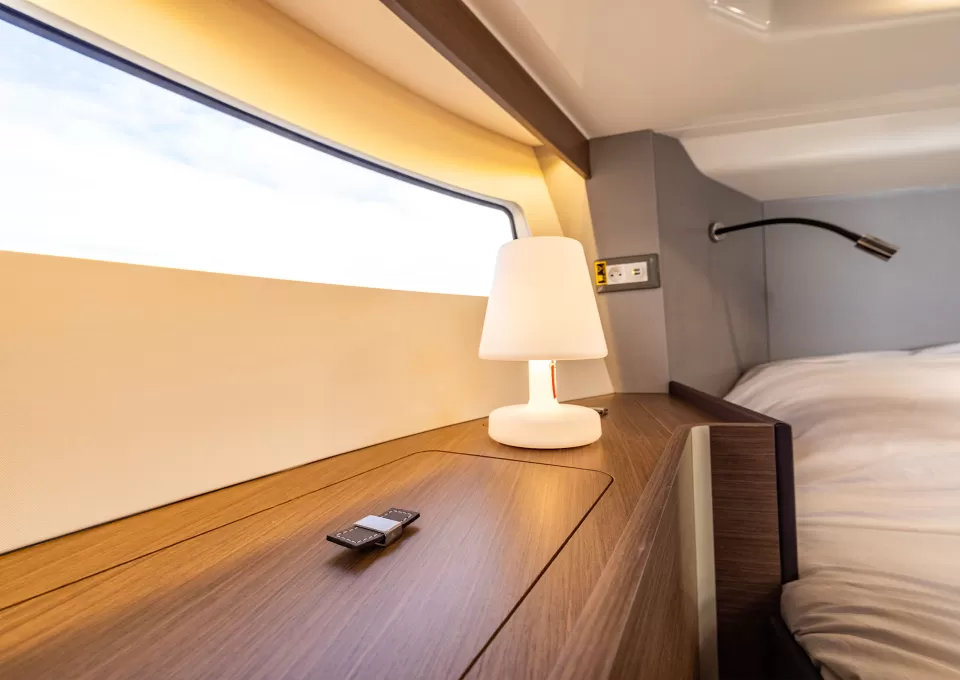 Delphia 11 Flylounge
Interior
The Delphia 11 FlyLounge's fully equipped kitchen means you can prepare meals just like you would at home. Whether you love to show off your culinary skills or are just looking for simplicity when it comes to mealtimes, this galley has what you need.
The Delphia 11 FlyLounge cabins feature clever interior design with spacious beds and ingenious storage solutions, so you can relax in peace during your trip. The private bathrooms have been designed with high-end finishes, so you can make the most of your retreat on the water in total simplicity.
Delphia 11 Flylounge
Fly
1. 2 solar panels
2. Folding backrests
3. Lifting helm station
4. Drawer frigde / BBQ storage
5. Sunbed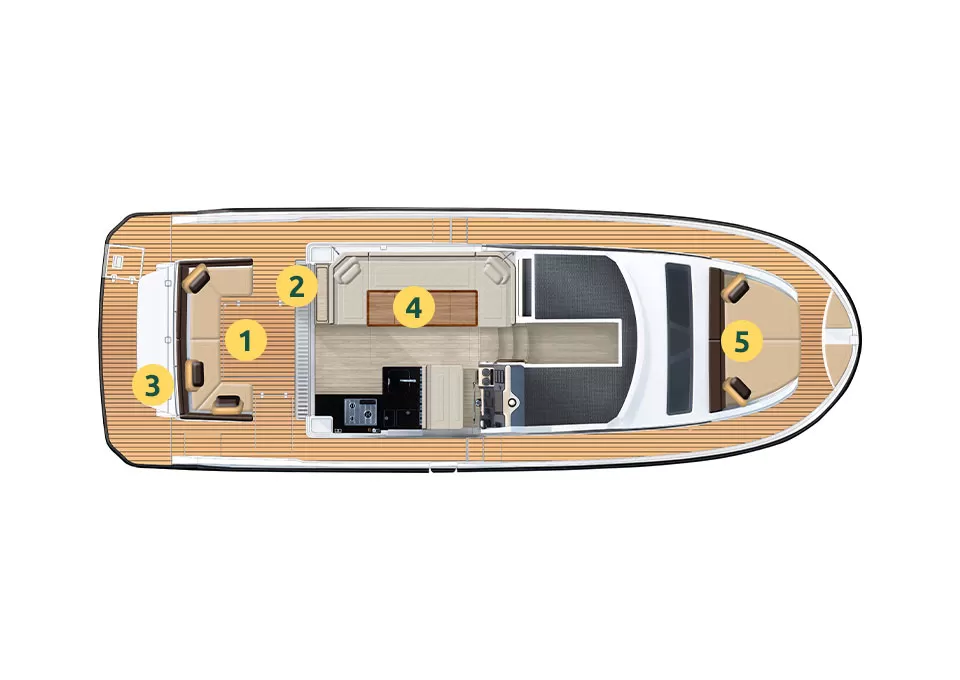 Delphia 11 Flylounge
Main deck
1. Cockpit table
2. Folding stairs to Flybridge
3. Fender locker
4. Lower table creating double bed
5. Bow lounge area with tablets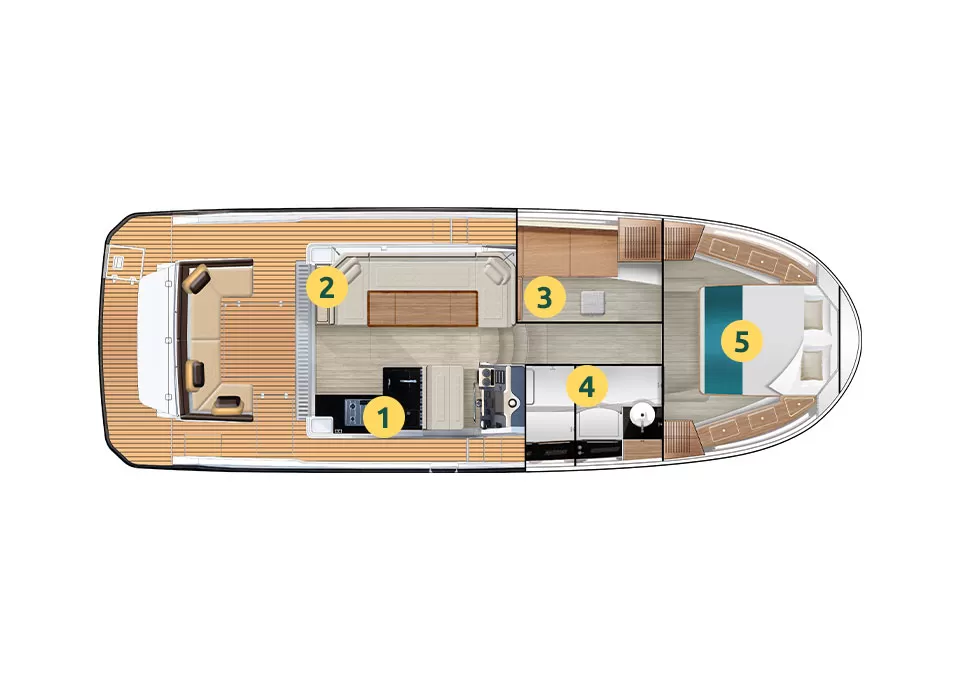 Delphia 11 Flylounge
1 cabin & 1 bathroom
1. Extraction hood
2. Bottle storage
3. Washer / Dryer
4. Bathroom with toilet
5. Owner's cabin with queen size double bed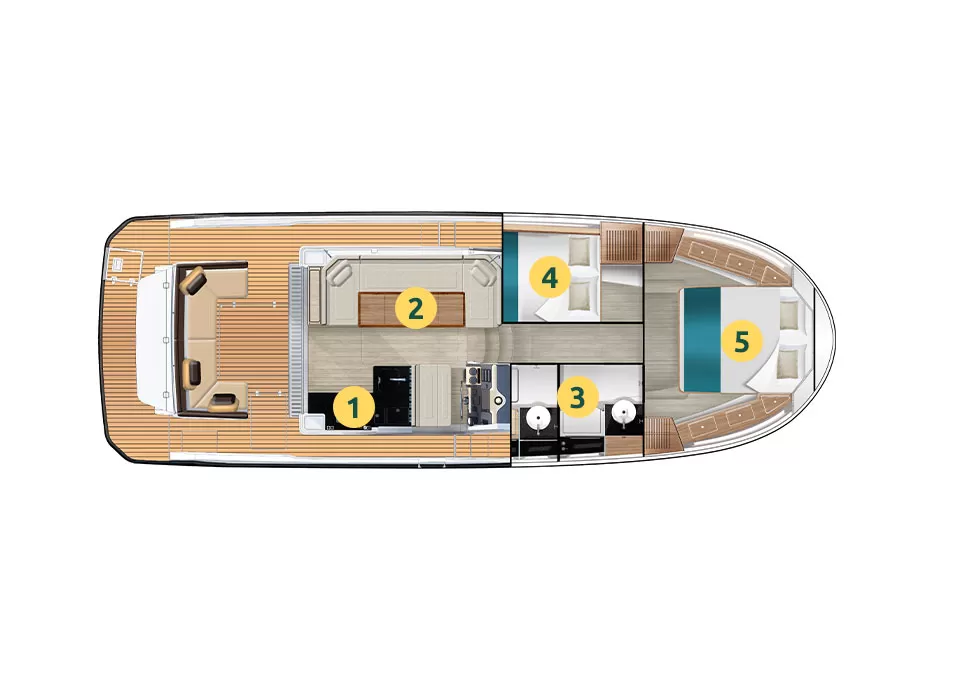 Delphia 11 Flylounge
2 cabins & 2 bathrooms
1. 3 burner gas stove
2. U-shaped dining area
3. Two identical bathrooms with separate shower stalls
4. Guest's cabin with double bed
5. Owner's cabin with queen size double bed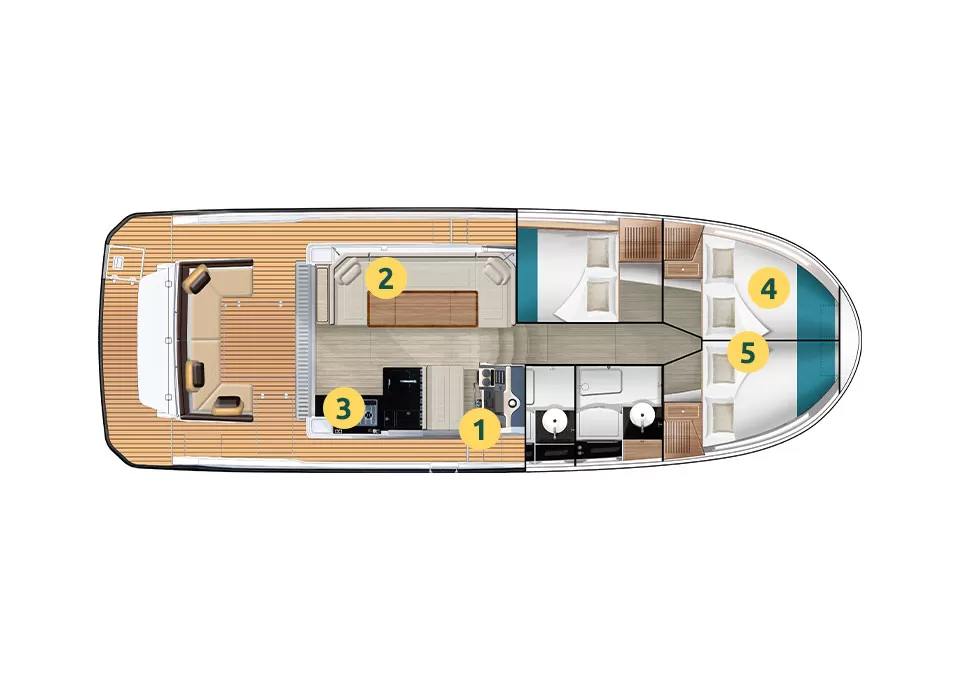 Delphia 11 Flylounge
3 cabins & 2 bathrooms
1. Helmsman side door
2. Storage under the bench
3. Microwave oven
4. Identical 2 cabins in bow
5. Removable middle bulkhead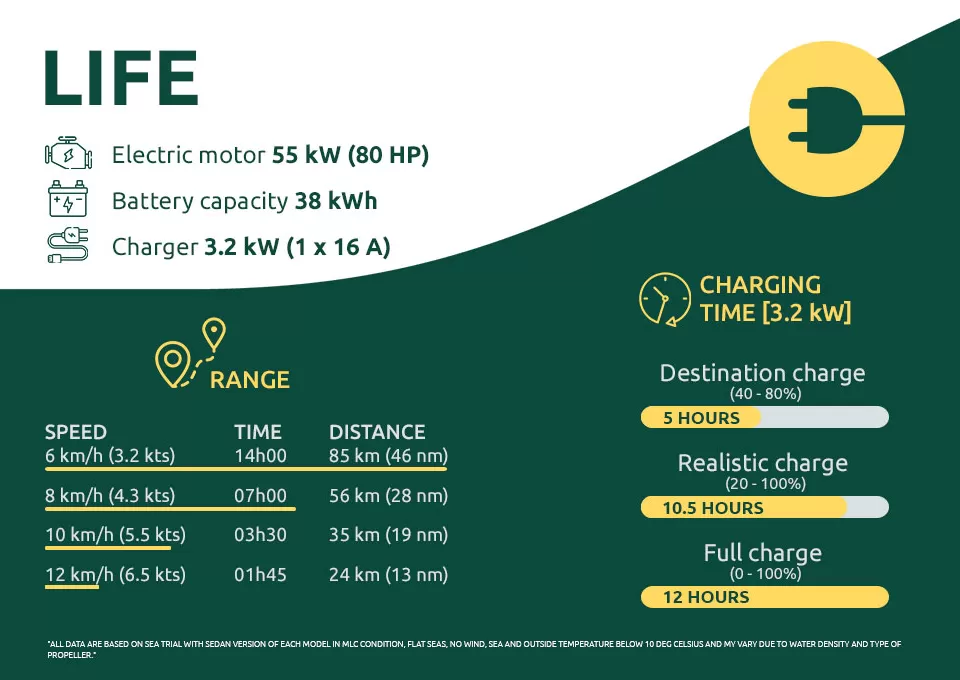 Performance
Delphia 11 Life
"Life" represents a first step in Delphia's conscious boating by an unbelievable value ideal for boaters using their boats in limited navigation areas, such as lakes, urban areas or tend to enjoy short cruises or day outings.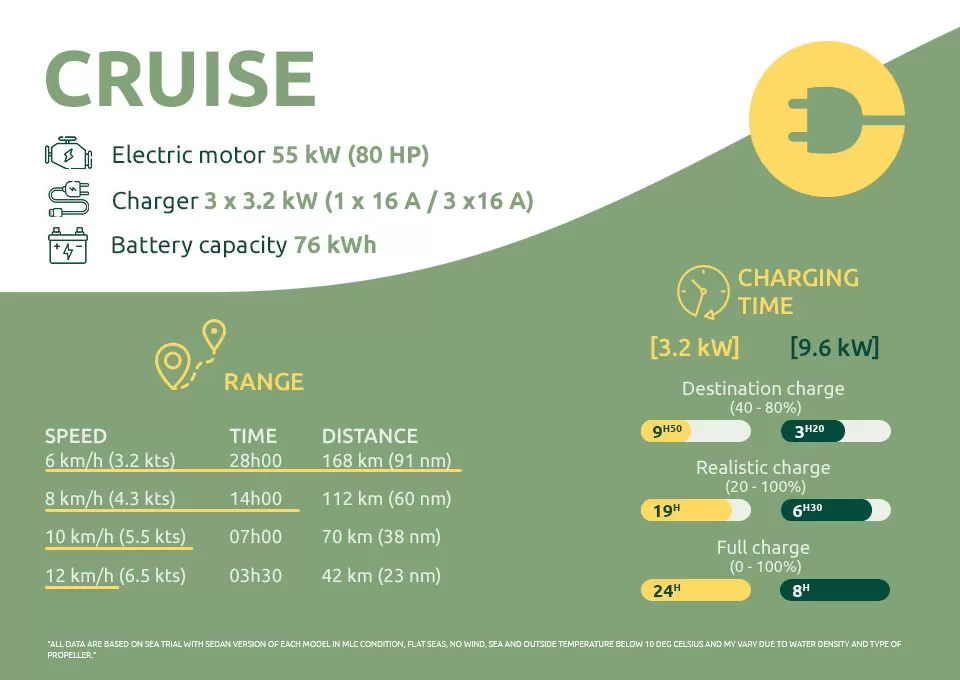 Performance
Delphia 11 Cruise
"Cruise" is a thought-out system for explorers who like to take their love ones to secluded bays or distant villages expecting more autonomy and added functionality.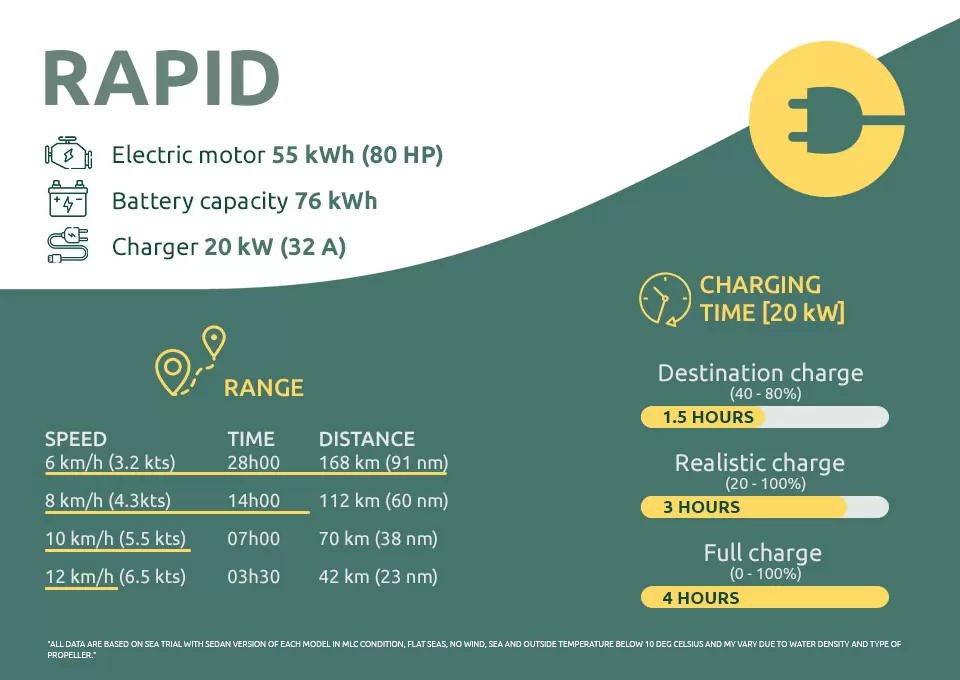 Performance
Delphia 11 Rapid
"Rapid" system, it is a look into the future – meaning that, those owners who navigate in areas where infrastructure is already in place for fast charging.
Delphia 11 Flylounge
Characteristics
Fuel capacity

| diesel