Sleek lines, a modern design, functionality, an electric engine… The Delphia 11 Sedan offers a peaceful, harmonious and eco-friendly sailing experience. Extending an irresistible invitation to live in the moment and reconnect with nature, the Delphia 11 Sedan welcomes you with a warming and comforting ambiance.
Designer : Tony Castro Yacht Design
Hull protection

Some of the elements incorporated into the Delphia's design include oversized rubber rub strakes which extend all along the hull. Their key role is to protect the hull from damage, although they also highlight the boat's elegant profile.
230V domestic appliances
Start your day on the water with your usual rituals thanks to the Delphia 12V to 230V smart inverter system. This system allows you to enjoy your coffee break wherever you are.
Solar energy

With Delphia's photovoltaic system, you can extend your visits to secluded areas without needing to get back to a marina to recharge your batteries.
Fully equipped kitchen
As meals shared in good company always make for wonderful memories, the design of the Delphia 11 Sedan integrates a practical and functional galley space.
Outdoor bar
Fitted with a gas barbecue, this space also has a generous prep area, so you have everything you need for grilling.
Mindful Cruising

We believe that deceleration, taking your foot off the figurative gas, is key to truly relaxing.
Delphia offers its owners the option of mindfully enjoying nature by giving you added comfort and simplicity through sustainable innovations.
Delphia 11 Sedan
Exterior
The sunloungers on the bow are fitted with trays and raised with cushions, creating a beautiful relaxation space for guests. An optional removable awning provides UV protection from the sun for those with sensitive skin.
The cockpit lounge area opens onto the interior, so all passengers can be included, whether they're inside or outside.
A wetbar space aft, featuring BBO and sink, allows you to enjoy cooking in a social setting, without obstructing passageways.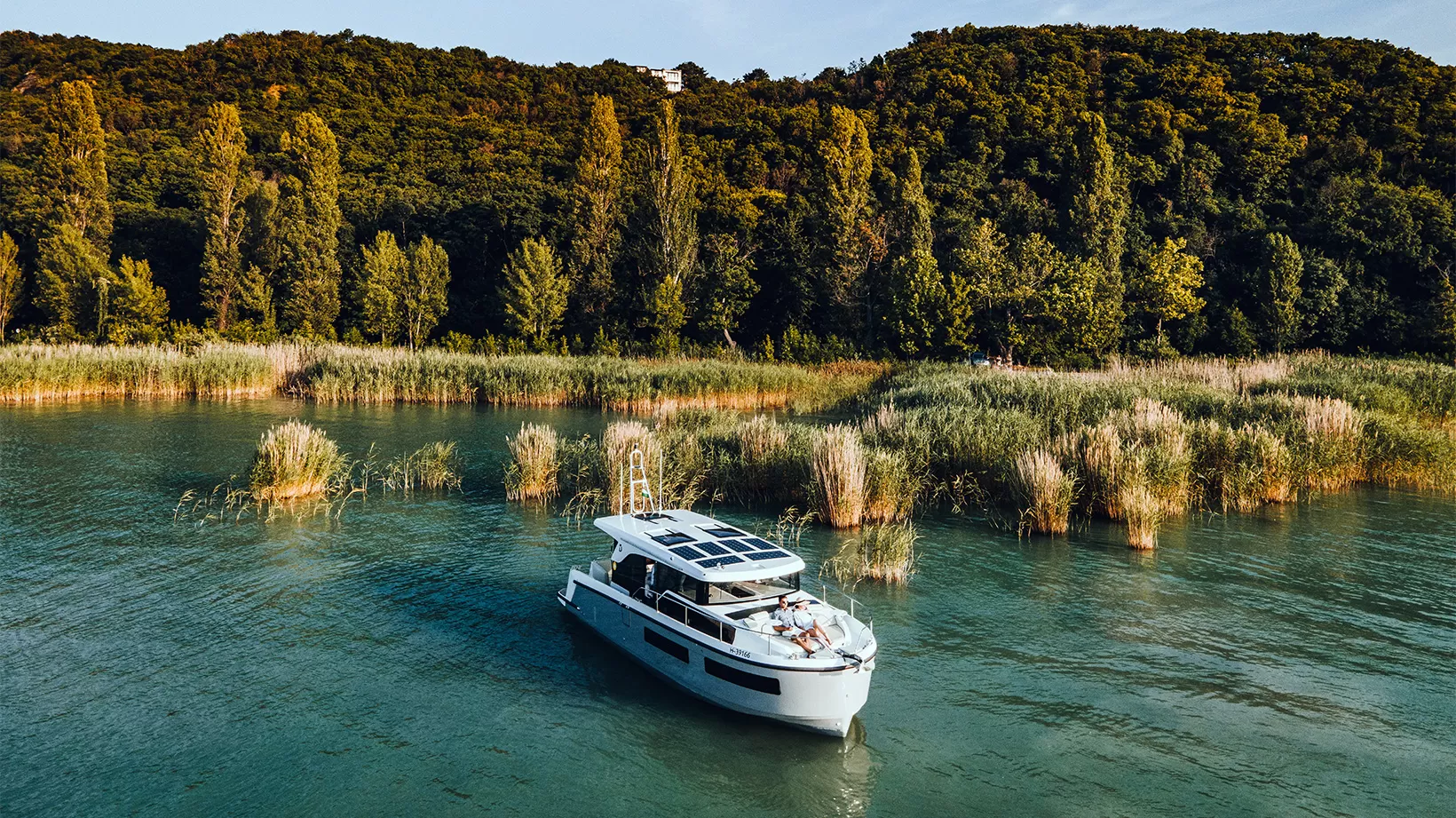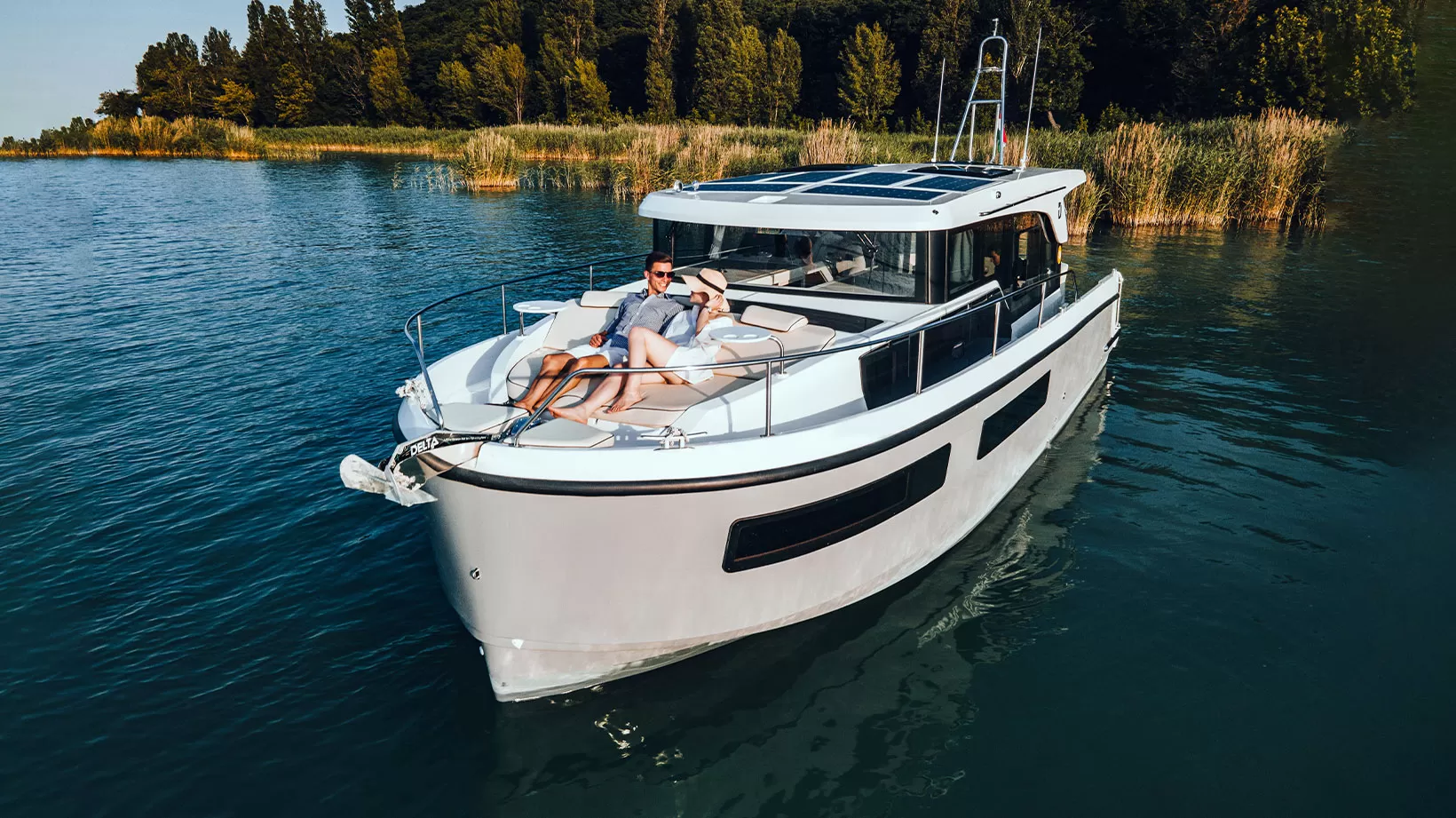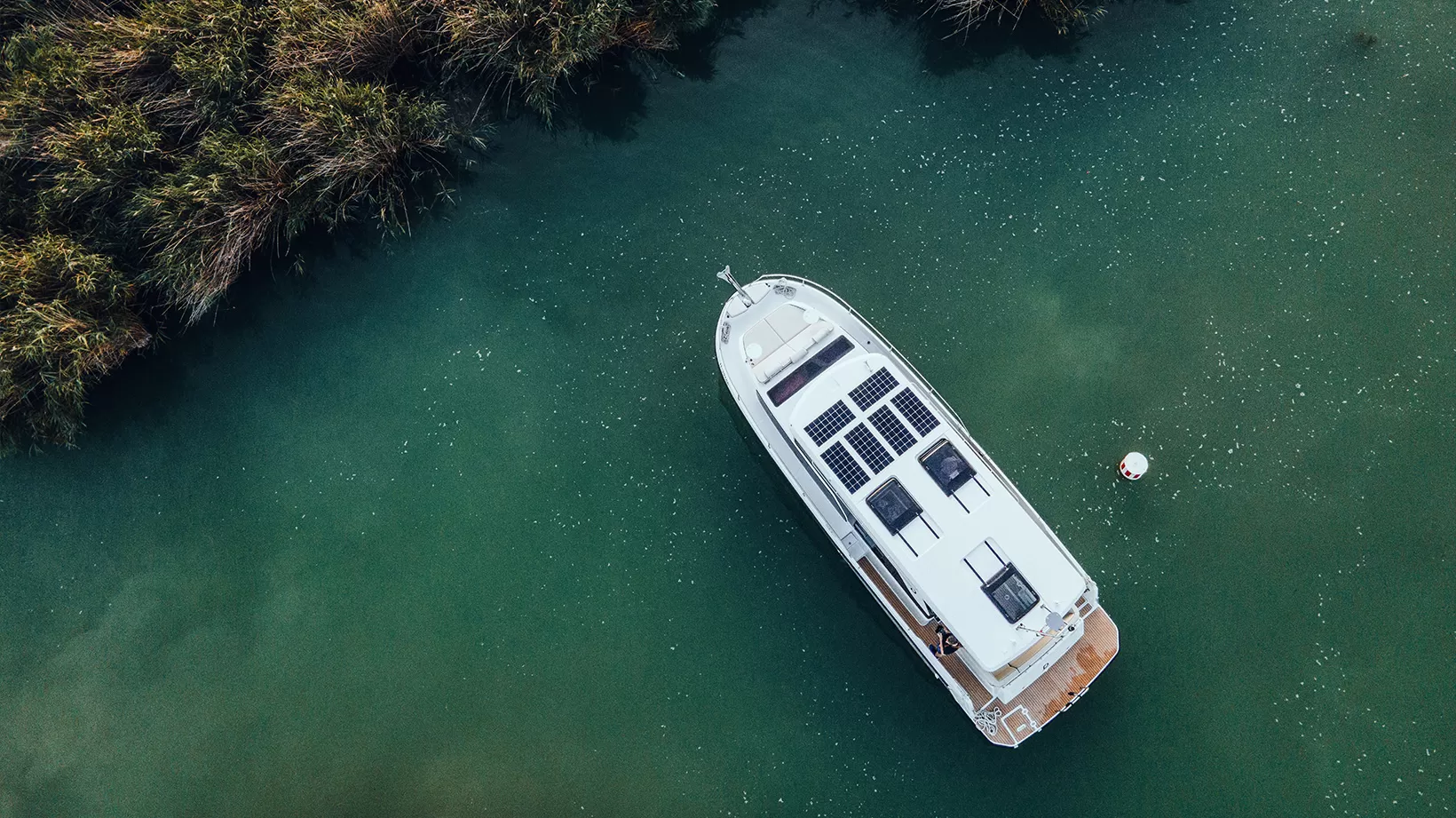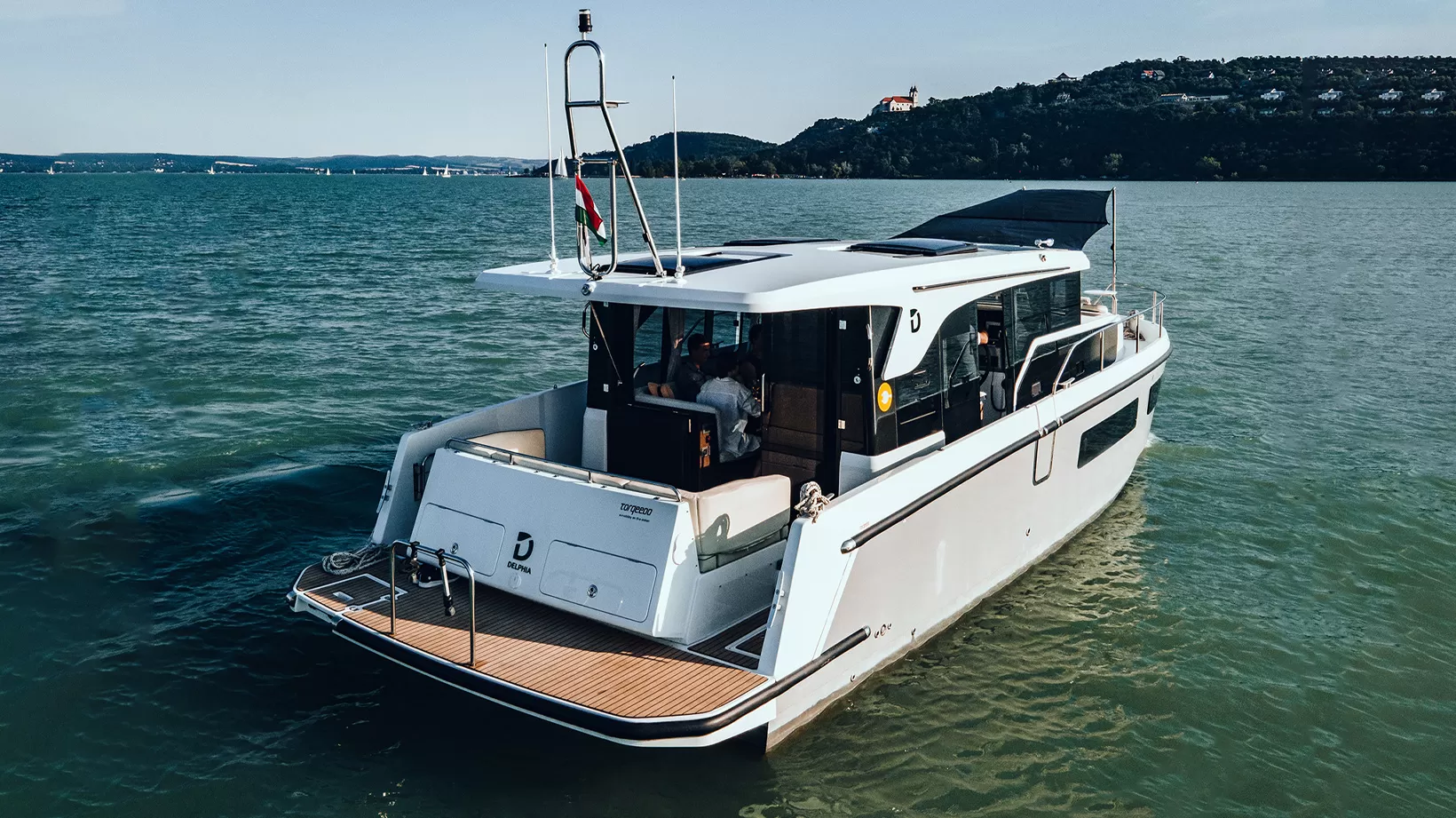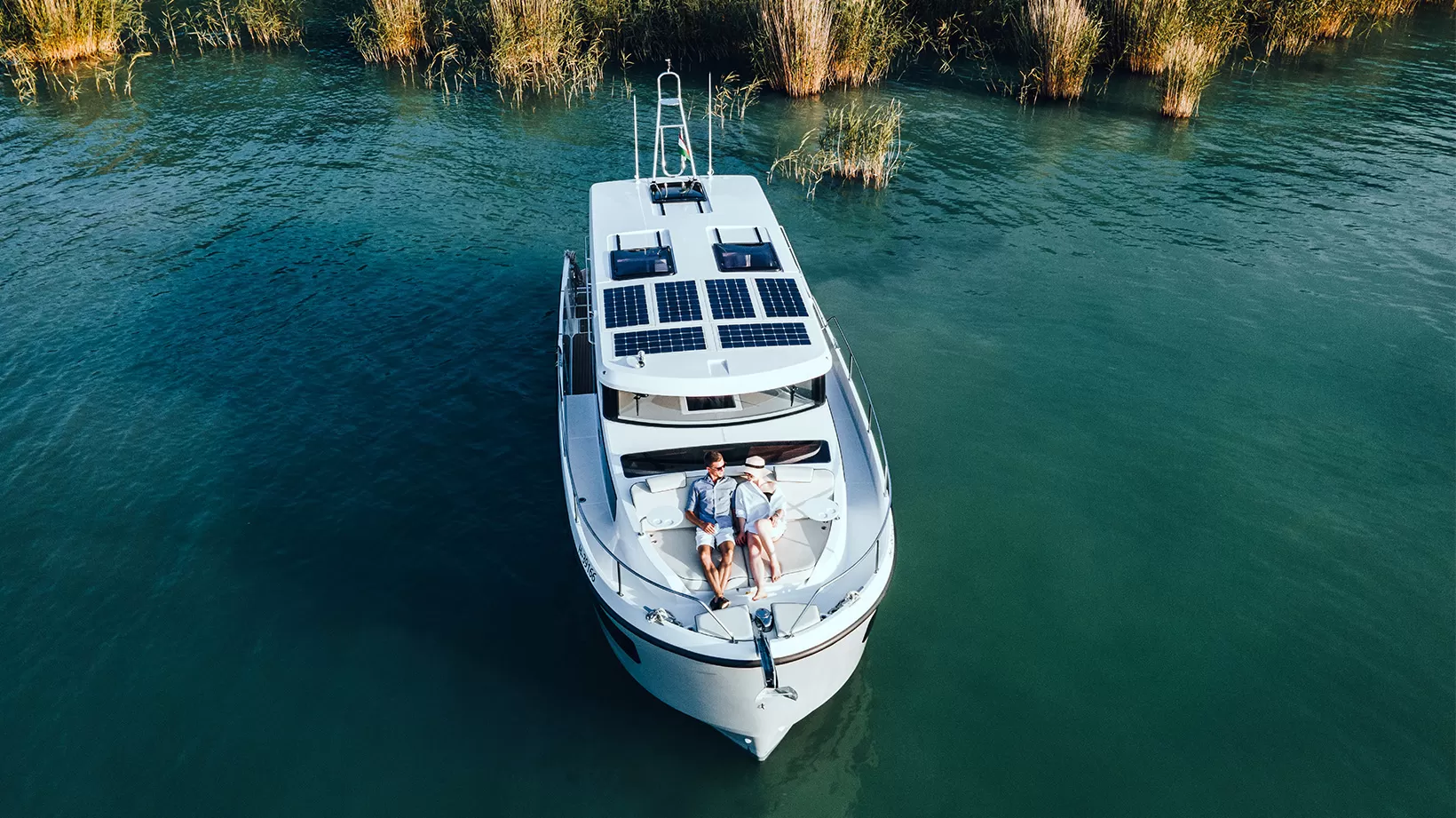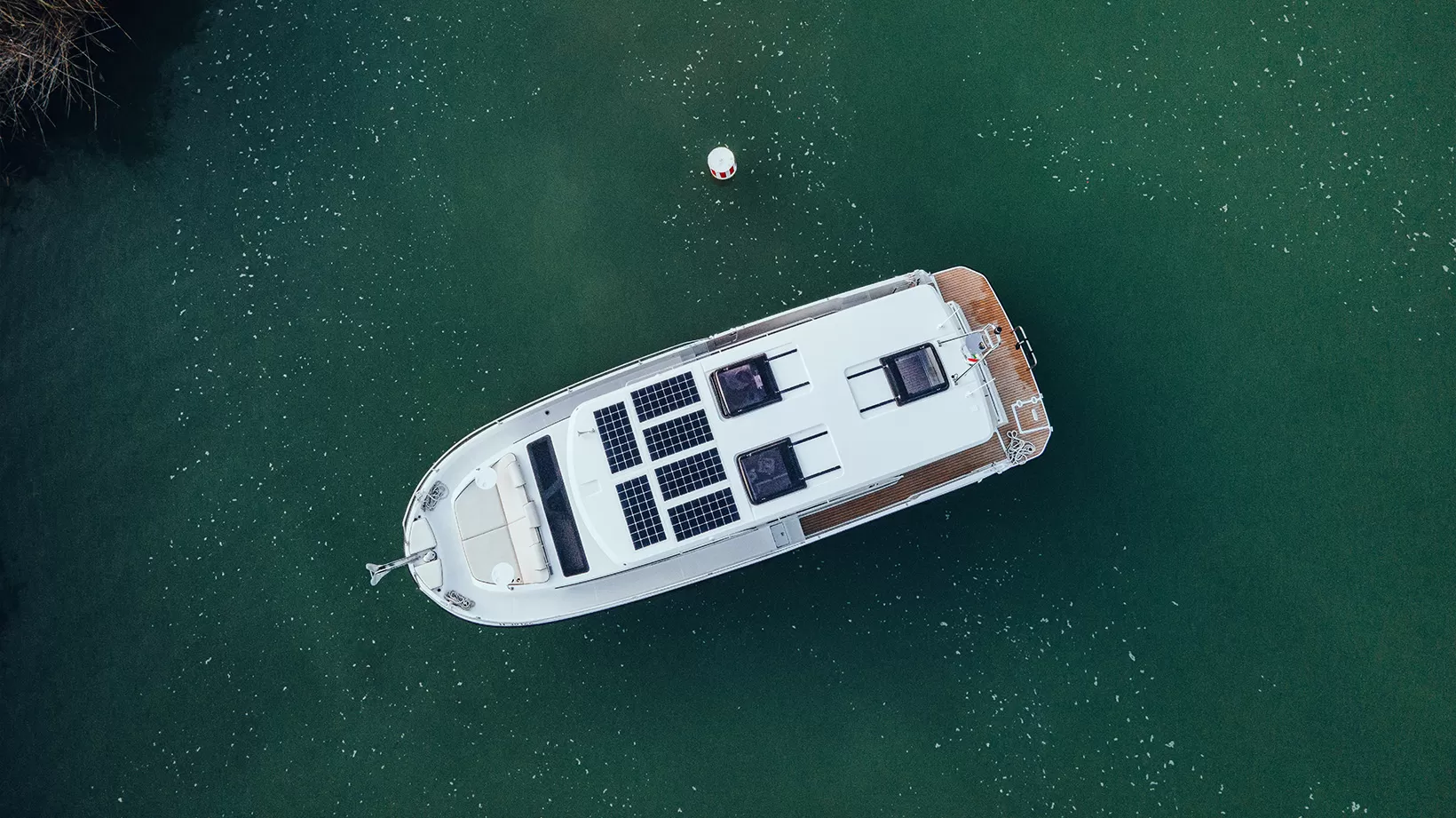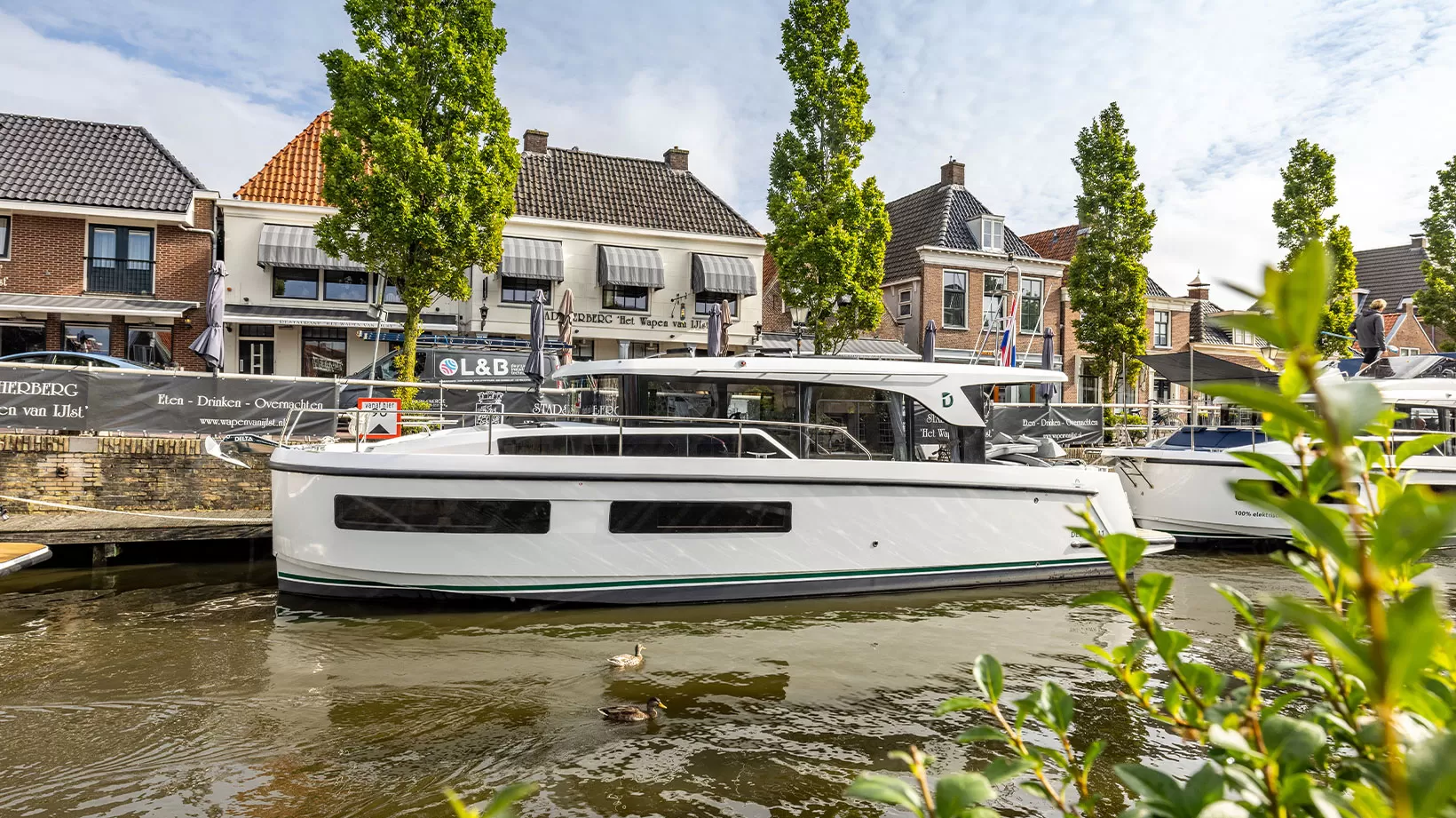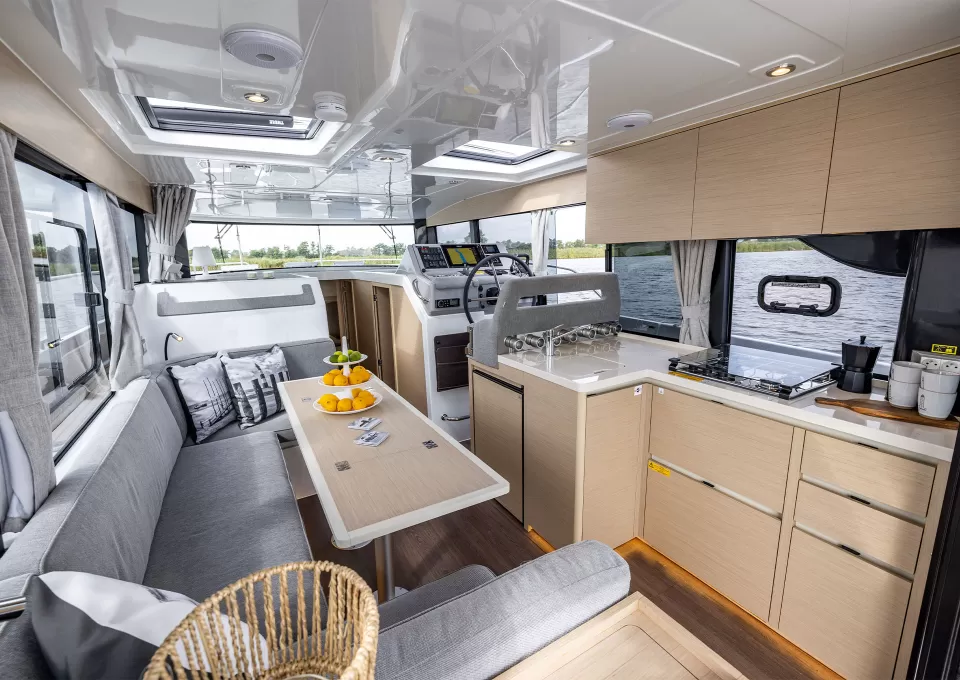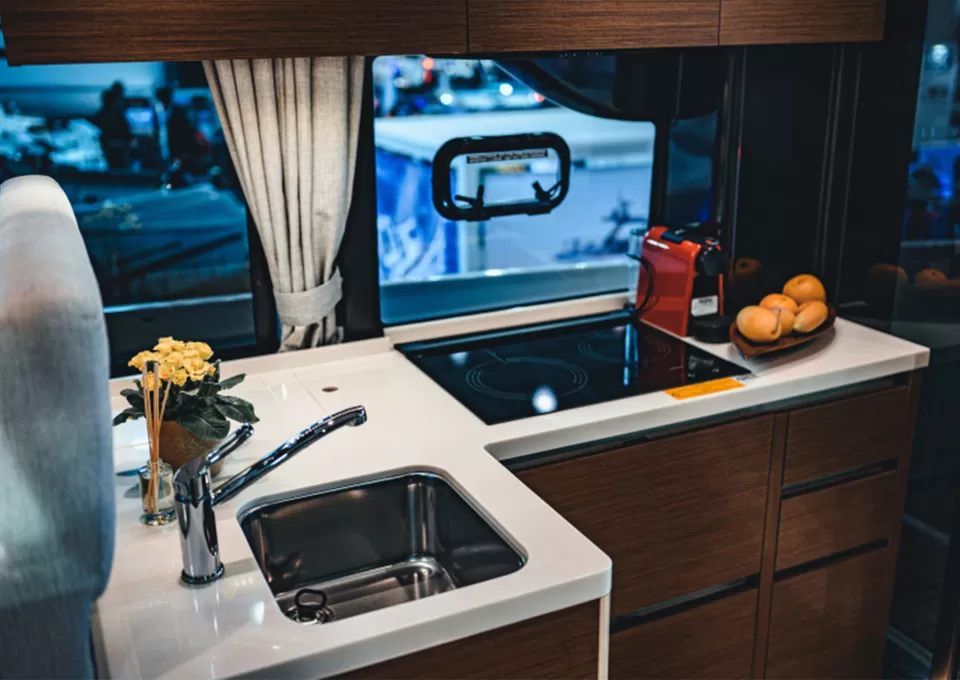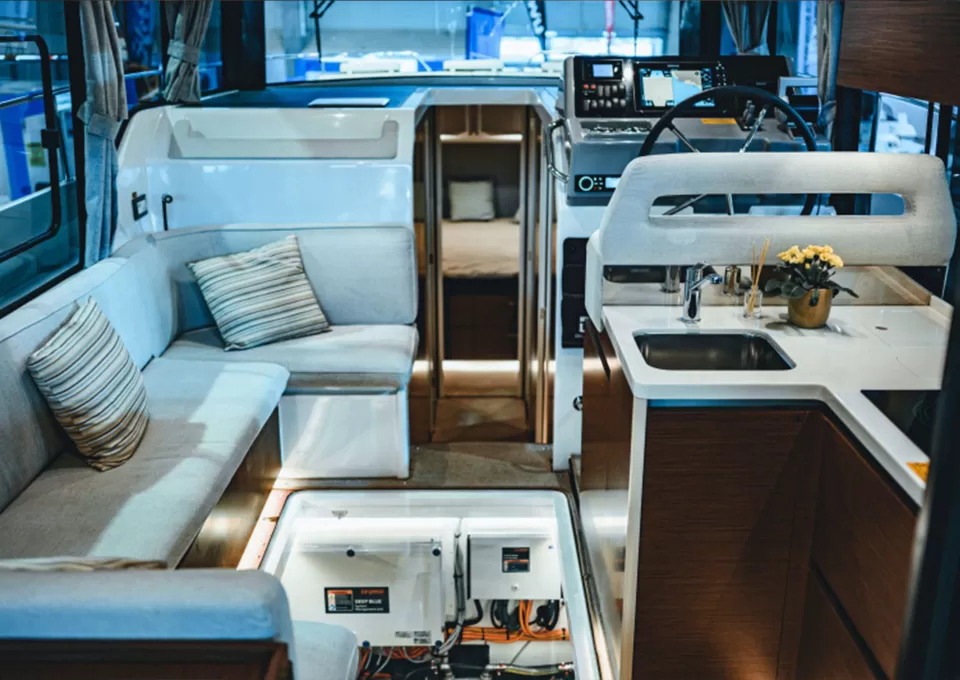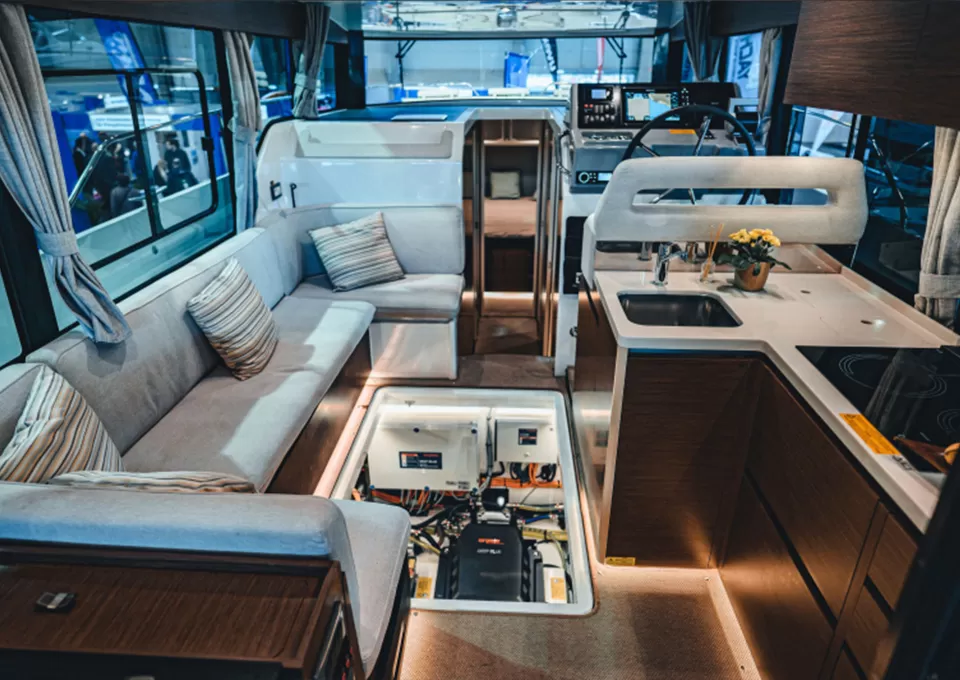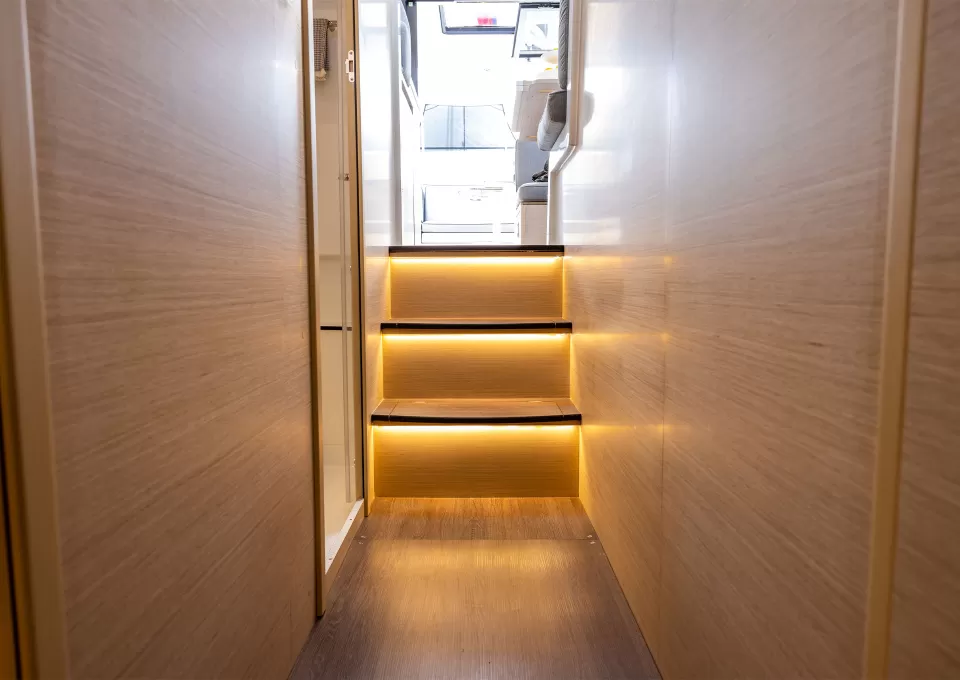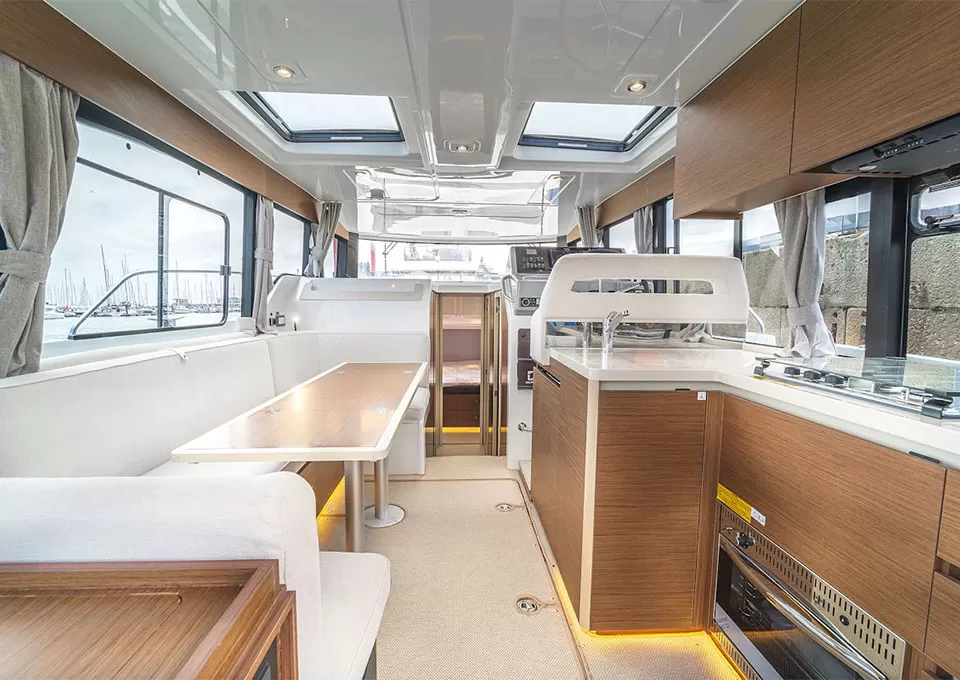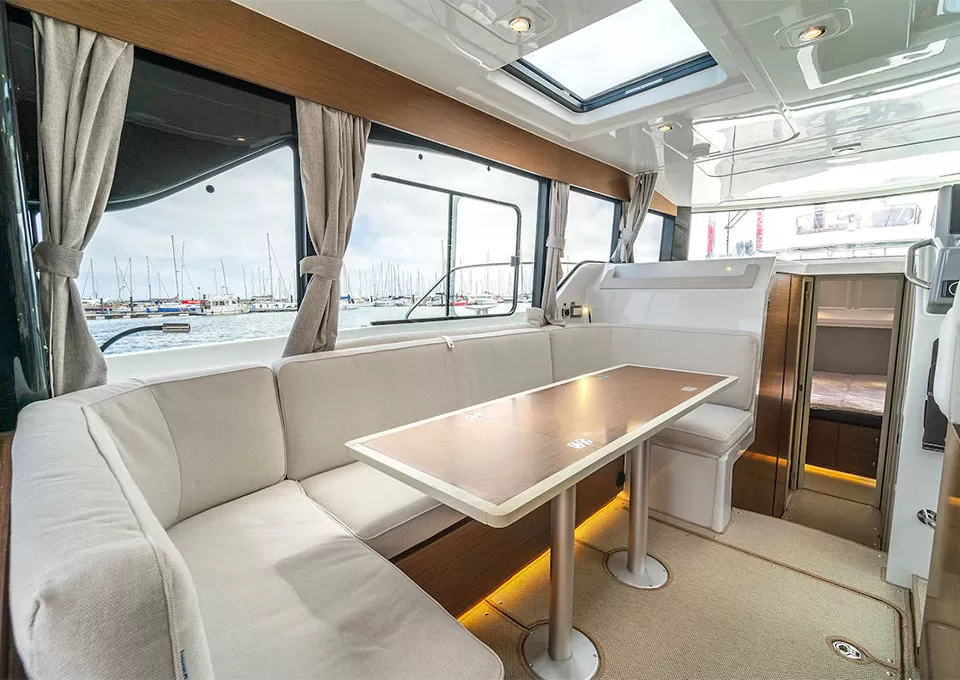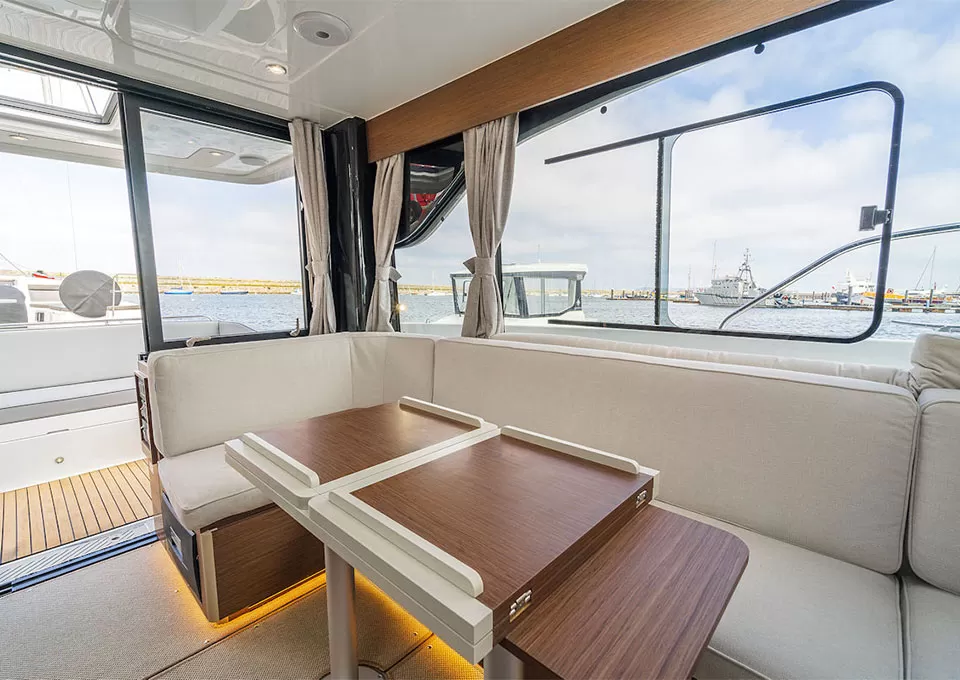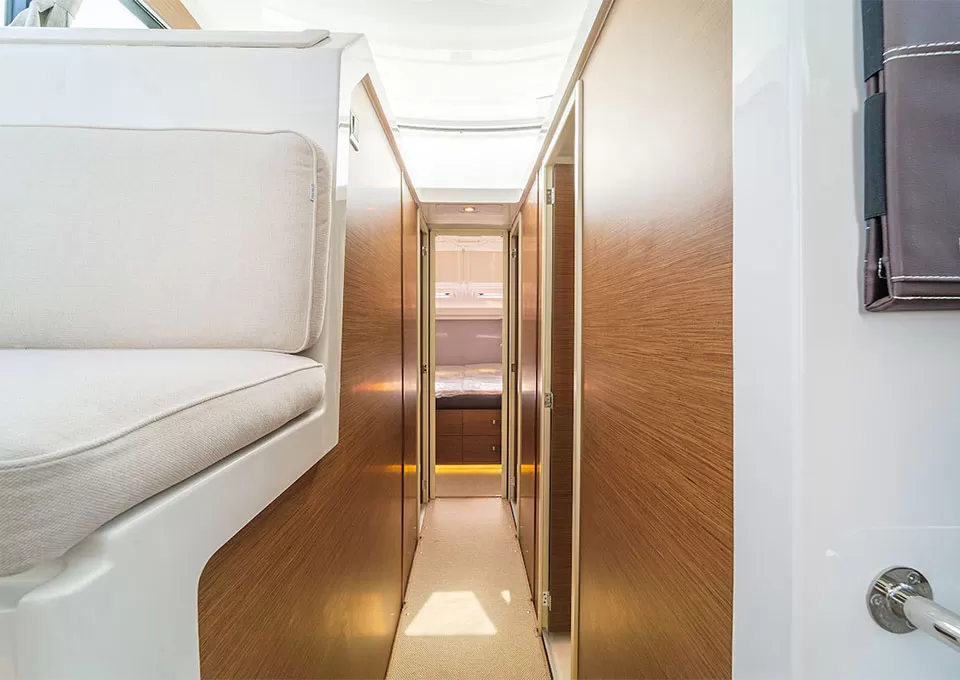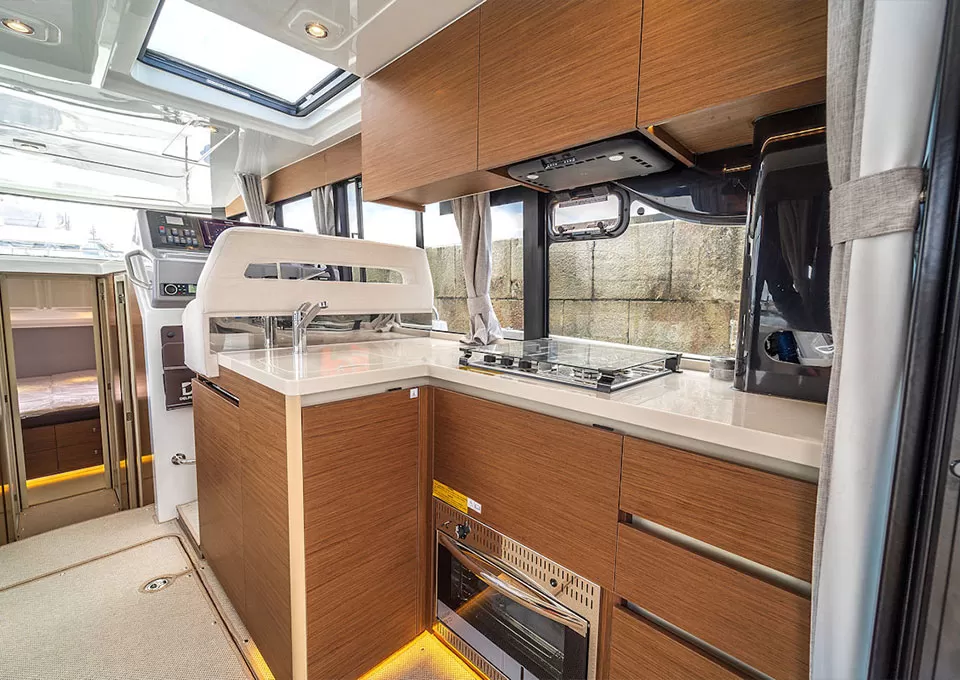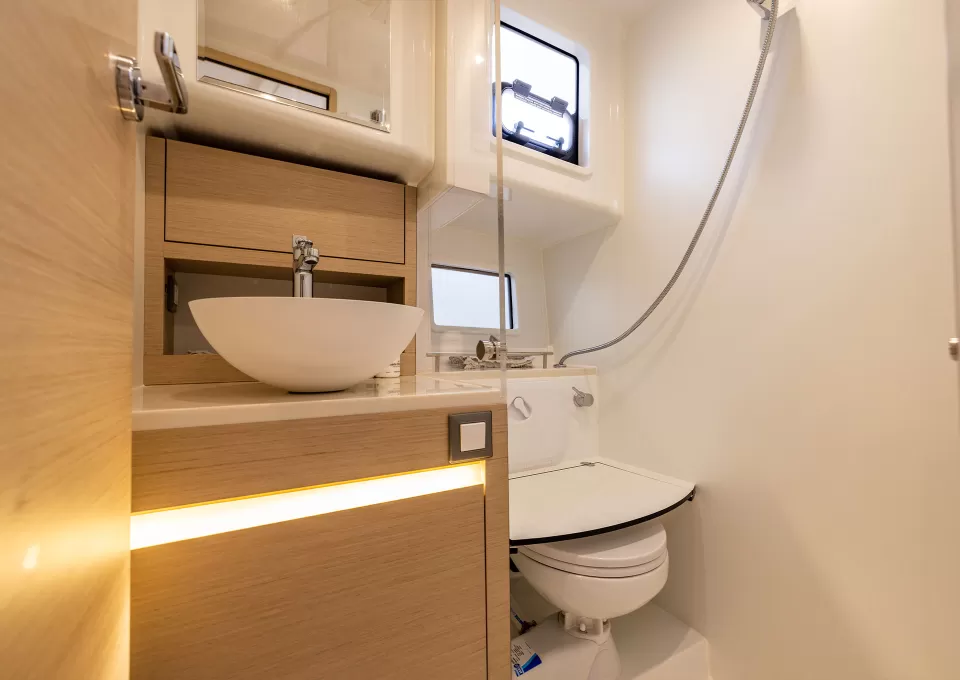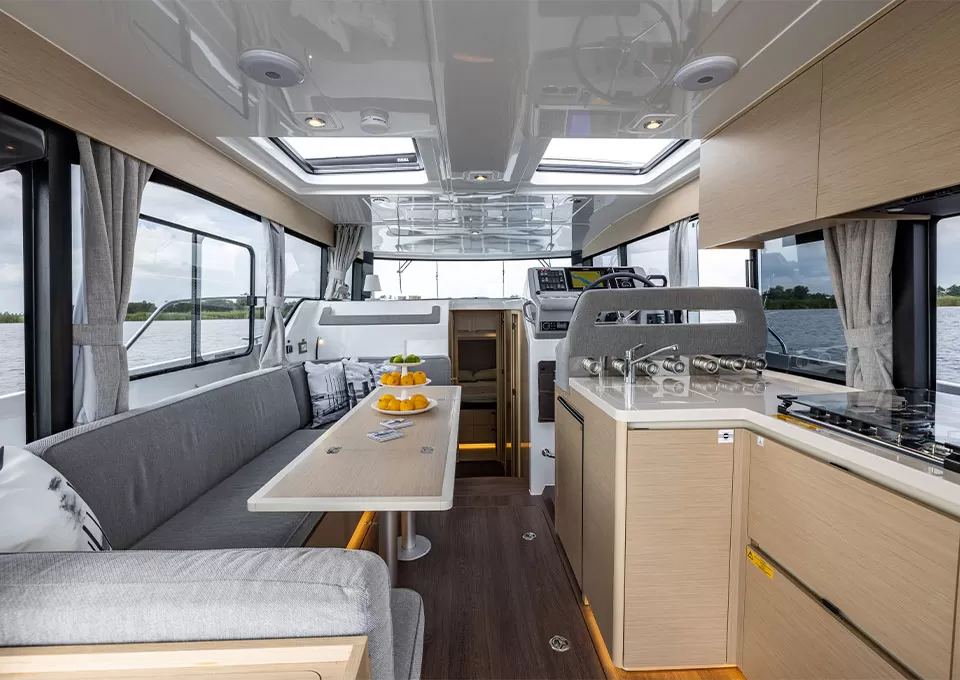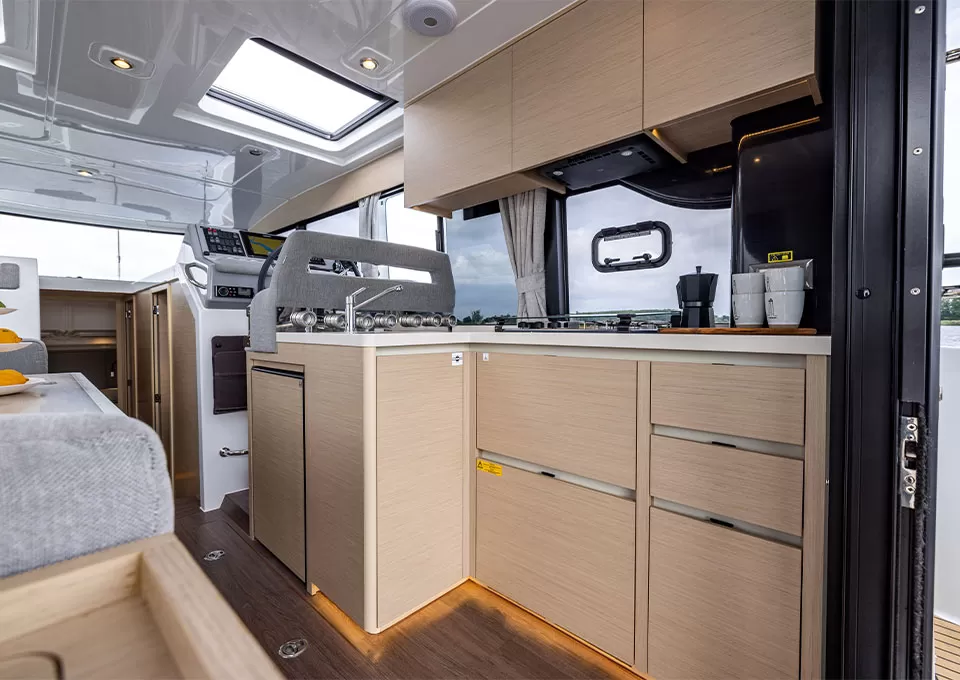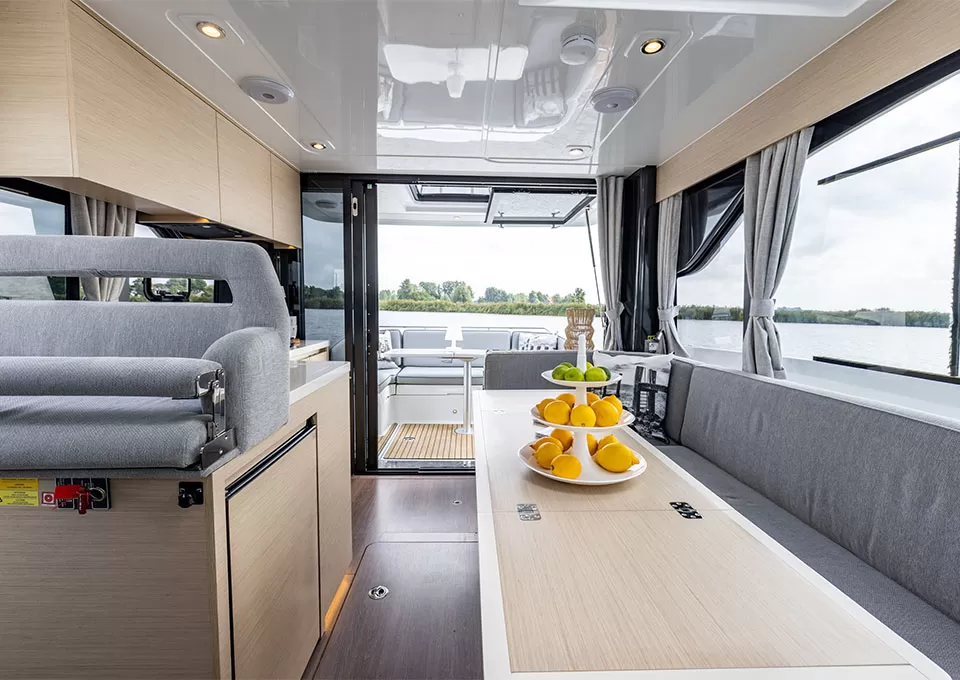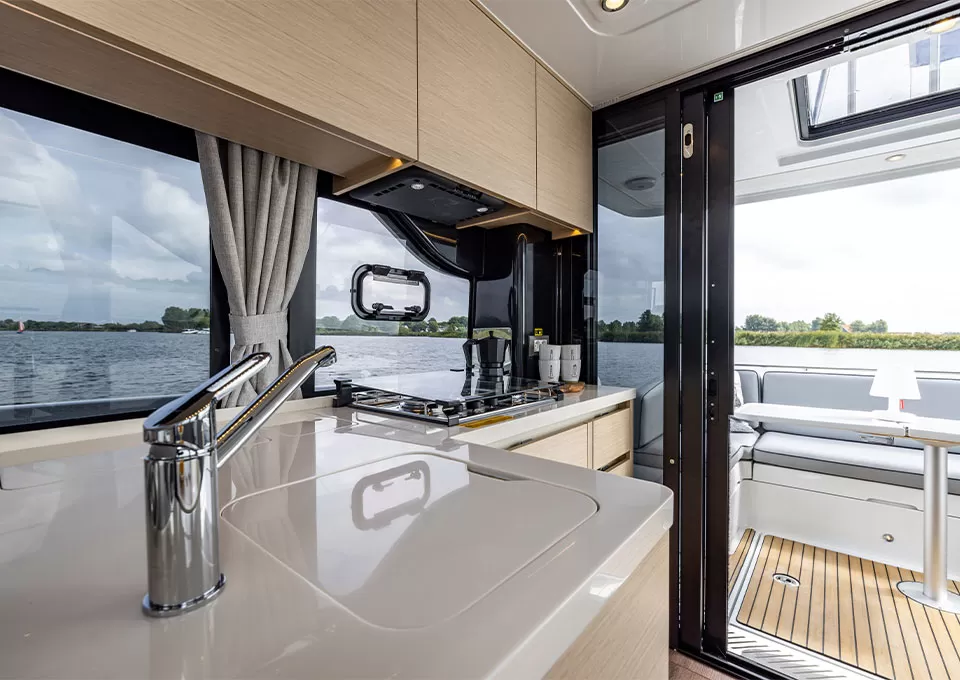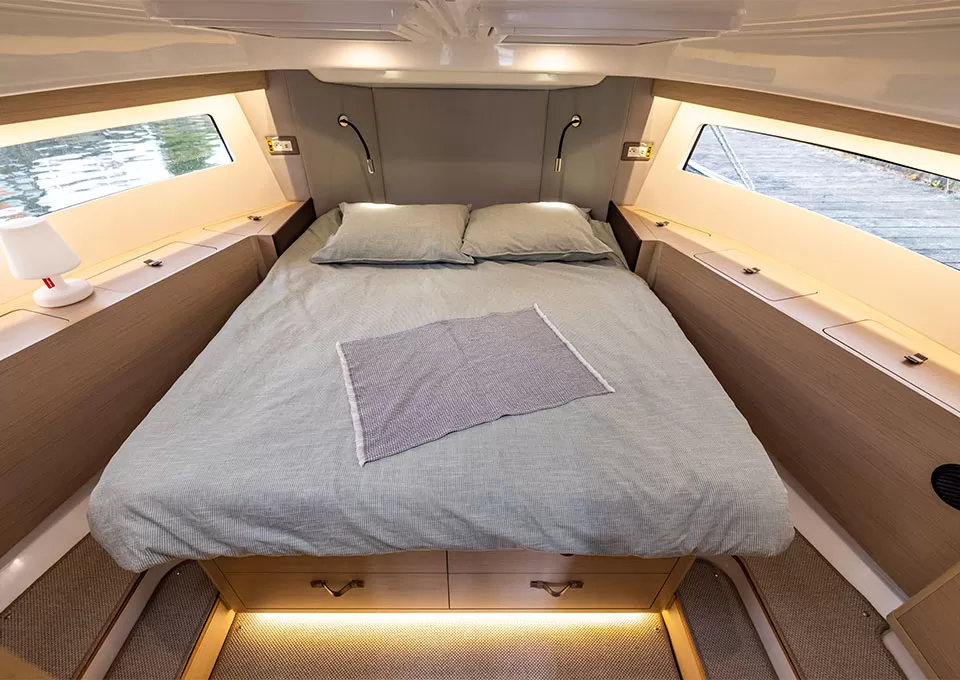 Delphia 11 Sedan
Interior
The Delphia 12 FlyLounge's fully-fitted galley allows you to create wonderful memories during meals with family and friends.
The Delphia 12 FlyLounge features cabins with stunning spaces designed for relaxation, so you can enjoy ultimate comfort throughout your trip. The private bathroom has a separate shower and beautiful natural lighting, with well thought-out ventilation.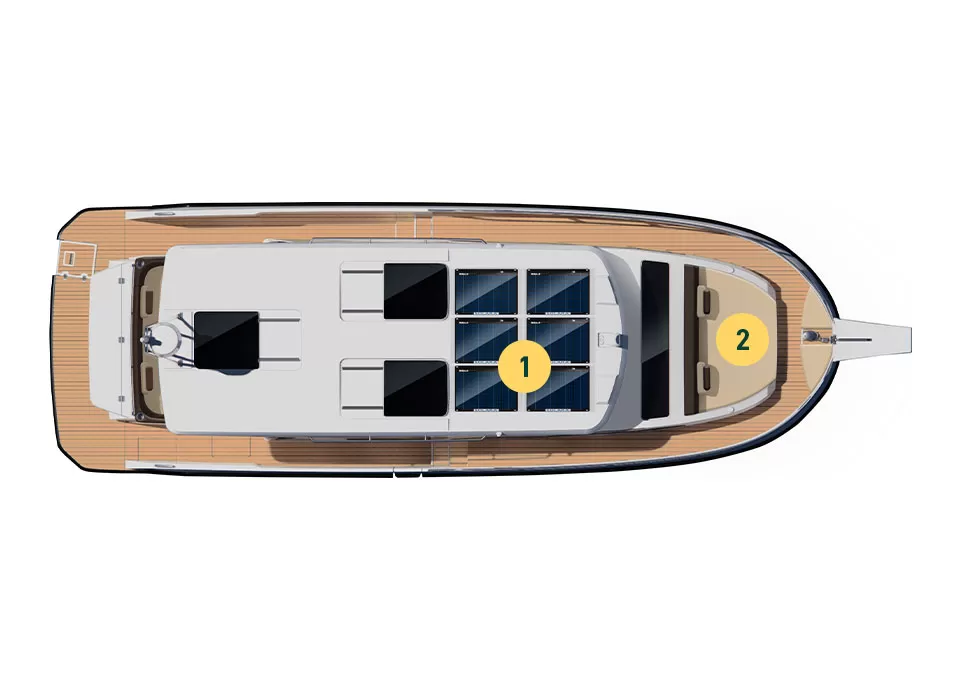 Delphia 11 Sedan
Exterior
1. 8 solar panels
2. Bow lounge area
3. Sliding hatches for salon area
4. Folding radar mast
5. Bow sprit with integrated ladder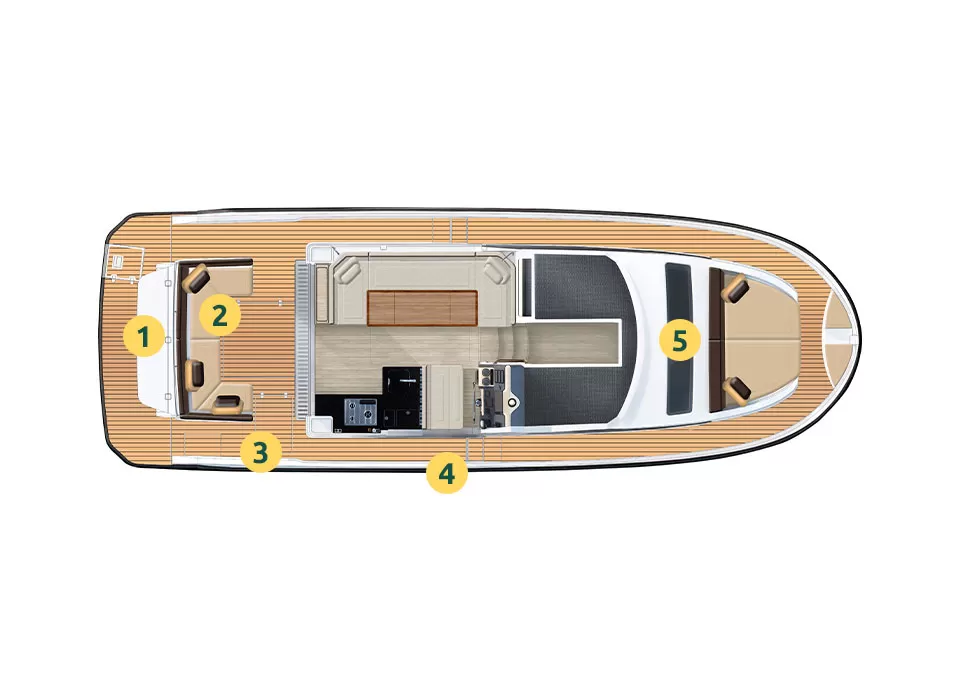 Delphia 11 Sedan
Main deck
1. Transom galley
2. U-shape cockpit bench with storage
3. Liferaft locker​​​​​​​
4. Side gate​​​​​​​ exit
5. Skylight​​​​​​​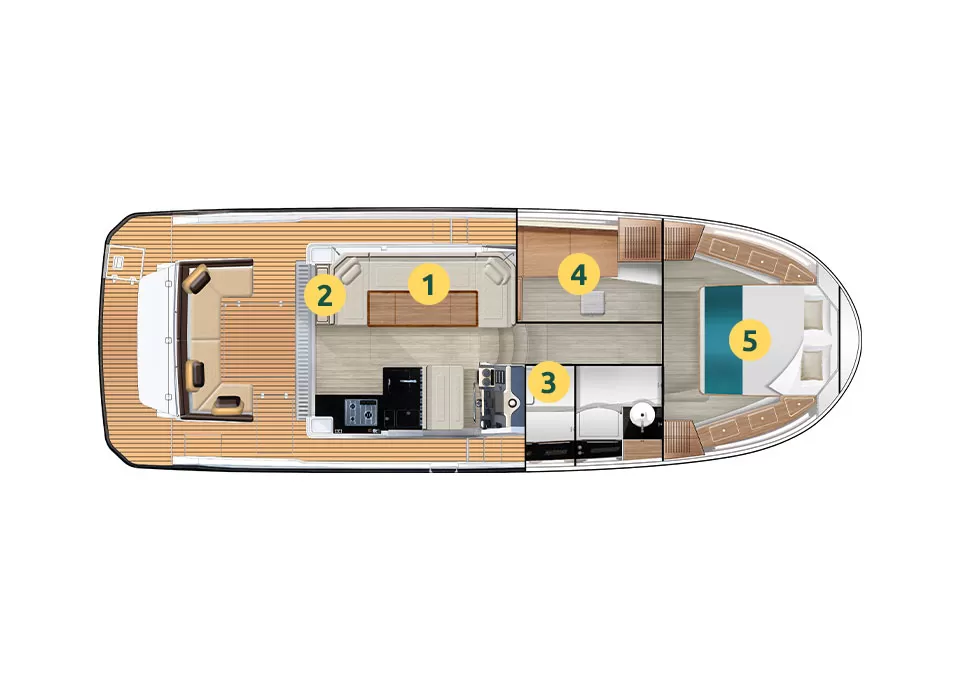 Delphia 11 Sedan
1 cabin & 1 bathroom
1. U-shaped dining area
2. TV lifting mechanism
3. Separate shower stall
4. Office / Utility room
5. Owner's cabin with queen size double bed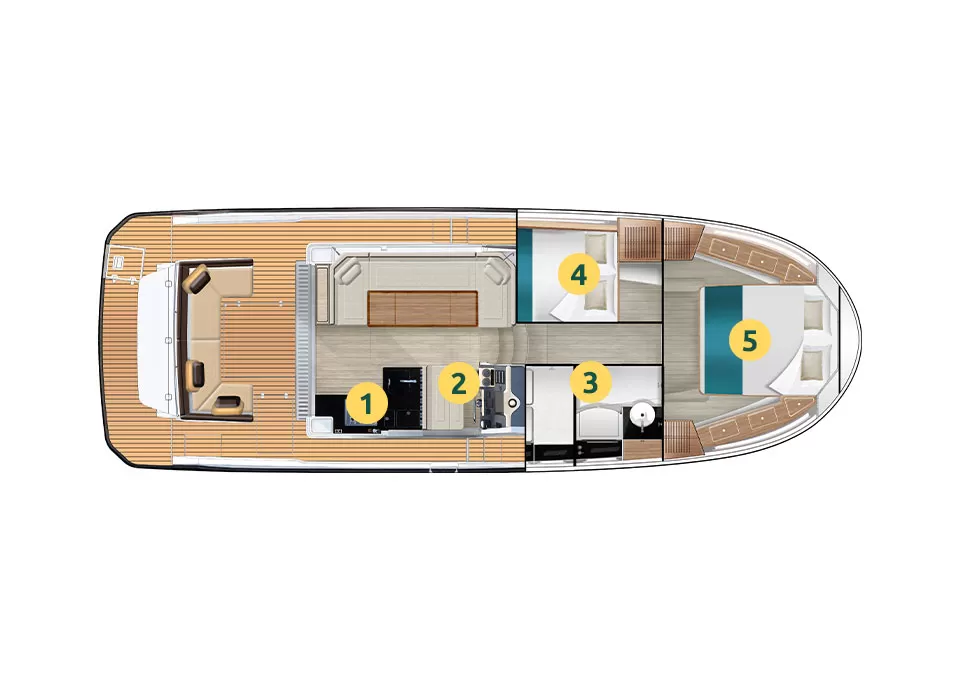 Delphia 11 Sedan
2 cabins & 2 bathrooms
1. Dishwasher
2. Drawer fridge
3. Two identical bathrooms with separate shower stalls
4. Guest's cabin with double bed
5. Owner's cabin with queen size double bed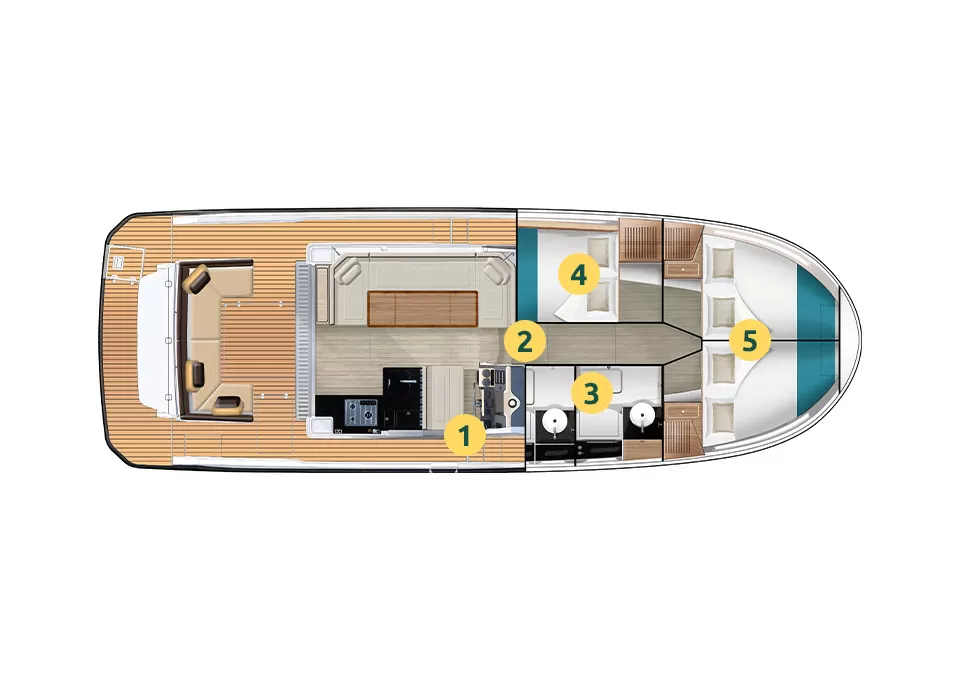 Delphia 11 Sedan
3 cabins & 2 heads
1. Helsman side door
2. Storrage under companionway stairs
3. Two identical bathrooms with separate shower stalls
4. Guest's cabin with double bed
5. Identical two cabins in bow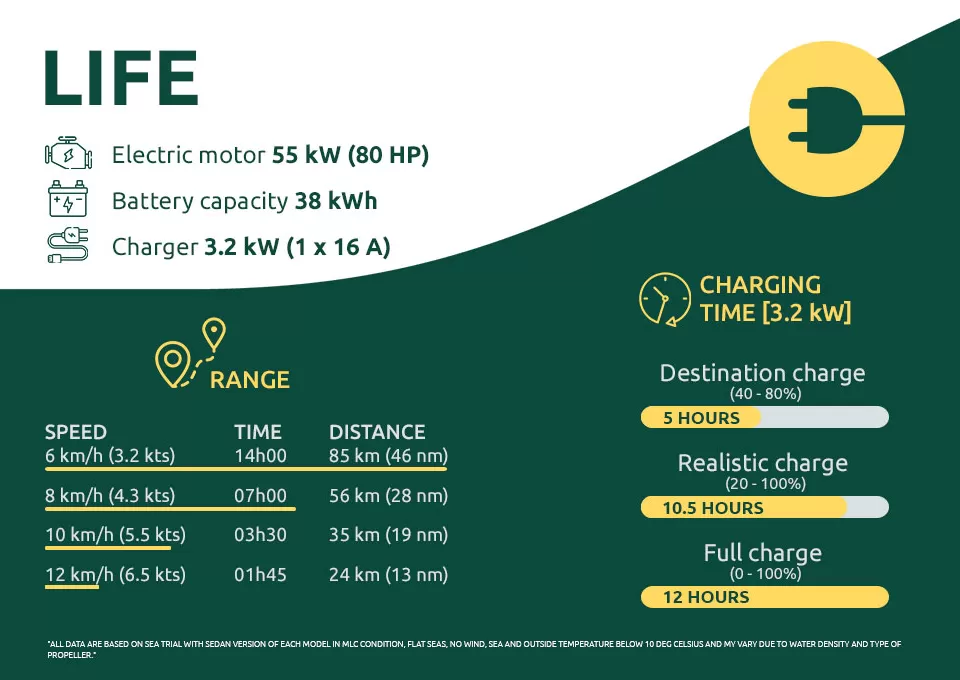 Performance
Delphia 11 Life
"Life" represents a first step in Delphia's conscious boating by an unbelievable value ideal for boaters using their boats in limited navigation areas, such as lakes, urban areas or tend to enjoy short cruises or day outings.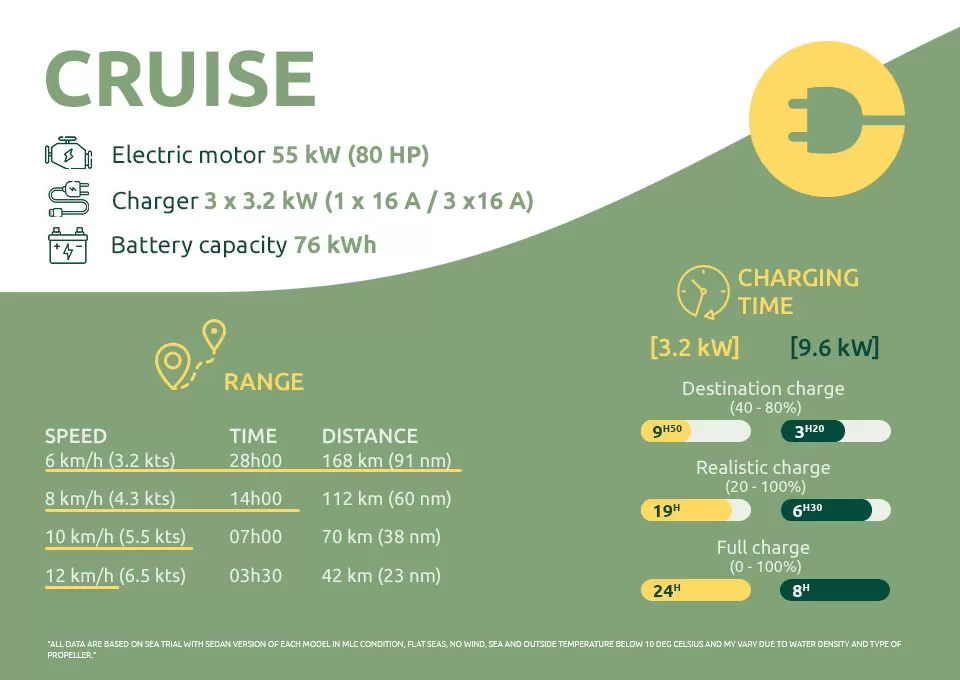 Performance
Delphia 11 Cruise
"Cruise" is a thought-out system for explorers who like to take their love ones to secluded bays or distant villages expecting more autonomy and added functionality.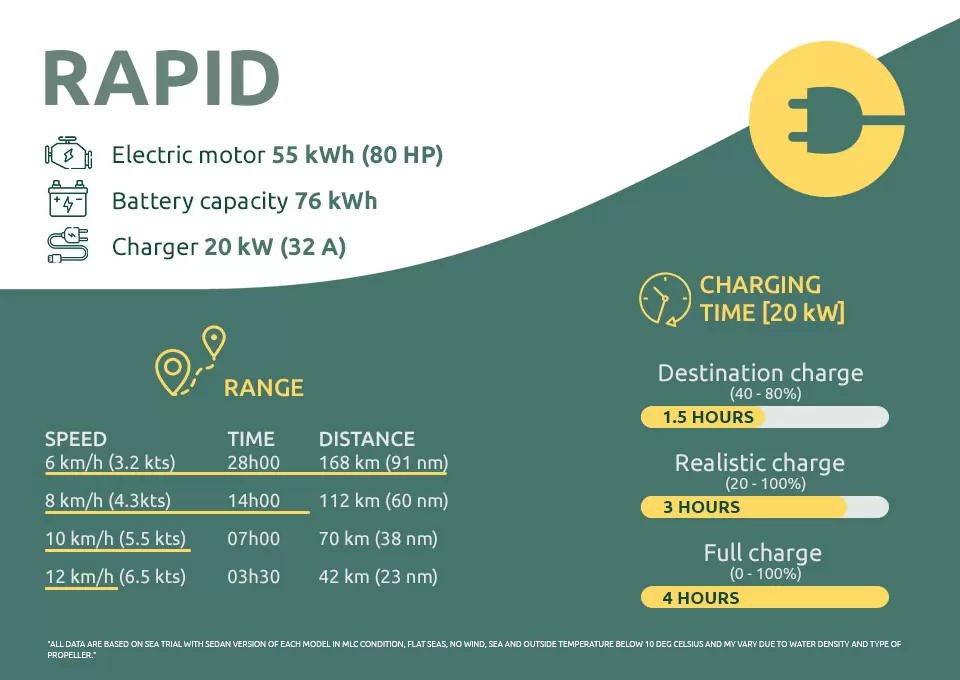 Performance
Delphia 11 Rapid
"Rapid" system, it is a look into the future – meaning that, those owners who navigate in areas where infrastructure is already in place for fast charging.
Delphia 11 Sedan
Characteristics
Fuel capacity

| diesel