Delphia 11 - Electric boat
About the Delphia 11 - Electric
The new Delphia 11 would best be described as "distinctive style meets advanced simplicity". She impresses with special care given to onboard well-being thanks to reducing the number of stairs throughout a boat, creating connected social spaces which we at Delphia call lounges.
Yes, lounges… With minimal bow rise and peaceful voyages, you and your loved ones are here to relax and Delphia 11's lounges offer the ultimate onboard interaction opportunity. Parents can enjoy the lounge area in the cockpit while teenagers can have their own space on the bow lounge area. There is enough for everyone! An absolute favourite among guests onboard Delphia 11 is the FlyLounge version which puts the emphasis on providing sufficient lounging area for everybody on board while making sure that nobody is left behind on the main deck.
Both FlyLounge and Sedan versions are unique and offer very versatile interior spaces. The Delphia 11 can put the emphasis on larger living areas by opting for a two-person suite with an office; or focus on more sleeping amenities by choosing the three-cabin layout that can host up to ten people.
Architect & Designer : Tony Castro Yacht Design
Awards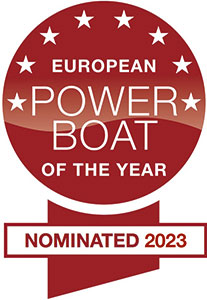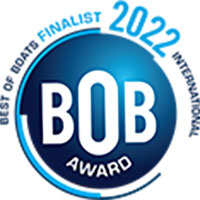 Key Features
Key Features for DELPHIA 11- Electric - Sedan
Hull protection
Part of Delphia's design elements are its distinctive oversized rubber rub rails that stretch all along the hull side. Their role is first and foremost to protect the hull against damages, but they also highlight the boat's beautiful and sleek profile.
230V home appliances
Start your day like you usually do thanks to Delphia's smart 12V-to-230V inverter system. It ensures that you'll be able to have your morning coffee even if you are out of the harbor.
Solar Power
The sun is a very reliable and environmentally friendly source to harvest energy from to power all our onboard electric equipment.
With Delphia's purposely designed photovoltaic system, you can extend your stay in a secluded area without having to worry about visiting a marina to recharge your batteries.
The Master Chef
Spoiling your guests or family members with delicious gourmet food adds bonus points to onboard living. But achieving this requires a chef's creativity, fresh ingredients, and a kitchen with all the required appliances.
Delphia 11 even further than this by adding a welcoming outside wet bar equipped with a gas BBQ and a large prep area suitable for any grill master.
Mindful cruising
We believe that deceleration is key to have meaningful and relaxing cruises on inland waterways. That's why we give owners and passengers alike the possibility to consciously enjoy moments of pleasure on boats crafted around comfort, convenience and ease.
Delphia is where sustainable product solutions enable you to mindfully harmonize with nature and your loved ones.
Walkthrough
Key Features for DELPHIA 11- Electric - FlyLounge
Bicycles
The number one equipment to have onboard your inland water cruiser!
At Delphia, we have paid a lot of attention to where and how you store your bikes. Due to the accessibility bathing platform being the most convenient place for bike storage, with the help of a stainless-steel arch, Thule bike accessories and charging point make a perfect combination to handle your bicycles when on board.
Home Office
Imagine having the best office in the world, located in the best place you can think of, all while feeling on holiday. Delphia 11 can make that dream come true.
Alternative Decking
Forests are considered the lungs of our planet and minimizing the use of tropical hardwood is one way for a better future.
All Delphia designs exclusively use an alternative vinyl decking material manufactured with sustainable methods. The benefit is not only an eco-friendly product, but one that is lighter, easier to maintain and that lasts longer.
Complete cockpit enclosure system
An elegant and practical solution when it gets wet and cold outside, and very user friendly. The specially designed system enables users to quickly and effortlessly deploy or store the protective canvas in a dedicated storage place.
L.O.U.N.G.E
Life. Openness. Unwind. Nature. Green. Effortless.
Characteristics &
Layouts
Characteristics and Layouts for DELPHIA 11- Electric - Sedan
Length overall

10,77 m

Hull length

9,99m

Hull beam

3,85m

Light displacement

7.172 kg

Air draft

2,75m

Draft

0,8m

Fresh water capacity

380L

Engine power

80hp

CE Certification

B10 / C14 / D14
Characteristics and Layouts for DELPHIA 11- Electric - FlyLounge
Length overall

10,77 m

Hull length

9,99m

Hull beam

3,85m

Light displacement

7.671 kg

Air draft

2,95m - 3,28m

Draft

0,8m

Fresh water capacity

380L

Engine power

80hp

CE Certification

B10 / C14 / D14
Image gallery