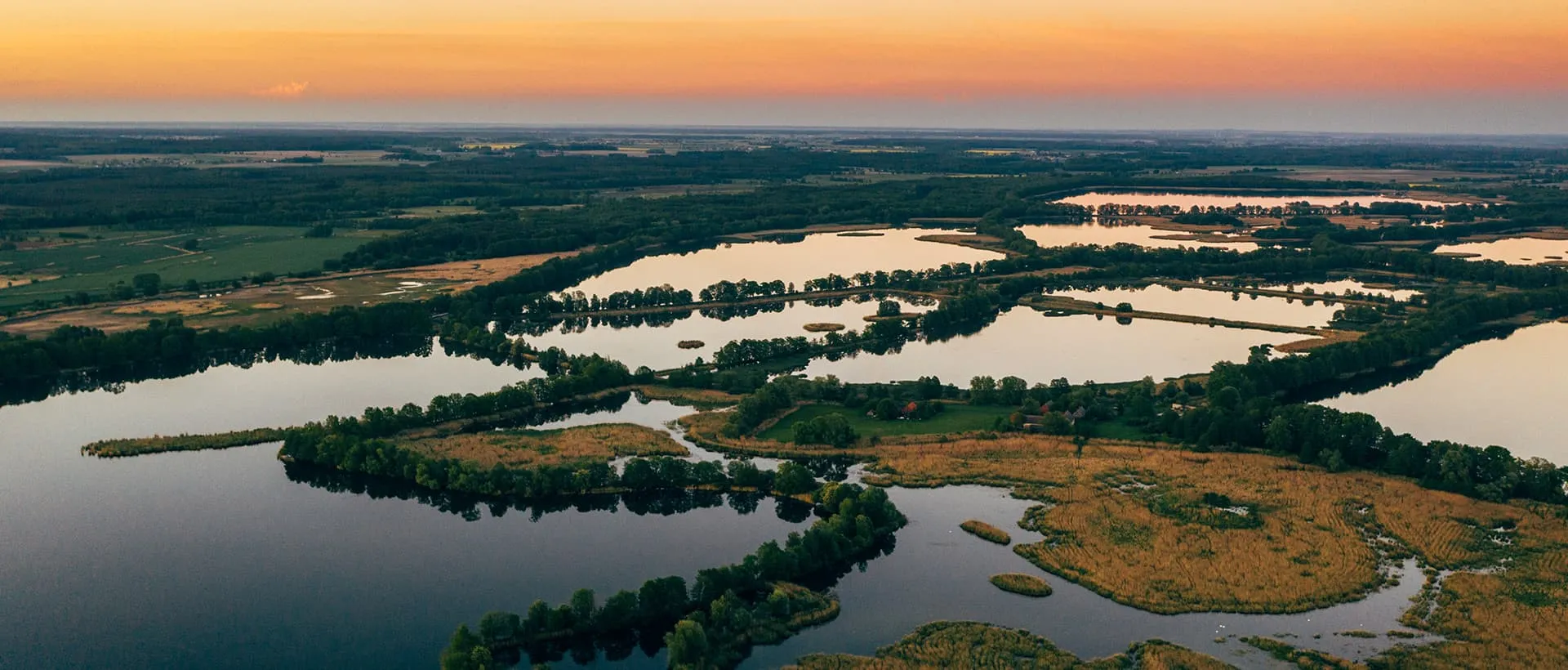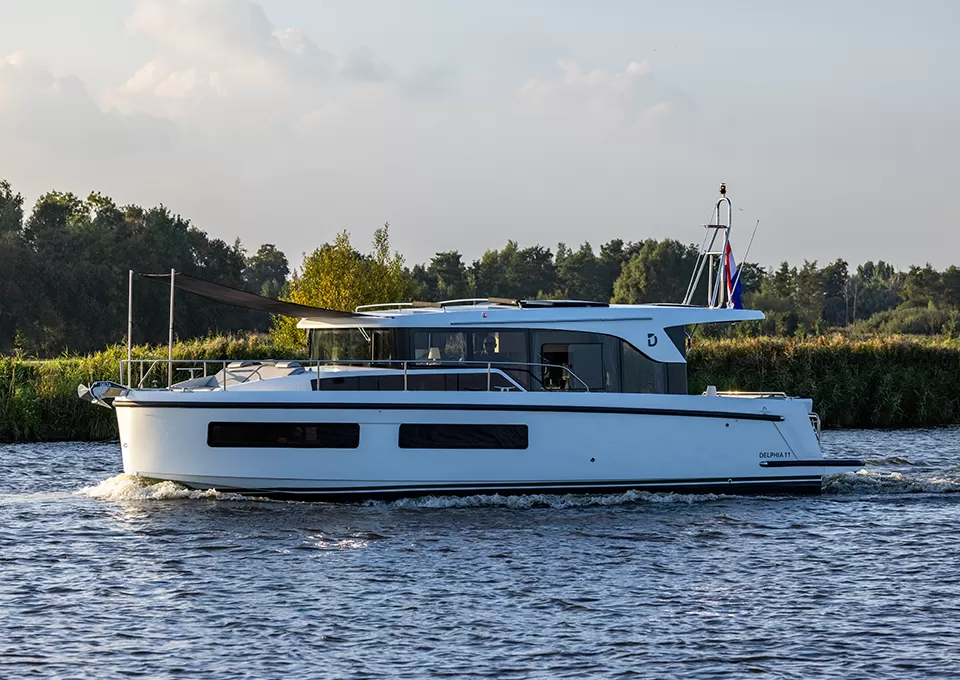 Electric Powered for inland waterways
In a single stroke, the Delphia 11 is giving the world of leisure cruising a modern new outlook not just in terms of environmentally friendly technology, but style and comfort too. As Delphia's first-ever electric-powered model for inland waterways travellers attracted to the "slow life", her fresh approach to sustainability is setting new standards for low-speed leisure travel.
This boat is sleek in style and specially designed to welcome in plenty of natural sunshine, bringing a warmth both literal and figurative to the river and lake cruising experience. Her contemporary layout centers around series of connected social spaces, or lounges, which serve a dual purpose.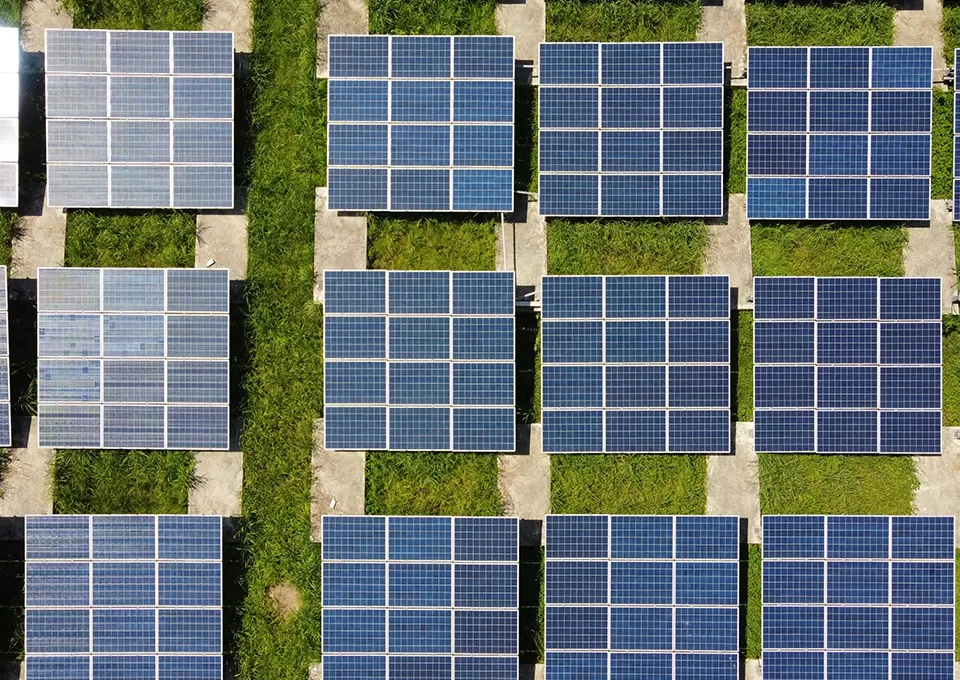 A Photovoltaic System
On the one hand, travellers have an ideal setting for bringing together friends and family. The Delphia 11's versatile interior arrangement can be adapted to accommodate as many as ten people, with all the amenities you would expect when entertaining a group of such a size. The kitchen is equipped, and there is an outside wet bar with its own barbecue – idyllic after a day's boating in beautiful natural surroundings. One of the great attractions of the Delphia 11 is its sustainable energy features, many travellers will also be delighted to know that most of her home appliances are powered using a purpose-designed photovoltaic system. As a result, there is no need to worry about calling in at the shore for equipment charging needs.
On the other hand, the Delphia 11's multiple lounges mean that all river and lake travellers have enough space to enjoy some time for themselves. This is particularly welcomed by families boating with teenagers, of course, but it can be equally helpful for anyone who needs some office space as they wend their way through peaceful river landscapes. The Delphia 11 electric motor boat is therefore an excellent option for anyone looking to introduce greater mindfulness and work-life balance to their lifestyle. Her layout also minimizes the number of stairs within the boat, and comes in two variations: the Delphia 11 Sedan and the Delphia 11 Flylounge.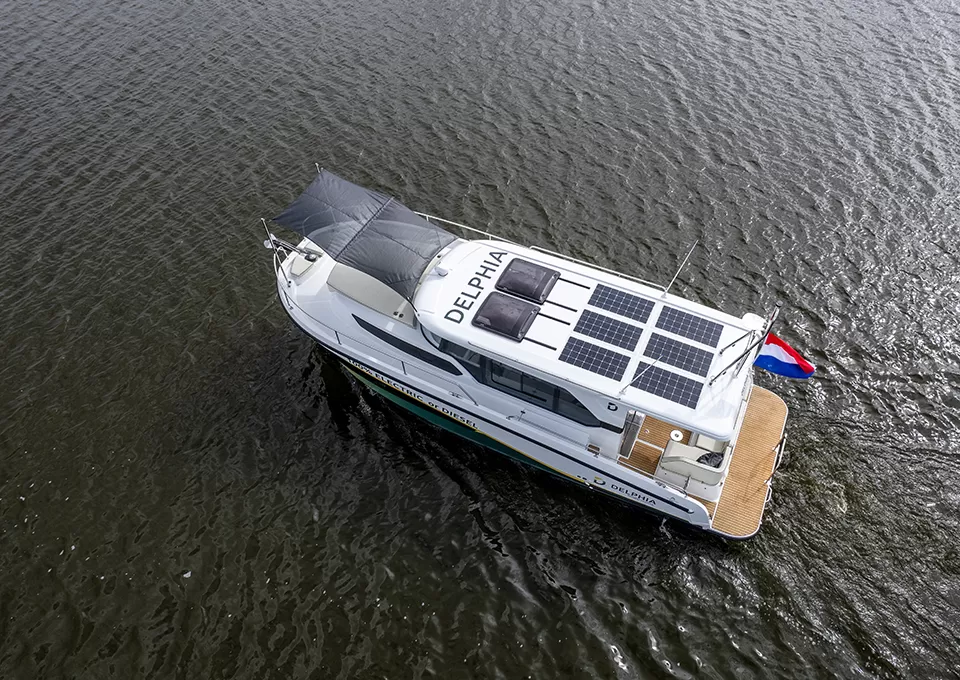 The Delphia 11's electric propulsion
The Delphia 11's electric propulsion system does not generate pollution of any kind in terms of noise, heat or odour. For many, this will mean they get the opportunity to explore nature powered in a delightful silence for the first time, and experience how different it is when all one's senses are able to come to life. From the solar, and LED lighting to the furnishings made with recycled fabrics, everything has been designed for guests' ease and convenience, as well as the boat's minimal carbon footprint. The Delphia 11 is an excellent option for anyone looking to cruise inland waterways in contemporary style and comfort, but equally with the real sense of meaning and mindfulness that comes with a sustainable electric boat.
Travellers can explore beautiful landscapes safe in the knowledge that they are having a reduced impact on the environment in all kinds of ways, giving them a greater sense of harmony with the world around them.